A very interesting - and frightening - issue in Germany, via
PI News: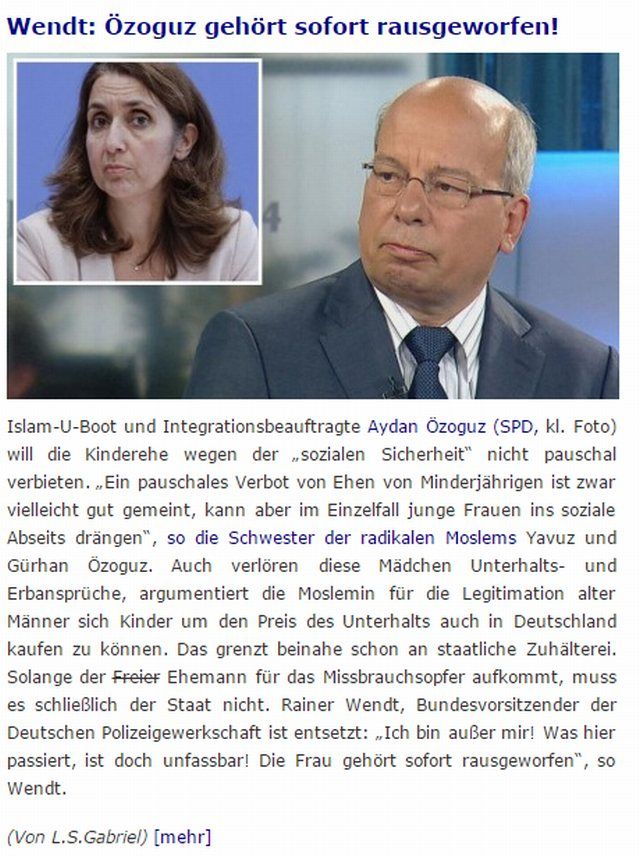 "Islam U-Boat and Integration Officer Aydan Özoguz (SPD, small photo) doesn't want to outlaw Child Marriage entirely, because of "social security". "A general prohibition of marriages involving minors is perhaps founded on good intentions, but in particular cases it can push young women in a state of social outcasts", according to the sister of the radical muslims Yavuz and Gürhan Özoguz. "What is more, these girls lose the right to claim allowances and heritages", Aydan Özoguz explains, as sufficient ground for allowing muslim men to marry children for the price of providing for them. This almost borders on prostitution by the State. [unintelligible]. Rainer Wendt, National Chairman of the German Police Union is shocked: "I am flabbergasted! What is happening here is unfathomable! This woman should be thrown out immediately!"


(Via L.S.Gabriel)


On the question of this exception to German Law should be accepted and whether German societal standards should be bent for islamic pederasts, Wendt pulls no punches: "Madam Özoguz has become unbearable. How can one cling to the idea of legalizing child marriages? It is unacceptable to allow exceptions [in our country - MFBB]. Child marriages should be forbidden without exception and dissolved. This is about one of the core tenets of our society, we cannot tolerate neither marriages with minors nor forced marriages which took place in foreign countries!"
Three important points:
a.) We have here again ample proof that the danger emanating from far too many so-called "moderate muslims" is actually greater than your run of the mill jihadist who cannot wait to blow himself up among infidels. In my opinion, it is not so much the random terror at the hands of the latter which will bring about the collapse of the West - perhaps to the contrary! But the steady and stealthy pressure exercised by muslim officials who quietly keep pushing for amending this and that, for planting insane ideas in western officials' heads in such a way that they will ultimately accept them if it spares them a lot of bruhaha... that is far more dangerous.


b.) It should be duly noted that Aydan Özoguz is a Minister of State (!) and the Federal Republic of Germany's Commissioner for Immigration, Refugees and Integration (!!!). When one of Germany's highest ranking officials, what is even more, the Minister directly responsible for Integration (!)... is openly arguing for allowing child marriages, the rot is already way too deep.


c.) A Big BRAVO for Mr Rainer Wendt, for speaking out so loud and clearly against an issue which should have attracted the attention and provoked the immediate rebuttal of ALL Real German politicians. Indeed, where are the voices of the feminazis in Germany's Green and Socialist parties??? Where are the voices in CDU and CSU, Germany's so-called "Christian" "Democratic" parties which have forever boasted they care about children?

For Mr Wendt to OPENLY CHALLENGE a Minister on this non-negotiable aspect of German and indeed, European Law, is a very brave act. I have mentioned this man twice earlier this year, and this is the third time that I must conclude that he is spot on and a stalwart defender of quintessential European values. Perhaps it's too early, but I think this man would be of more use in politics than in the German Police Union, even though that's an important job in itself.
MFBB.