Via
PI-News
, 2 June 2016: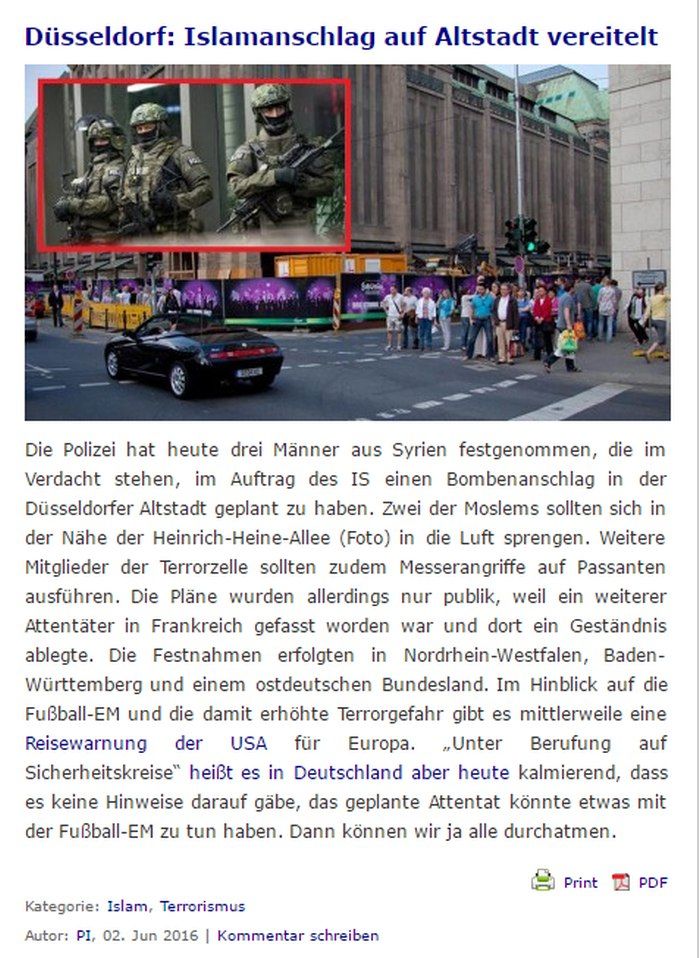 "Police arrested three Syrian men today suspected of planning an IS-ordered bomb attack in the old town centre of Duesseldorf. Two of the muslims would have had to blow themselves up in the neighborhood of Heinrich Heine Avenue (photo). Other members of the terror cell were tasked with attacking passersby with knives. The plans only came to light because another cell operative was arrested in France and testified about the planned attacks. The arrests took place in Nordrhein-Westfalen, Baden-Wuerttemberg and a "Bundesland" in Germany's East. In the meantime, with regards to the upcoming European soccer championship, the US government issued travel warnings for Europe. German officials however tried to calm things down by quoting "security reports" indicating that the planned terror attack [in Duesseldorf - MFBB] had nothing to do with the European soccer championship. Phew, we can all breathe easier!"
Chancellor Merkel was quoted as saying:
"Nya nya nya kann dich nicht hoeren!!! Islam ist eine Religion des Friedens!!!".
I'm sure you don't need a translation.
She also said:
"Islam is a part of Germany".
On that count she's definitely right, though not in the way her deluded mind sees it.
MFBB.