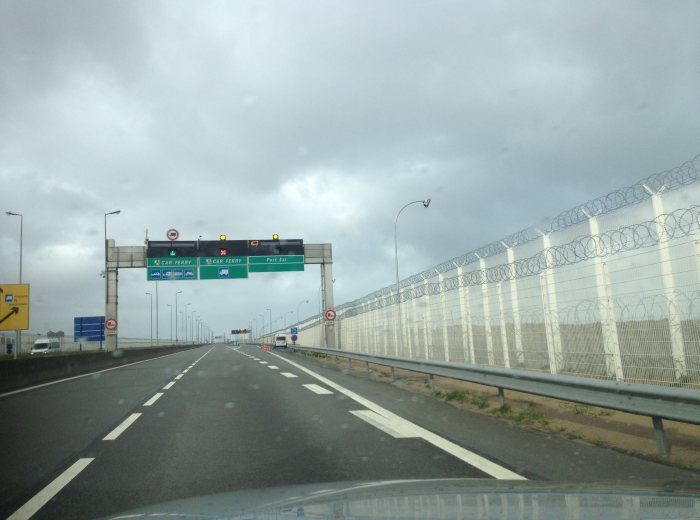 - All over the last summer, autumn and winter I had read about the migrants making a terrible nuisance of themselves near the Eurotunnel entrance, so I figured that for our Easter holiday to the south of England this year round, it might be safer to take the ferry Calais-Dover instead. And since there's no backflow, I also reckoned that taking the Eurotunnel to get back to France would pose no problems. So the plan was, France to the UK: the P&O Ferry. UK back to France: Eurotunnel.

The photo shows us approaching Calais port with the ferry terminals. Notice the barbed wire to keep migrants from climbing over the fences and disrupting the traffic. At regular intervals there were police vans with officers on guard. Welcome to European holidays in 2016!

Except that we did not board a ferry to go to England after all.

At the check-in terminals, they told us the storm in the Channel was so bad, Dover Harbour was closed. Earliest departure was scheduled for three pm, which meant waiting for four hours and ruining our afternoon schedule. Eurotunnel apparently cooperating with P&O Ferries however, they offered us the possibility to trade in our ferry tickets for Le Shuttle tickets for the same price, if only we took the risk to not be able to board the train immediately.

We took our chances and to our surprise, fifteen minutes later - the Chunnel entrance is right to the west of Calais, as opposed to the ferry terminals which are right to the east - we were waved through to the Le Shuttle loading platforms right away.

Half an hour later we were in Folkestone!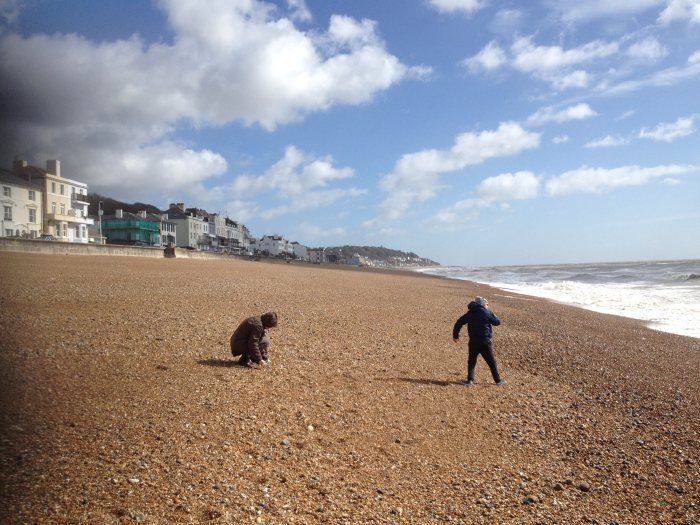 There was a stiff breeze and rough water (for landlubbers) but imho no waves that warranted closing a harbour.
We had booked three nights at the Imperial Hotel in Torquay, and one night in the Shore View Hotel in Eastbourne. When we left Folkestone there remained an estimated five hours of driving to Torquay, and it was only 1pm local time or so, so I figured there was sufficient time to visit two places - even if it had to be in a hurry. Place No. 1 was the house in Chawton where Jane Austen had spent the final eight years of her life. Jane Austen (1775-1817) is a quintessential British Romanticism writer and a contemporary of literary giants like William Wordsworth, Samuel Coleridge and Lord Byron. She wrote but a small number of books, and by the time she settled in Chawton she had written two of her best known masterpieces in draft form already: Sense and Sensibility and Pride and Prejudice. Before publishing them, she may have revised them here. Completely new works written in Chawton were Mansfield Park, Emma and Persuasion. A bit to my surprise I also discovered, upon coming across several naval displays, that two of Jane Austen's brothers made it Admiral in the Royal Navy: Sir Francis Austen became Admiral of the fleet and Charles Austen reached the rank of Rear Admiral.
O'er here at DowneastBlog, we have touched on the subject before. In 2009, that is. Pride and Prejudice is perhaps Austen's best known work, a novel of manners first published in 1813 and destined to become on of the most successful novels in English literature, with over 20 million copies sold to date. There have been several film and TV adaptations, of which the 2005 version, directed by Joe Wright and starring Keira Knightley as Elizabeth Bennet and Matthew McFadyen as Mr Darcy, is possibly the best so far. Here is what I wrote at the time, and this is the soundtrack exerpt 'The Living Sculptures at Pemberley':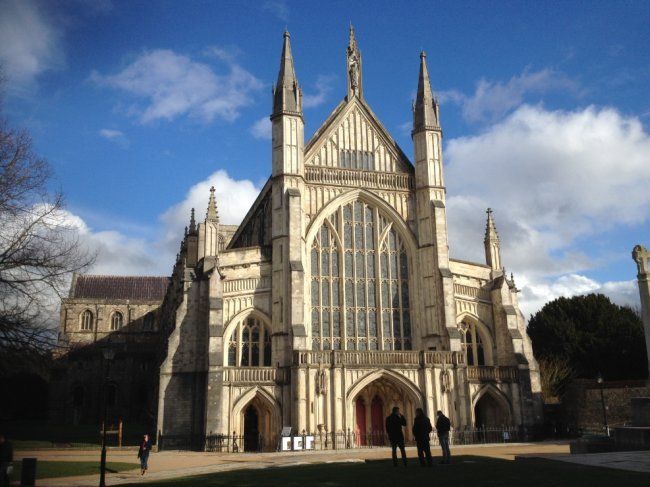 From Chawton it was but a short hop to Winchester, which boasts a magnificent gothic cathedral. What English gothic cathedrals lack in height compared to their continental counterparts they make up in length, and indeed Winchester Cathedral, dedicated to the Holy Trinity, has the longest nave and greatest overall length of any Gothic cathedral in Europe. Work began in 1079, and the consecration took place in 1093 already, but for centuries there would be alterations and additions.
View of the nave looking eastwards towards the choir. Under William of Wykeham (1367–1404) the nave, until then in Romanesque style, was recased in Caen stone and remodelled in the Perpendicular style, the third phase in English Gothic Architecture, with an emphasis on vertical lines...
... The ceiling is spectacularly embellished by those vertical lines converging into an intricate pattern: Winchester Cathedral's vault is a veritable poem in stone!

After that it was off to Torquay, focal point of the English Riviera. That's not exaggerated: temperatures are said to be the highest in the UK (although I would wager the Scilly Islands are still warmer) and there are palm trees galore. This town of around 65,000 was also home to Agatha Christie, and around the harbour there's a so-called Agatha Christie Mile, a walk with successive plaques and a bust highlighting specific events in her life and work.
At night, I took strolls through Torquay. It was still March and somewhat chilly, but the town centre was not exactly deserted. One one of my walks I came across "Hole in the Wall", Torquay's oldest pub, established circa 1540. The text reads: "For hundreds of years Smugglers . Men of the Sea . Businessmen . Locals . Visitors alike have enjoyed drinking at the Hole in the Wall."
On our second day, we visited Jurassic Coast, so called because there fossils dating from the Jurassic Epoch are supposedly omnipresent. Alas, for me the harvest was meagre... Pic taken in Charmouth, just east of Lyme Regis. Charmouth seems to be the place where you have the biggest chance to come up with decent fossils.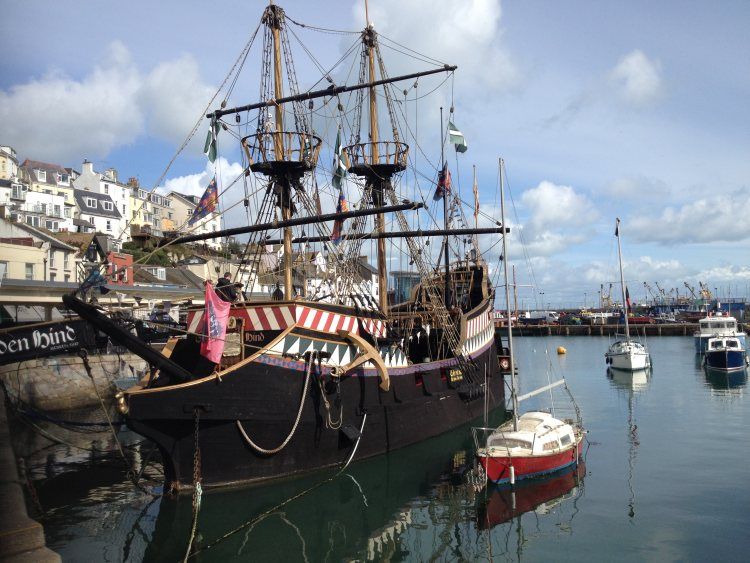 The day after, we intended to visit The Eden Project in Cornwall. History buff that I am - freak, rather - I could not resist stopping in nearby Brixham where I knew a replica of the Golden Hind was moored, Sir Francis Drake's flagship with which he circumnavigated the world between 1577 and 1580. He set sail with five ships and came back with only one. Originally it was called the Pelican, but while underway he rebaptised it in Golden Hind, to honor Sir Christopher Hatton, his patron, whose heraldic emblem contained a golden hind. It is hard to believe that Drake survived the perils of the world's oceans with this small galleon, which had a water displacement of a mere 100 tons!
After a relatively smooth ride, apart from a huge traffic jam before and in Totnes, we arrived at The Eden Project, which is situated in a disused kaolinite quarry two kilometres from the town of Saint Blazy, just inside Cornwall. The Eden Project is the brainchild of a certain Tim Smit and consists mainly of two gigantic biomes in which vegetation typical for a Rainforest and the Mediterranean has been recreated. Indeed it is said that the largest of the two biomes contains the largest piece of Rainforest outside the Amazon! Apart from the biomes, there are substantial outdoor gardens including a walk back in time for Earth's vegetation, the "Core", a building for educational purposes, and a visitor centre.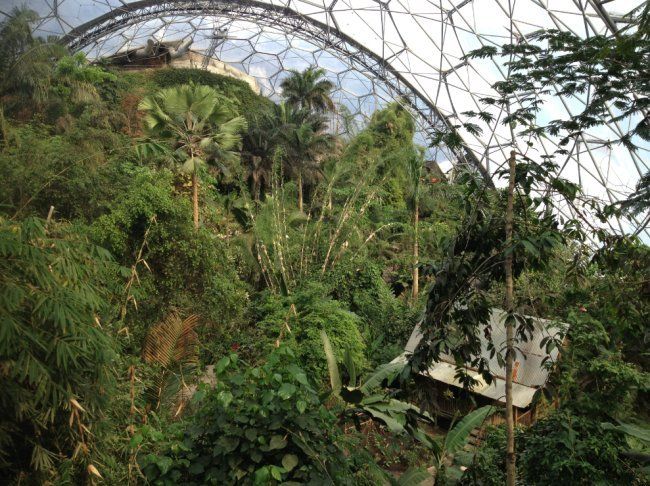 What the Rainforest Biome looks like from the inside. The biomes' "shells" consist of a skeleton of tubular steel cladded with hexagongal (mostly) and pentagonal thermoplastic ETFE panels. ETFE stands for ethylene tetrafluoroethyle, a polymer. It was chosen because it maintains it's strength over a wide temperature range, is self-cleaning, and has a high melting temperature. Also, it's resistance to ultraviolet radiation means it will lose its transparency only after a very long time.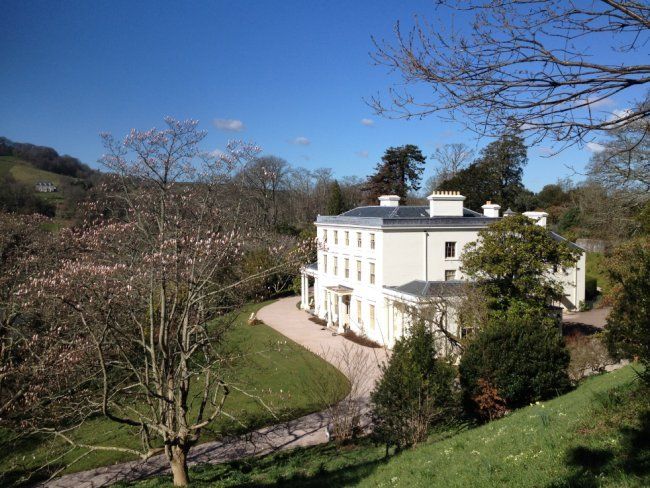 On Thursday it was time to go back. The plan was to head back to Folkestone in two stages: Torquay-Eastbourne (you may recall we had booked one night there) and Eastbourne-Folkestone. WITH some serious sightseeing on the way of course. I calculated that we could make it to Eastbourne in the not too late evening AND visit both Greenway House and Stonehenge. Greenway House was the summertime residence of Agatha Christie. She once described it as "the loveliest place in the world" and on this glorious Spring morning it was hard to disagree!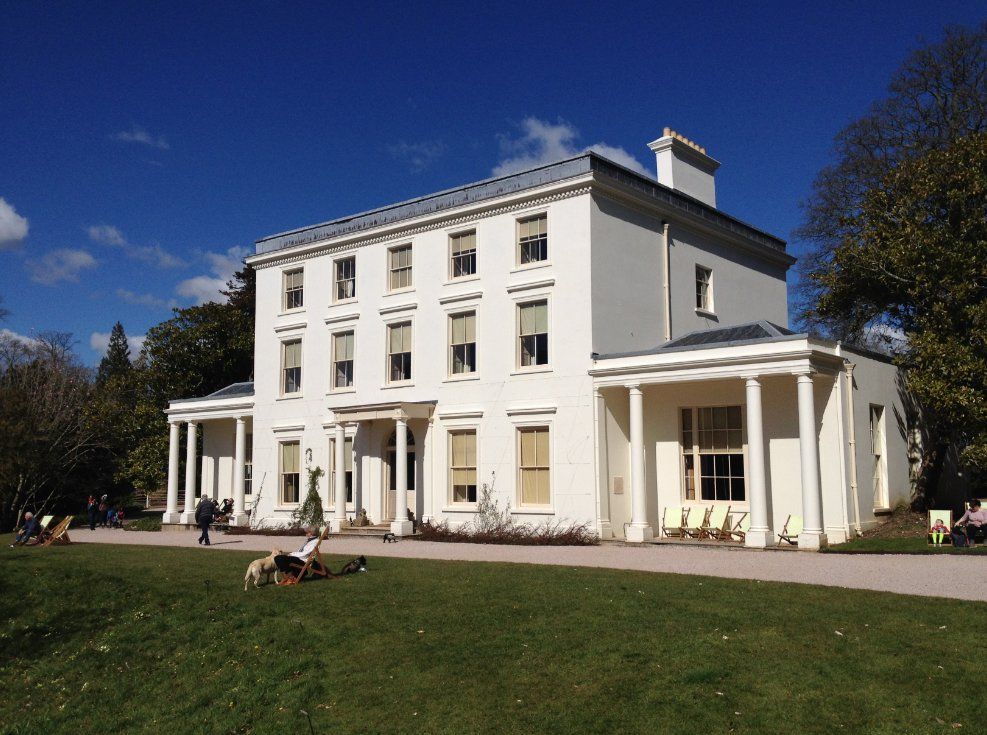 Greenway House, the magnificent summer residence of Agatha Chrisie and her second husband Max Mallowan, an archaeologist. They actually got to know each other in Iraq, where Mallowan was overseeing excavations.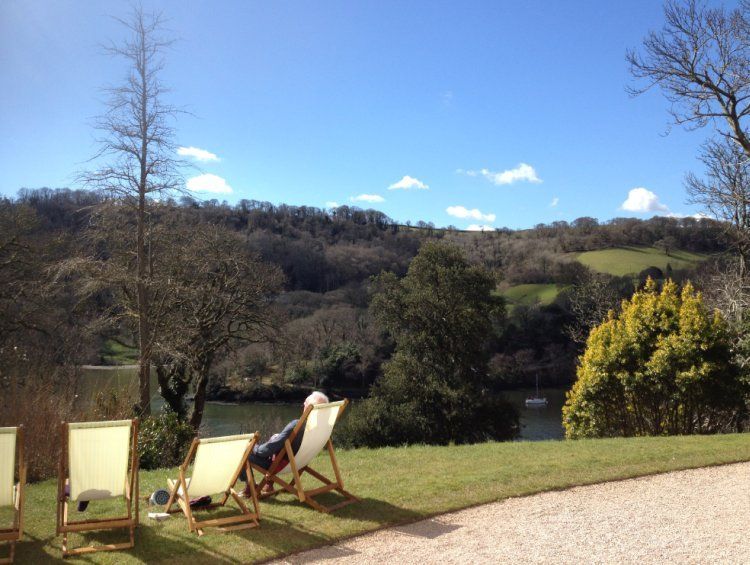 ... This particularly sunny day made the splendid views on the river Dart and the surrounding hillsides all the more enjoyable...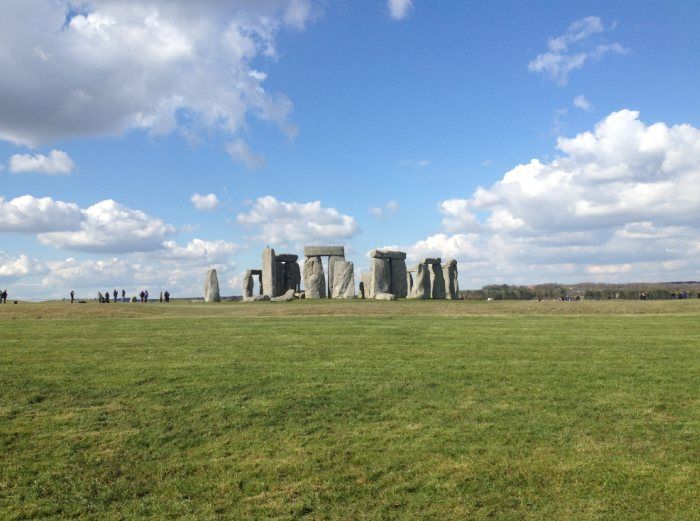 On heading back in the afternoon, we passed through Wiltshire, and of course we could not resist stopping at Stonehenge, some 13 kloms north of Salisbury. A lot had changed here since our last visit, which was during our honeymoon in 1999.
Most archaeologists agree that Stonehenge was built between 3000BC and 2000BC. Stonehenge is a wonderfully accurate cosmic clockwork. Sunset at the winter solstice, the shortest day of the year, is perfectly aligned with the axis composed by the "horseshoe" of the five central trilithons, the heel stone at the periphery, and the embanked avenue leading up to the site from the northeast. Similarly, this same axis is also perfectly aligned with the rays of the rising sun at summer solstice, the longest day of the year. Construction-wise, transporting, carving and finally arranging the five trilithons of three sarsen stones each, each stone weighing some 50-odd tons, must be considered a major technical feat for the time. The outer ring sarsens originally crowned by lintels are hardly less impressive. And placing the smallest bluestones can't have been a laughing matter either. Still... Brits may not like to hear this, but upon walking around the site, it struck me that for all Stonehenge's evidence of technological and cosmological marvels, Egypt's Great Pyramids, built in the same timeframe, dwarf this ancient project by many orders of magnitude.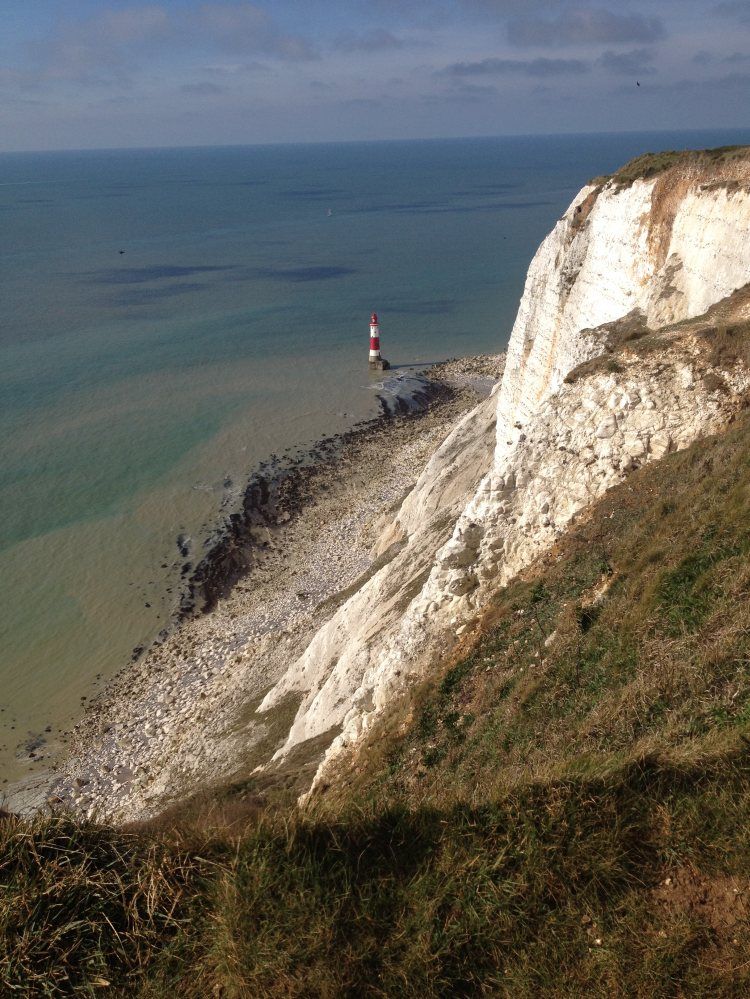 I always try to cram as much as possible in a day, and in 2014 we had such a wonderful time in and around Eastbourne, so I thought that before heading for Down House we could just as well make a slight detour and once again take in the view at Beachy Head, just west of Eastbourne...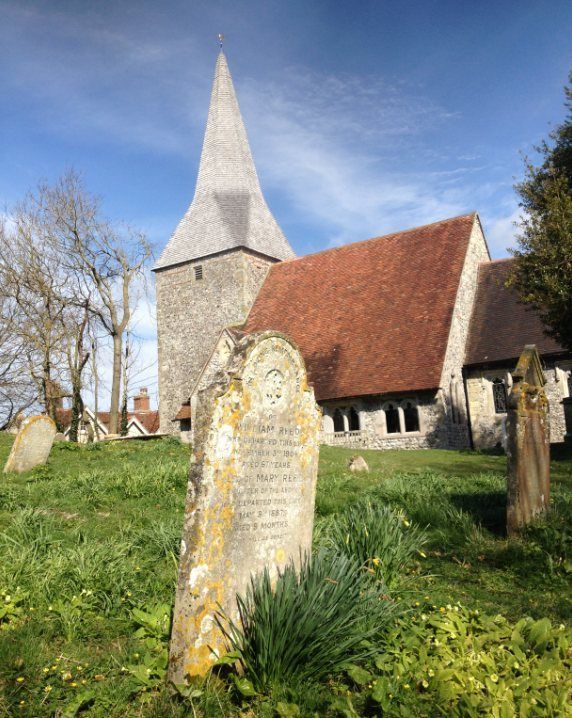 ... and while in the neighborhood, why not stop in Berwick to check out again the beautiful murals in Berwick Church, painted in, IIRC, 1943 by the artist pair Vanessa Bell and Duncan Grant, prominent members of the Bloomsbury Group. This pic from outside the church was taken on a spectacular early Spring morning; you may recall the same view from one year ago when we visited the place in the early evening.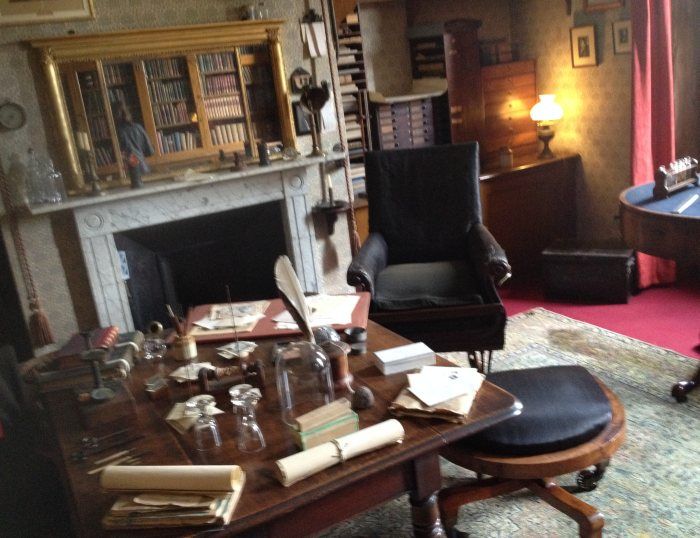 Then it was off to Downe and Down House, the home of Charles Darwin, just SE of London. He wrote On the Origin of Species in this very study!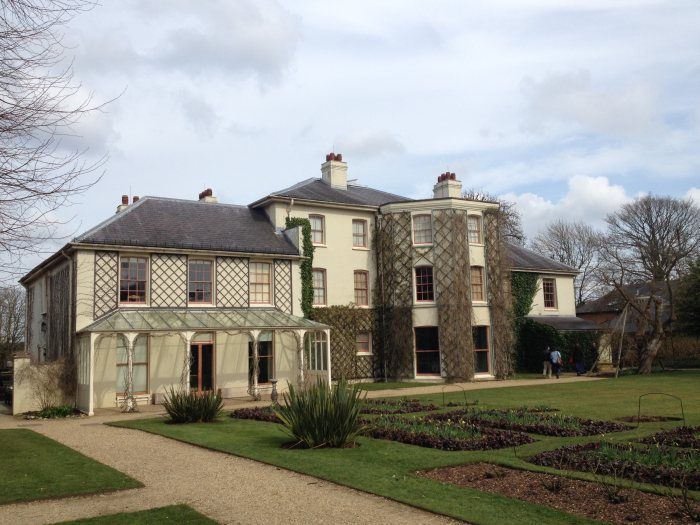 View on Down House from the garden. Behind my back is a path that leads to Darwin's greenhouses, where he also conducted experiments. Both the house and garden are kept in immaculate condition.
After this thoroughly satisfying visit - including a simple but decent lunch in the house's cafeteria - it was time to go back. In the evening we boarded Le Shuttle again at the Coquelles terminal, near Folkestone. A smooth 25-minute ride brought us back in Calais. Yet another great holiday in the UK!
MFBB.