Uh, another time perhaps.
Feel the love: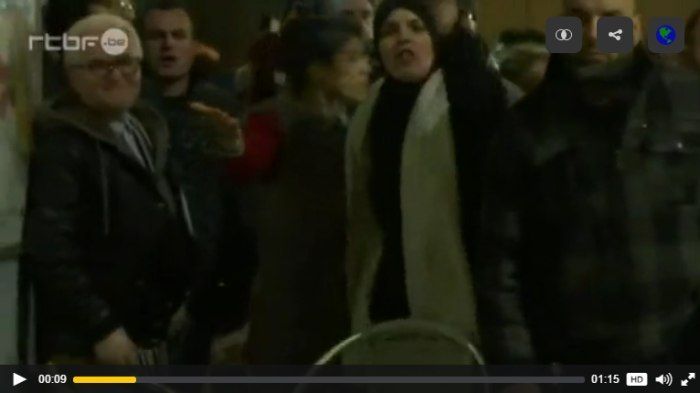 Video via
François Desouche
:
Just think about it. Imagine you're a White Christian expat in a mostly white expat community living in, say, Amman, Jordan. White fundamentalist Christians have been committing acts of terrorism aimed at islamic countries for at least 15 years. A gang of White fundamentalist Christians slaughter 130 muslims in neighboring Saudi Arabia during the hajj.
One fundamentalist Christian is known to have fled the carnage, not having found the courage to self-detonate among the followers of the prophet.
He is also suspected of hiding out in the enclave of White expats in Amman.
Four months later Jordanian police do find him, and arrest him.
What are you going to do when Jordanian police are suddenly omnipresent in your l'il White neighborhood?
Would you hurl insults at them? Throw stones at their vans, perhaps?
I suspect there's not a hair on your head that would think of doing
that
.
Well...
... in Molenbeek, just
that
happened.
Happens.
Meanwhile, in The Netherlands,
Peter Vandermeersch
, the editor-in-chief of daily
NRC Handelsblad
, the Dutch counterpart to Belgium's
De Standaard
, who is a Flemish Belgian himself and lo' and behold, a FORMER editor-in-chief of De Standaard (!) was invited to the studios of DWDD, for
De Wereld Draait Door
, a Dutch talk show sh(r)edding light on political and societal events: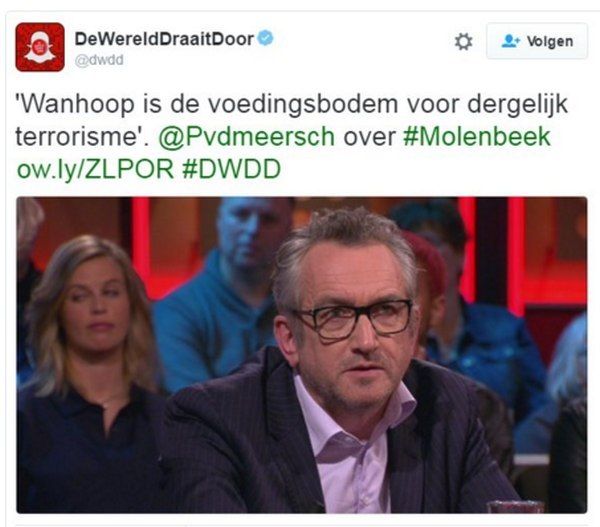 Dixit Vandermeersch:
"DESPERATION IS THE BREEDING GROUND FOR THIS TERRORISM."
Because unemployment, raaaaaaaacist Belgians, lack of opportunities etc etc etc yada yada yada dontcha know.
In other words,
ISLAM HAS NOTHING TO DO WITH IT.
The sight of this loosely coiffed, intentionally badly shaven "sophisticate", with a - so he kids himself - carefully cultivated image of mature wisdom, is almost sufficient to make me puke.
The fact that his "class" of utterly clueless, soi-disant intellectuals, who fancy defecating on their own culture for a sport, is still given ample occasions to spout their ridiculous nonsense, makes me despair for humanity.
MFBB.