I missed the
Kevin Crehan case
, but here's a quick recap, via the
Daily Mail
, 30 December 2016:
"A man jailed after leaving bacon sandwiches outside a mosque has been found dead in his cell.

Kevin Crehan, 35, was halfway through a one-year prison sentence he received in July after admitting the racially-motivated attack on the Jamia Mosque in Bristol earlier this year.

He was accompanied by Alison Bennett, 46, and Mark Bennett, 48, and Angelina Swales, 31, who also pleaded guilty over the incident.
A St George flag with the words 'no mosques' was also tied to the fence outside the building in Totterdown, Bristol, and shouted racial abuse at a worshipper.

Bacon was tied to the door handles and sandwiches made of raw meat and sliced white bread were left at the entrance, in what was described in court by the judge as an 'an attack on England'.

The prison service confirmed Crehan was found dead in his cell at HMP Bristol on Tuesday, December 27.

A spokesman told the Sun: 'HMP Bristol prisoner Kevin Crehan died in custody on Tuesday 27 December."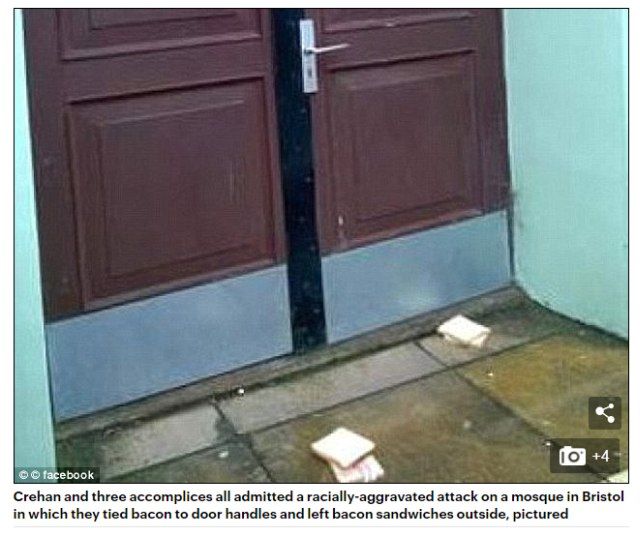 In Small Britain they put you in the slammer for a YEAR for leaving sandwiches with bacon at a mosque's doorstep.
If the UK's prisons are even remotely comparable to Belgian prisons population-wise, then there is at least a very sizeable minority of inmates who are muslims, probably as many as 30 per cent, if not more. To lock up a man like Kevin Crehan with so many followers of the prophet, a man who had the guts to at least snub an appalling belief system which constitutes a clear and present danger to non-muslim Europeans...
... I call that a murder attempt. Especially in light of the fact that the radicalization of muslims INSIDE prisons shows an even steeper dynamic than of muslims who are not incarcerated.
The British government is only adding more fuel to speculation that it would actually have
desired
Mr. Crehan's death by not disclosing any information regarding the man's death.
Here are Paul Weston's thoughts on the matter, per
Gates of Vienna
:
Small Britain has sunk very low indeed.
MFBB.