Frightening stories from Blackburn, Lancashire, UK:
Blackburn, the UK town with the third largest muslim population, is
experiencing a burka boom.
See also this
Express
article from December:
"APARTHEID ON THE STREETS OF BLACKBURN: HOW POLITICAL CORRECTNESS KILLED INTEGRATION.

BLACKBURN was recently named in a report on 'community cohesion' as one of the most segregated towns in Britain.

The findings came as a shock to everyone except the people of Blackburn.

Some areas of the town are 95 percent Asian and some shopkeepers have never served a white person.

Many locals feel that over a handful of decades Blackburn, and many nearby northern towns, has been sleepwalking to ghettoization, separation and nothing short of a neo-apartheid.

The 'system', social, political, religious and judicial has seemingly failed this town on every level.

Fear of offending the Muslim minority and political correctness, which values multiculturalism over integration, is cited by many Blackburners as the twin poisons which created this ill-at-ease, two-tier town..."
At the time of writing, Blackburn has some 45-odd mosques. More will follow: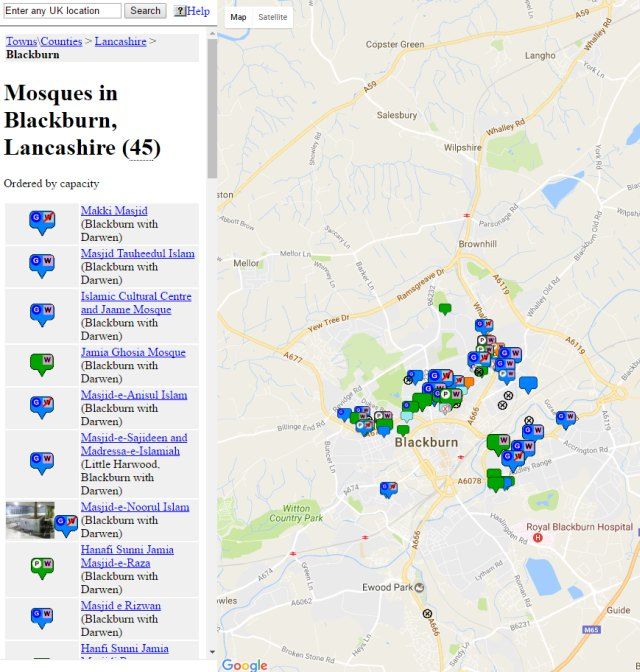 Not surprisingly, the socialist
Jack Straw
was Labour MP for Blackburn from 1979 to 2015. In 2002, when the BNP won three seats, this catastrophic idiot said:
"It is very sad. We had the far right in Blackburn 26 years ago when they won two seats in Shadsworth. But there the whole community decided they wouldn't have it. You can never say they won't put candidates in Blackburn but we will work hard on community relations."
We are fifteen years later now, during which Straw was Blackburn MP for another thirteen years. Apparently all that hard working on community relations paid off.
Not.
MFBB.