A.) FREIBURG: MARIA LADENBURGER RAPED, DROWNED.
Lots of
coverage
on this girl, a promising 19-year old medical student in Freiburg in the Black Forest, in Germany's southwest.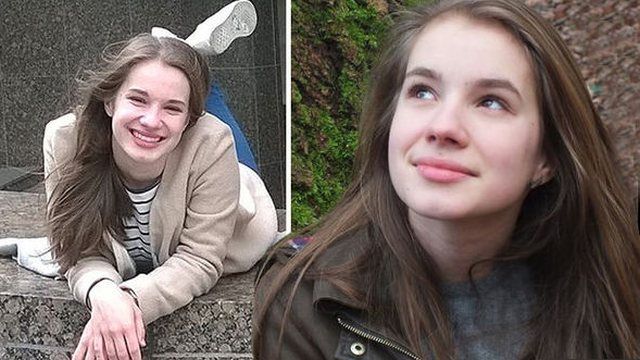 I don't have the heart for an extensive post about it, there's plenty of news sources out there. Suffice to say that her killer, a 17-year old Afghan subhuman, was a guest of Angela Merkel; that Maria was a volunteer in a "refugee" center in her spare time, and that she died because of islam and leftist lunacy. Germany, where autochton women are already barren, just lost another one who might or might not have contributed one designer kid to the population by, oh, 2031 or so. Sorry for my bitterness, but not sorry. It's the fucking truth.
B.) BERLIN: AFGHAN GANG KICKS YOUNG WOMAN OFF UNDERGROUND STAIRS.
A gang of young Afghans kicks a woman down the stairs in the Berlin Underground, station "Herrmannstrasse". The event took place on 26 October already, but the authorities have thus fare refrained from making it public.
I suppose Merkel's fairytale show during the CDU's Congress had to air first.
PI News concludes wryly with a 2012 quote by German President Gauck:
"With a heavy heart we worry about violence in the Underground stations or on the streets, where people are attacked just for having black hair and a tanned skin."
Indeed, you old catastrophic
FOOL
. Why don't you just drop dead and cease emitting CO2?
UPDATE:
I stand corrected. The perpetrator is
NOT
an Afghan, but a Roma by the name of
Svetoslav Stoykov.
C.) KIEL, GERMANY: AFRICAN MAN SETS WOMAN ALIGHT ON THE STREET.
Also via
PI-News: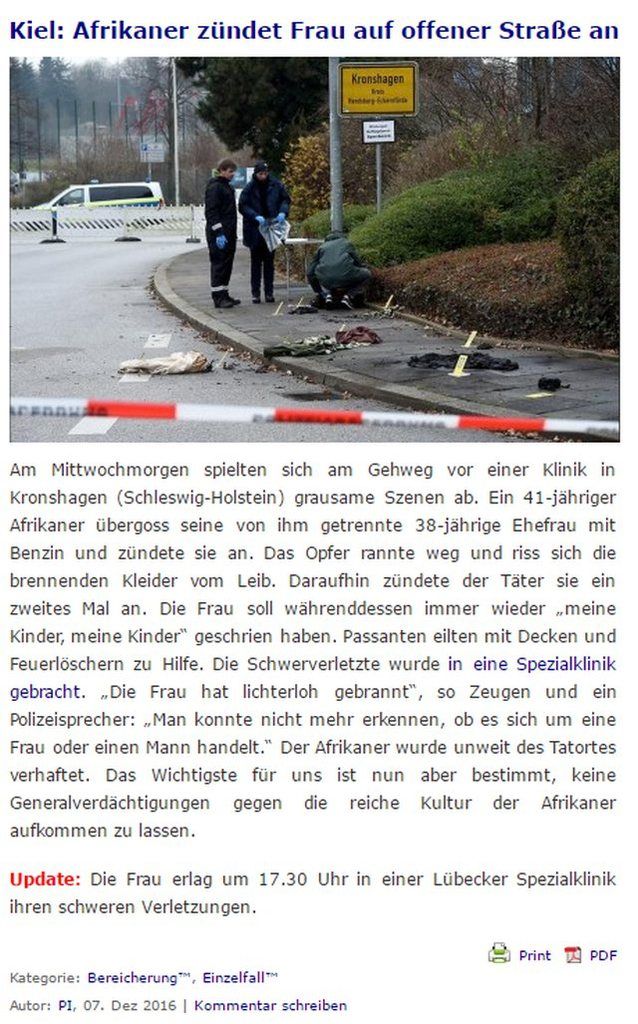 "On Wednesday morning a gruesome scene took place on a road near a clinic in Kronshagen (Schleswig-Holstei). A 41-year old African man poured gasoline over his 38-year old wife and lit it. The victim ran away, tearing the burning clothes from her body. Thereupon the perpetrator set fire to her anew. All the time the woman would have cried "my children, my children". Passersby ran to the scene with blankets and fire extinguishers. "The woman burned like a torch", witnesses and a police spokesman said: "One could not tell anymore whether it was a woman or a man." The African male was arrested not far from the crime scene. The most important thing for us is now definitely to not jump to early conclusions and harbor bad feelings against the rich African culture in general.

Update: the woman died at around 5.30pm in a specialist clinic from her horrible wounds."
Clearly a case of burning love. Germany needs more of it to counter these sour AfD-types. Hatemongers all. Angela says so.
As always, this was Outlaw Mike reporting from Europe, the planet's biggest Open Air Lunatic Asylum.
MFBB.