By now, the whole world does not know about
Abdul Razak Ali Artan
, the Somali Cultural Enricher who on Monday drove into a crowd at Ohio State University, got out, and stabbed 10 of his colleagues.
'Not', because the news is sooooooooooooo yesterday. Also,
it's got nothing to do with islam
. Here's unequivocal proof, offered by none other than the people behind Ohio State's own news outlet
The Lantern:
"On Monday afternoon, the Ohio State Department of Public Safety released the name of the suspect involved in the violent incident near Watts Hall — Abdul Razak Ali Artan, a third-year in logistics management. The Lantern had interviewed Artan as part of Humans of Ohio State, a print-only feature in The Lantern's Arts&Life section. Below, The Lantern has reproduced the same interview that appeared in the Aug. 25 issue of the paper. The text below is a direct quote from Artan.


"I just transferred from Columbus State. We had prayer rooms, like actual rooms where we could go pray because we Muslims have to pray five times a day.

"There's Fajr, which is early in the morning, at dawn. Then Zuhr during the daytime, then Asr in the evening, like right about now. And then Maghrib, which is like right at sunset and then Isha at night. I wanted to pray Asr. I mean, I'm new here. This is my first day. This place is huge, and I don't even know where to pray.

"I wanted to pray in the open, but I was scared with everything going on in the media. I'm a Muslim, it's not what the media portrays me to be. If people look at me, a Muslim praying, I don't know what they're going to think, what's going to happen. But, I don't blame them. It's the media that put that picture in their heads so they're just going to have it and it, it's going to make them feel uncomfortable. I was kind of scared right now. But I just did it. I relied on God. I went over to the corner and just prayed."
Here, a relevant The Lantern screenshot to chew on, completely
gratis
: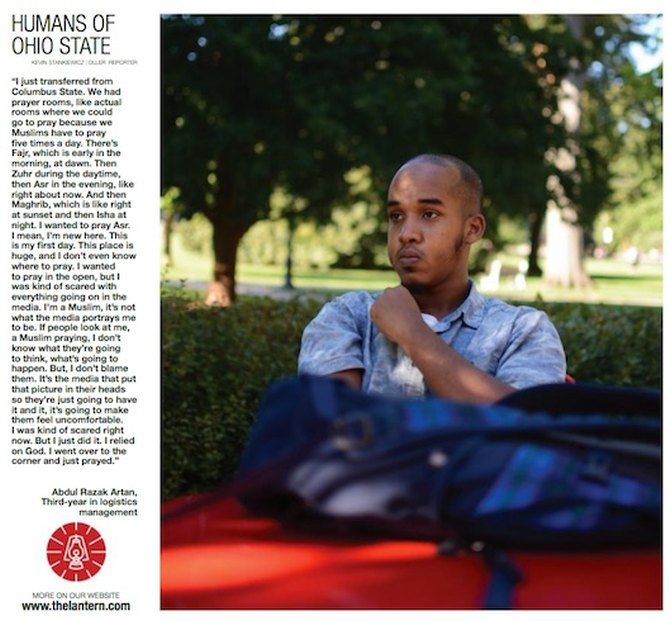 As
American Thinker
helpfully reminds us, a sizeable number of Ohio State students and faculty staff
were actually rooting for muslim "refugees" to admit them on campus:
"The case of Abdul Razak Ali Artan, the Somali-born Islamic terrorist who ran over and stabbed 11 people with a butcher knife at Ohio State may be what President Obama calls a "teachable moment." We can feel great sympathy for the victims, but it is also fair to point out that some of the policies advocated by said victims helped contribute to this tragedy. And the fact is that a large number of Ohio State faculty and students are strongly pro-Islamic immigration.

Hollie Nyseth Brehm, an assistant professor of criminology (ironically), and student ​Abd Al-Rahman Traboulsi created an organization at Ohio State called "Refuge," bringing in putatively victimized foreigners to get a free education in America.



~ Refuge seeks to fill a unique niche geared toward addressing the extensive gap of resources available to adolescent refugees. Refuge's annual program then will culminate in an immersion experience here at Ohio State where refugee students will attend classes, speak with faculty and stay in residence halls – ultimately transforming higher education from a far-off aspiration to a feasible reality that adolescent refugees can take steps toward achieving. We hope that you will consider working with us here at Ohio State or with the many other local Columbus organizations that aid with the refugee resettlement process.



It doesn't take a great leap to conclude that "refugees" are not from Norway and Sweden; they are largely Muslims from the Middle East. And Refuge is not the only Ohio State student group involved in this effort.



~ From clothing drives to tutoring sessions and mentorship programs, Ohio State student organizations such as the Syrian Student Union, Students for Refugees and Refuge: Empowering Adolescent Refugees are working to help those affected by the Syrian Civil War.
~ ... the club hopes to expand its current program to offer more services, including a mentorship program, English as a Second Language classes, and move-in assistance for refugees arriving in Columbus.
~ The organization Refuge is a recent addition to OSU that sheds light on the Syrian conflict. A club in the making, Abd Al-Rahman Traboulsi, a third-year in biomedical engineering, said he is launching Refuge as a mentorship program to connect students at OSU with refugee students in the Midwest over an online interface, with the ultimate goal of introducing refugees to the possibility of higher education.



In other words, to bring them on campus."
See for yourself, from Refuge's site: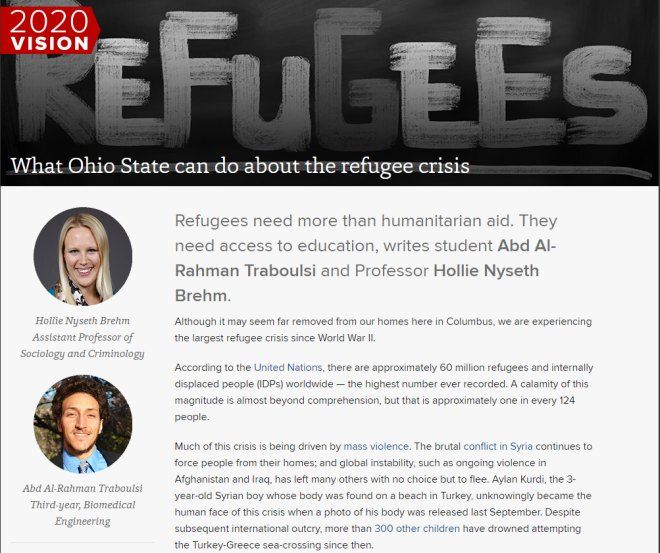 Hmmm. I recognize leftist
bakkes
when I see 'em. How about you? Well, I'm not an Assistant Professor of Sociology and Criminology like Ms Brehm, but I'd add that apart from humanitarian aid and access to education muslim refugees now and then also need kuffars to plunge knives in.
Anyway, it's
NOT
fair. Right
NOW
, Mr. Abdul Razak Ali Artan is having hot sex with no less than 72 not-so-virgin-anymore virgins (Let us hope that when he's done his logistics skills will come in handy to keep the supply of virgins at reasonable levels).
But me? I sit here tapping away on this stupid Logitech keyboard manufactured in the f*cking People's Republic of China. Mr Trump, tear down these goddam free trade agreements!
MFBB.