As could be expected, Belgian press pays a lot of attention when one of their great heroes croaks. Here are
two screenshots from De Standaard Online:
FIDEL CASTRO: MAN AND MONUMENT
'El Comandante' is no more, but his political deeds and ideas will cast a long shadow on Cuba's future, writes Herman Portocarero.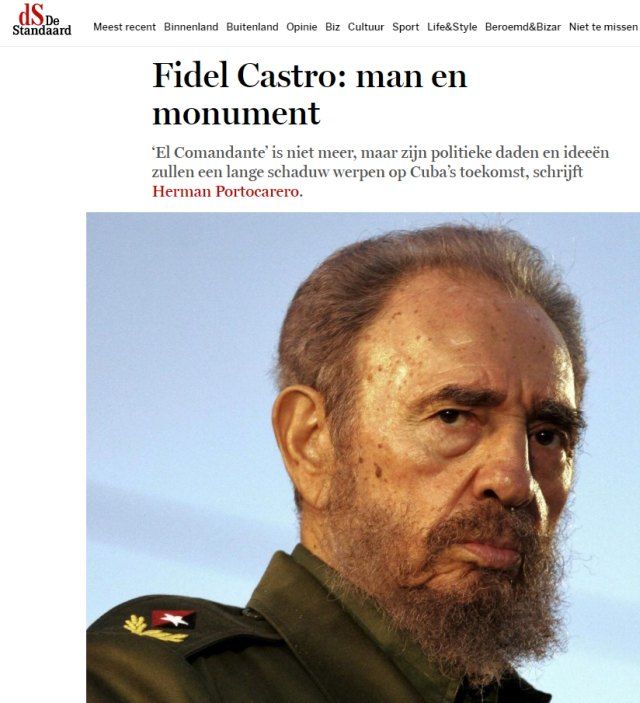 Herman Portocarero is a left-leaning Belgian writer and diplomat (and at one point Belgian Ambassador to Cuba). He does not belong to DS staff, but that he gets a pedestal to spout his nonsense about Cuba's "Monument" speaks bookmarks about De Standaard's sympathies vis-à-vis this murderous dictator.
and:
CUBANS BID FAREWELL TO CASTRO: "HE WAS EVERYTHING FOR ME."
Today at 20:39 by jvt | Source: Reuters/The Guardian
In Havana, tens of thousands of Cubans say goodbye to Fide Castro, the Cuban leader who died Friday at age 90.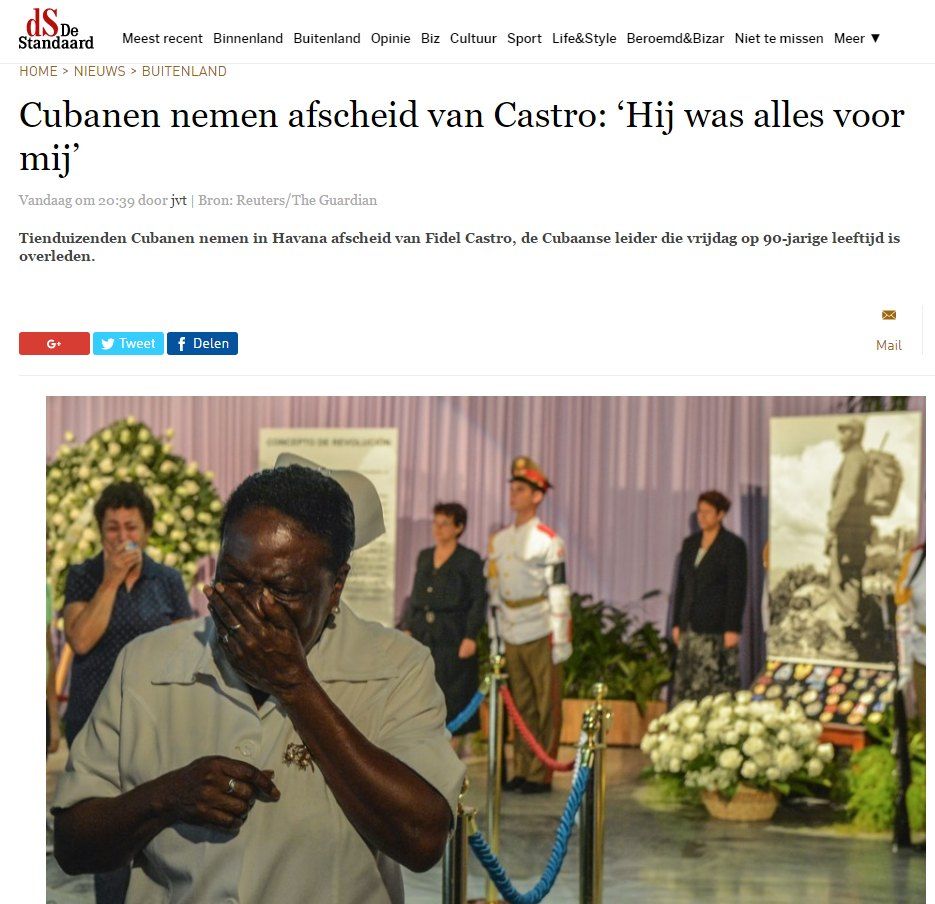 Some people take a slightly different view. Among them a certain Mr Steyn, who
has an exceptional flair for pulling down do-gooder pants:
"Elsewhere in the US media, The Nation offered a more local comparison:



~ Castro almost outlasted 11 US presidents—Eisenhower, Kennedy, LBJ, Nixon, Ford, Carter, Reagan, Bush I, Clinton, Bush II, and passing in the waning days of Obama's last term. Perhaps he just couldn't bear the thought of President Donald Trump.



Impressive. How exactly did he manage to outlast all those here-today-gone-tomorrow US presidents? As I wrote in Maclean's eight years ago:



~ "Saying he is no longer healthy enough to hold office, Cuban leader Fidel Castro has announced he will not seek re-election after 49 years in power" — the Miami Herald.



Hmm. Castro didn't really have to "seek" re-election, did he? He's a — what's the word? Oh, yeah — "dictator." If he "seeks" re-election, he's pretty much guaranteed to find it — assuming for the purposes of argument you can be "re-elected" if you've never been freely or fairly elected in the first place. In its own "news report," the satirical website The Nose on Your Face got closer to reality:



~ "Fidel Castro announced today that he would not seek a new term as Cuba's president, citing concerns that at 81, it may be difficult for him to serve the full, constitutionally-mandated 49-year term."



Yeah, yeah, but who are you to preach? Back to The Nation:



~ Having been sanctimoniously lectured by all 11 US presidents on what constitutes proper democratic procedure, he might have thought Trump, about to take office with a minority of the vote and with significant voter suppression, a vindication.



Get back to us when Trump's first term lasts 49 years. As for that eleventh US president, Barack Obama declared:



~ At this time of Fidel Castro's passing, we extend a hand of friendship to the Cuban people. We know that this moment fills Cubans - in Cuba and in the United States - with powerful emotions, recalling the countless ways in which Fidel Castro altered the course of individual lives...



Indeed. He "altered the course of individual lives" by ending them. Of those he didn't end, 20 per cent of the population fled the country. Some made it to Miami, others had the course of their lives altered by winding up in a watery grave. Among the many "individual lives" he "altered" was Mercedes Fernandez's, who before taking up residence in Castro's prison had never before had to "defecate parasites six centimeters long". As the Swedish author Johan Norberg remarked:



~ When I die, I want to die peacefully in my sleep, like Fidel Castro, not screaming in terror, like his victims.



That's a savage variation of the old gag: I want to die like my dad - peacefully in my sleep, not screaming in terror, like his bus passengers. And it's entirely appropriate, even if Mr Norberg's Twitter followers don't care for the cut of his jib. On the other hand, Britain's Leader of the Opposition, Jeremy Corbyn, offered a more nuanced judgment:



~ For all his flaws... he will be remembered both as an internationalist and a champion of social justice.



To those of us old-fashioned enough to prefer simple, unadorned "justice" to "social justice", the latter's modish and capricious priorities inevitably set you on the path to tyranny, mass incarceration, and blood on the floor. So I have no particular quarrel with Mr Corbyn's assessment. But I wonder what particular strand of "social justice" he thinks Castro "championed"? Gay rights?



~ Fidel Castro denounced homosexuality as "a bourgeois perversion."



It's fine for the louche salons of British socialists, but don't try it in Havana, where "under Article 303a of the country's Penal Code, 'publicly manifested' homosexuality remains illegal".

Justin Trudeau enjoys "publicly manifested homosexuality" so much he's the first Prime Minister of Canada to march in the annual LGBTQWERTY parade. If he were minded to "publicly manifest" his enthusiasm in Cuba, he'd be arrested: "Social justice" isn't quite as sociable there as it is in Toronto. But don't let a little thing like that get in the way of some A-grade dictatorial crawling...



~ It is with deep sorrow that I learned today of the death of Cuba's longest serving President.
Fidel Castro was a larger than life leader who served his people for almost half a century. A legendary revolutionary and orator, Mr. Castro made significant improvements to the education and healthcare of his island nation.
While a controversial figure, both Mr. Castro's supporters and detractors recognized his tremendous dedication and love for the Cuban people who had a deep and lasting affection for "el Comandante".
Colonel
Cornelio Rojas
might disagree about the Health Care part:
As might this chap:
Luckily, unlike Colonel Rojas, he had the benefit of a fair trial.
In short, if you ever needed more proof that Justin Trudeau is an over-the-top lunatic, here it is.
Now, over to
Humberto Fontova:
"Fidel Castro jailed and tortured political prisoners at a higher rate than Stalin during the Great Terror. He murdered more Cubans in his first three years in power than Hitler murdered Germans during his first six.

Fidel Castro shattered — through mass-executions, mass-jailings, mass larceny and exile — virtually every family on the island of Cuba. Many opponents of the Castro regime qualify as the longest-suffering political prisoners in modern history, having suffered prison camps, forced labor and torture chambers for a period three times as long in Fidel Castro's Gulag as Alexander Solzhenitsyn suffered in Stalin's Gulag.

Fidel Castro and Che Guevara beat ISIS to the game by over half a century. As early as January 1959 they were filming their murders for the media-shock value.

Fidel Castro also came closest of anyone in history to (wantonly) starting a worldwide nuclear war.

In the above process Fidel Castro converted a highly-civilized nation with a higher standard of living than much of Europe and swamped with immigrants into a slum/sewer ravaged by tropical diseases and with the highest suicide rate in the Western hemisphere.

Over TWENTY TIMES as many people (and counting) have died trying to escape Castro's Cuba as died trying to escape East Germany. Yet prior to Castroism Cuba received more immigrants per-capita than almost any nation on earth—more than the U.S. did including the Ellis Island years, in fact.

Fidel Castro helped train and fund practically every terror group on earth, from the Weathermen to Puerto Rico's Macheteros, from Argentina's Montoneros, to Colombia's FARC, from the Black Panthers to the IRA and from the PLO to AL Fatah.

Would anyone guess any of the above from reading or listening to the mainstream media recently?"


No. You wouldn't. A screenshot of Belgian daily
De Morgen:
"Tears because of deceased Castro:"
Leftism is a disease of the mind.
MFBB.