You'd almost forget it, but seventy years ago the then fiercest air battle ever was fought over the British Channel between the RAF and the Luftwaffe. I wonder what happened
on September 13, 1940?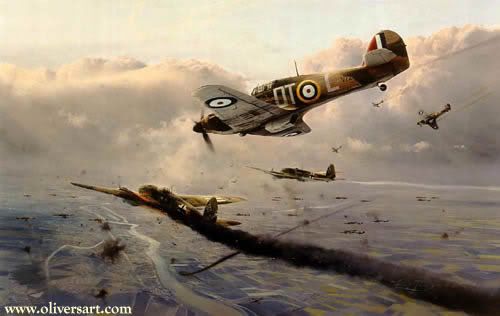 ENEMY ACTION BY DAY

Enemy activity was on a light scale, but during the morning small raids were continuously active over Kent and the London area. Bad visibility hindered interception by our fighters, but one enemy aircraft was destroyed and three others were damaged.

East

As a result of an SOS a fighter sweep was carried out 20 miles North-east of Kinnairds Head, but no reports of interception have been received.

South East

From 0730 hours, a number of raids, mostly by single aircraft, crossed the Coast between Hastings and Beachy Head and penetrated to the Thames Estuary and London area. Up to 0930 hours some six such raids were reported, but thereafter a steady stream of raids developed, most of which originated from the Dieppe area. It was reported that enemy aircraft crossed the Coast at the rate of one about every 8 minutes. One raid penetrated to Chelmsford, but practically all the others proceeded to the South London area, returning to Dieppe.

Between 1300 and 1500 hours, these scattered raids continued and appeared to have as their objectives, Biggin Hill and targets in mid Kent. One raid was plotted towards Rochford, and one raid, reported to be a long-nosed Blenheim, attacked Dover Harbour.

From 1500 hours until night operations began, enemy activity consisted chiefly of reconnaissance flights between North Foreland and Beachy Head.

South and South West

In the early morning, one raid flew parallel to the Coast from 15 miles South of Selsey Bill, westwards into Lyme Bay.

Between 1300 and 1500 hours, three raids were active from Selsey Bill to Tangmere, and there were three reconnaissances in the Straits between Dungeness and Foreness.

At 1800 hours, one reconnaissance was made from Boulogne along the Coast to the Isle of Wight.

West

A vessel was attacked off Copeland Light (Near Belfast) at 0650 hours, by an aircraft reported to be a four-engined bomber.
Check out this fragment from the movie Battle of Britain, 1970. The making of this famous film lies now further behind us than did the actual battle at the time this movie was shot.
Te "Heinkels" you see here are actually Spanish CASA 2.111's, a Spanish version built under license by Construcciones Aeronauticas S.A.. After the Second World War, getting to Junkers engines naturally became a huge problem, and a solution was found - oh the irony! - by installing British Rolls Royce Merlin 500's. The Spanish Air Force used these obsolete planes till the early seventies.
MFBB.