Via
NRC Handelsblad
, which is something like the Dutch equivalent of
The Washington Post
: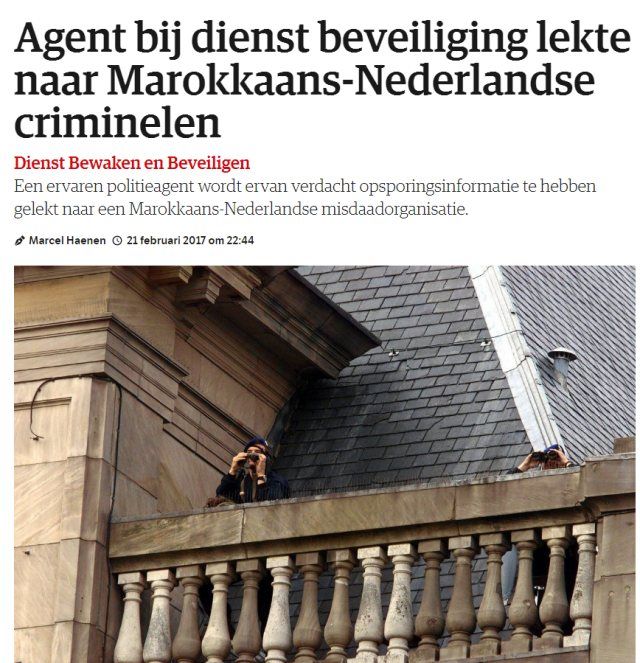 "OFFICER AT GUARDING AND PROTECTION UNIT LEAKED INFO TO MOROCCAN-DUTCH CRIMINALS.

From within the police service tasked with, amongst others, providing the security detail for Geert Wilders and members of the Crown, information deemed very sensitive was leaked on a regular basis to a Moroccan-Dutch criminal organisation.

An experienced police officer of Moroccan descent, active in the so-called Dienst Bewaken en Beveiligen (DBB) [Guard and Protect Service - MFBB], is suspected of having leaked sensitive information to members of a criminal organization known for larceny and whitewashing money.

According to several high-ranking police staff members, the officer in question was tasked with preparing so-called 'surrounding scans'. He had to scout for places where threatened and guarded persons would visit. The officer of the Federal Unit had access to databases with extremely confidential information. "For a job like his you got to have access to all information you deem important to ask for", says an investigative staffer. The officer was arrested last Monday on suspicion of violating state secrets and has been suspended."
As a result of this revelation,
Geert Wilders
, the leader of the PVV (Partij voor Vrijheid, or Party For Freedom, currently leading in the polls), suspended his campaign.
Reuters
writes:
Dutch anti-Islam politician Geert Wilders, who is leading polls ahead of next month's election, said on Wednesday he had canceled all public campaign events after an agent involved in his security team was suspended.

The secret service said on Tuesday an agent of a Moroccan background had been suspended on suspicion of leaking details to a criminal organization.

On Wednesday, newspaper Algemeen Dagblad reported that the man's brother, also a police officer, had leaked information about murder inquiries and had been accused of rape and been dismissed. Police were not immediately available for comment.

There is no suggestion the cases had anything to do with Wilders or his team.

Secret service chief Erik Akerboom said on Tuesday that neither Wilders nor any of the other people the team protects, including the Dutch royal family, had ever been in danger as a result of the leaks.

Wilders, who promises to close mosques and crack down on "Moroccan scum", said he would await the conclusions of the investigation into the corruption allegations before appearing in public again.

"My god, I had no idea," tweeted Wilders, who has been living under 24-hour protection since the 2004 murder by an Islamist militant of film-maker and Islam-critic Theo van Gogh. "How much more is there I don't know."
But back to NRC Handelsblad for the real howler, which comes, as all good things, at the end:
"Police Diversity policy sputters

The arrest of the officer is an enormous setback for the National Police's faltering diversity policy, which strives to attract more officers of another ethnic background. It is the second time in a year that an officer with a migrant backgrond is arrested on suspicion of corruption. Last year in June, a police officer of Moroccan extraction of the The Hague Unit was apprehended in a corruption dossier. He is suspected of having tipped family members tens of times about weed plantations police was about to overrun. His pals whisked the drugs away just before police arrived.

"The problem of these corruption investigations is that the arrested officers are more loyal to their Moroccan family members or friends than to the police", says an investigation officer."
No shit Sherlock! Who would have thunk it???
Cut the crap. Make that 'muslims are more loyal to their family members than to the state that harbors and feeds them.' Your bottom line here is:
NEVER, EVER TRUST MUSLIMS!
MFBB.