Via
Gatestone EU:
In the interview,
Det Goda Samhället (The Good Society)
's
Paulina Neuding
interviews
Gordon Grattidge
, President of the Swedish Ambulance Drivers Union, on Sweden's no-go zones which, according to the world's First Feminist Government (hurrah!), do not exist.
Key exerpt:
Q "When you say ['no-go' areas], do you mean areas mainly inhabited by immigrants?"
A-"It's usually so. Absolutely. Not excuslively, but that's how it is today."

Q "So there are more areas such as this and we will see an escalation of threats and violence?"
A -"That's our experience and we receive reports from members, media and other parties. We see an increase definitely."

Q "Violence and threat. Isn't that when the ambulance should be there? Is it that dangerous?"
A -"It's too dangerous to enter. We can be prevented from entering. We may be blocked from getting out. Vehicles can be sabotaged at the site. We can be exposed to physical violence. In seconds it can turn to attacks on our vehicles or against us personally."

Q"Is it persons throwing rocks, for example?"
A-"It can be stone throwing and even worse. Hand grenades have been thrown at police so that is a great concern."
And this just in, via
Breitbart: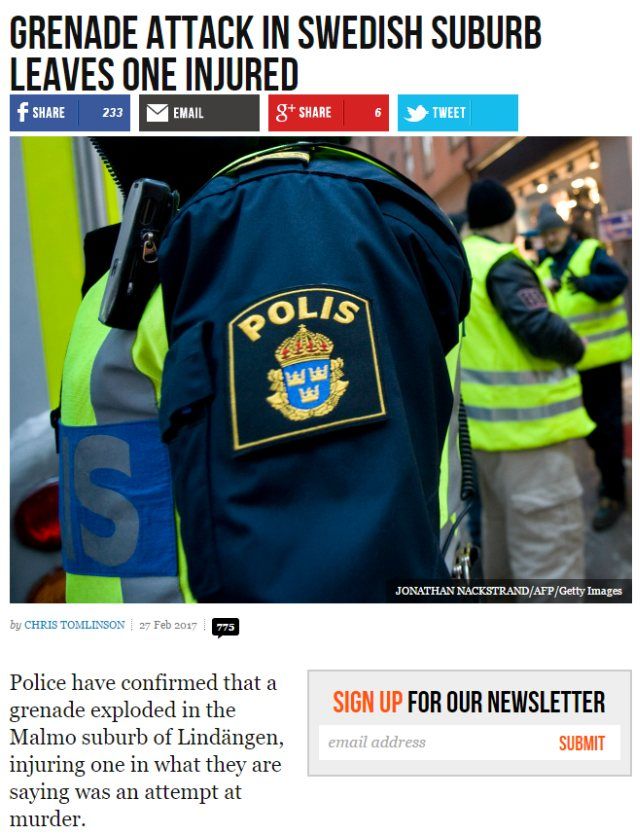 "Police cordoned off a townhouse in Malmo's Lindängen district after reports of an explosion that they believed to have been a hand grenade. One person has been taken to a local hospital with shrapnel injuries according to the authorities and members of Sweden's national bomb protection were called to the scene newspaper Afton Bladet reports.

"We suspect that there was a grenade," said police spokesman Calle Persson and added, "there are knowledgeable police officers on site who have concluded this after the object was found at the site and the damage to a person."

"We examining the case as attempted murder because we believe that the hand grenade thrown with intent to harm. A man has been hit by shrapnel. But if the grenade was directed against him, in particular, I do not know," he added.

Police say they were called Monday evening just after 9 pm after someone heard an explosion on the property which contains multiple residences.

The national bomb squad is expected to seal off the area and examine the scene for evidence of the cause of the explosion and whether or not any more potential explosive devices are still in the area."
But all is going swell in Sweden! Lofven and Bildt say so!
MFBB.