The magnificent
Baptism of Christ
, by
François Rude
(1784-1855), in the
Chapelle des Fonts baptismaux
of the
Église de la Madeleine
. The church is situated in a commanding position in Paris's eight arrondissement, famous for the
Arc de Triomphe
, the
Champs Elysées
and the
Place de la Concorde
...
... but actually, this is the wax model, dating from 1838, while the real thing in marble is in the
Louvre
, more precisely in the
Département des Sculptures
. Rude completed that one in 1841.
The
Baptême du Christ
is spectacular, but so is the building it is in (okay, the wax version): the
La Madeleine
church: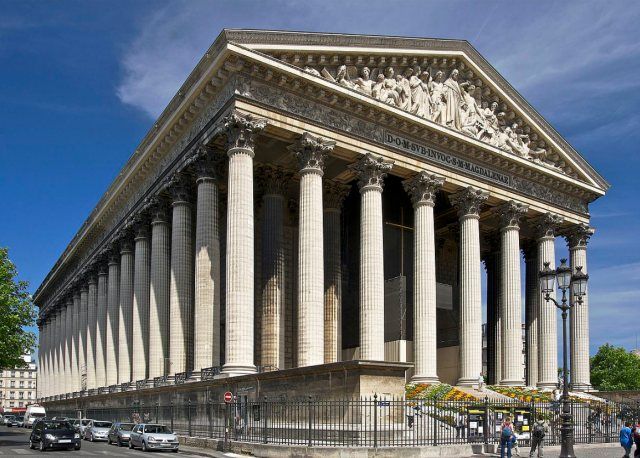 If it does not look like a church but rather like an antique temple, that's because it was originally conceived as such by
Napoleon
, who in 1806 declared that he wanted to erect a memorial for the army, in his words, a
"Temple de la Gloire de la Grande Armée"
. The Emperor commissioned
Pierre-Alexandre Vignon
(1763–1828) to base his design on a Greek or Roman temple, and Vignon chose the
Maison Carrée
in Nîmes as a model to emulate. Existing foundations for a conventional church meant to be built on the same spot were razed, and work begun. After Napoleon's fall however, with the monarchy restored,
King Louis XVIII
decreed that it would be used as a church dedicated to Mary Magdalene. Before it was completed, Vignon died in 1828, and work continued under
Jacques-Marie Huvé
. Louis XVIII's successor
Louis Philippe I
however had yet another purpose for the now well-advanced building in mind, namely as a monument of national reconciliation. And in 1837, after railroads had made their entry on the continent, some even suggested the structure should be a railway station! But finally, in 1842, it was consecrated as La Madeleine church.
Nite.
MFBB.