In Strasbourg, as in so many European cities, Cultural Enrichment is in full swing. Not that you would know it from Belgium's prime news outlet
De Standaard
: last time I checked, about 25 seconds ago (at the time of writing it is 10.40pm over here in Belgistan), they were still decrying the fate of a muslim who lost his wife in the March 22 attacks (at the hands of Jewish Vlaams Belang members as we all know), while simultaneously celebrating the news of Paul Manafort's resignation from the Trump campaign.
So it's up to me to let the world - at least outside outside al-France and Germanistan - know that: (
via PI-News
)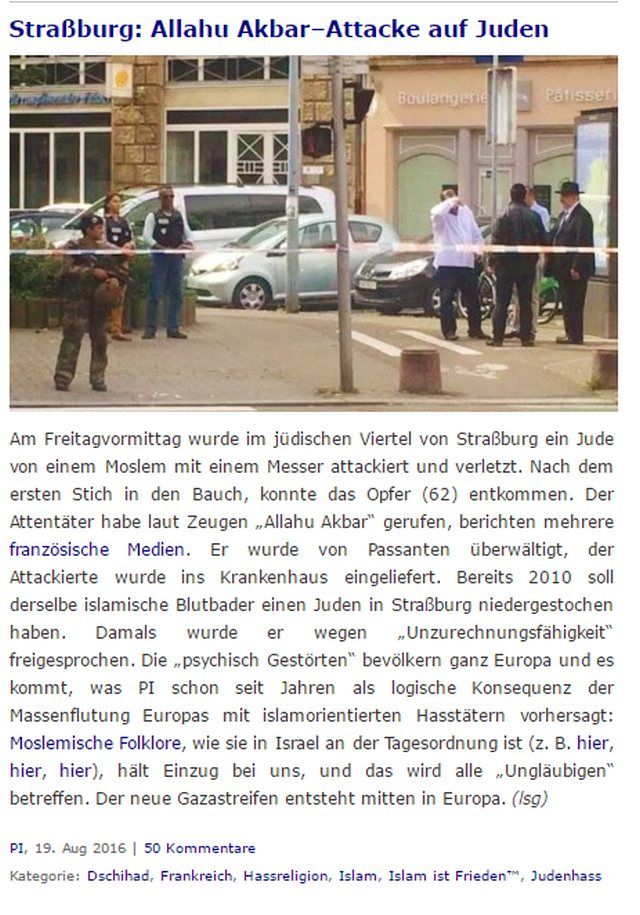 "On Friday morning, in Strasbourg's Jewish quarter, a Jew was attacked and wounded with a knife by a muslim. After the first stab in the stomach, the victim (62) was able to escape. According to eyewitnesses the attacker bellowed "Allahu Akbar", French media reported. He was then forced to the ground by passersby and delivered to a hospital. Already in 2010 the very same islamic culture enricher would have stabbed another Jew in the same city. Back then, he was acquitted as he was deemed "unaccountable" [read mentally unstable - MFBB]. The "unaccountable ones" populate now the whole of Europe and what PI has been labeling for years as the logical consequence of Europe being overwhelmed en masse with islam-oriented haters is coming: muslim folklore, just like the Israelis' daily bread and butter, is making itself felt and will affect the lives of all "infidels". The new Gaza Strip is coming into being smack in the middle of Europe (lsg)."
In case some ludicrous and dishonest De Standaard editor or columnist reads this, it's
YOUR
job I'm doing here asshole. And I'm not even paid for it.
MFBB.