By now most must have heard about the 17-year old Afghan who attacked people on a train near Wuerzburg, Germany. The latest is that three people are gravely injured. Here's a video, courtesy
Gates of Vienna
, where
Joachim Hermann
, the Bavarian Interior Minister, sheds some light on the story:
When the train stopped at Heidingsfeld, a suburb of Wuerzburg, the Culture Enricher got out and fled through town. By coincidence, a special police unit was in town which quickly gave chase and shot and killed the Afghan.
Next thing you know, a politician of the Greens,
Renate Kuenast
, was wondering why it was necessary to kill the guy. Via
PI-News:
Madam Kuenast's question:
"Wieso konnte der Angreifer nicht angriffsunfaehig geschossen werden???? Fragen!"
"How come the attacker could not be neutralized [without killing him?]???? Questions!"

Questions, yeah, questions. The question I ask myself is how leftists and greens and Gutmenschen et al are able to look in the mirror in the morning and not either burst out laughing or else commit suicide right away. THAT's one hell of a question!
In Belgium, with impeccable timing, this very morning one
De Standaard
columnist chose to enlighten us the Great Unwashed with his views on the unfair treatment of muslims in games.
Ruben Mooijman
is a childless
Gutmensch
who probably lives in a sad brown bachelor's apartment where he tries to live holistic and hopes Mother Earth is not too much offended by his trampling on her every day. Here is his
infinite wisdom:
"CANNON FODDER IN COMPUTER GAMES NEEDS URGENT REVIEW"

Need a bad guy? Bring on a muslim

19 JULI 2016 OM 03:00 UUR | From our correspondent 'muslims in Belgium' Ruben Mooijman

In computergames muslims are most of the time the bad guys. Within the sector a consensus is growing that it could also be done differently...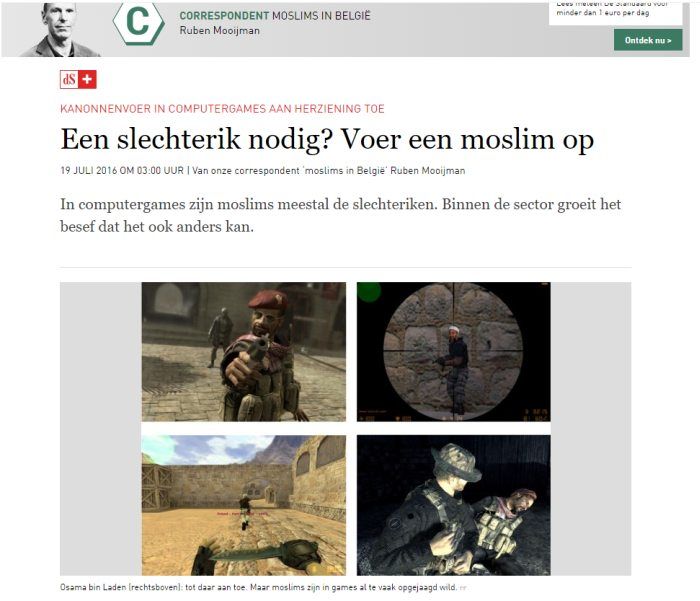 Mooijman should right away send a De Standaard copy to that Hongkong couple, victims of the knife attack, and currently fighting for their lives in some German hospital. I'm sure they will feel better immediately.
But if you thought the Mooijman article to be the
nec plus ultra
of bad taste, sorry, no such luck. Immediately after the Nice truck jihad, another De Standaard editor,
Marc Reynebeau
,
pooped his pants full of brown jelly out of fear of backlash against muslims:
"IN FIVE YEARS 78 PER CENT MORE CASES OF VIOLENCE AGAINST MUSLIMS

Terror and islamophobia go hand in hand

16 JULI 2016 OM 03:00 UUR | Marc Reynebeau
No matter how little details were known regarding the motives of the terrorist in Nice, on the heels of the attack there promptly followed a predictable political recuperation. But this could quickly evolve to islamphobia, with an agressive element on the streets. In the public perception a causal link between diversity and terror is quickly established."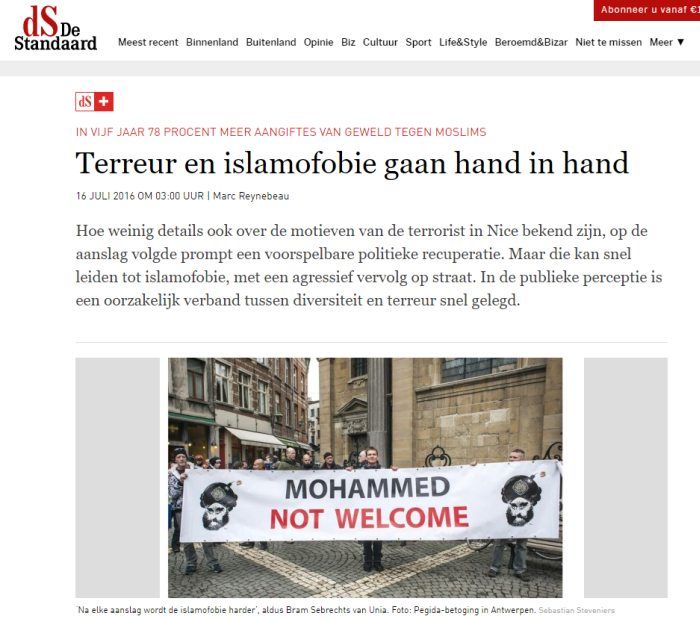 Golly yeah, it stands there:
"In the public perception a causal link between diversity and terror is quickly established".
How on earth would that be possible??? All that happened in the land of Sauerkraut and Lederhosen over the past two years is that 2 million muslims got shipped in?! No big deal, happens all the time everywhere!
Well... at the time of writing they were still scraping human remains off the
Promenade des Anglais
in Nice. But Mr. Reynebeau was far, far more worried about a severed pig's head laid in front of a mosque's door in the dead of night somewhere in Limburg.
Not until leftist and green lunatics crawl back under the rocks and into the gutters where they belong, does Europe stand a chance to defend itself properly.
MFBB.