Via
PI-News
: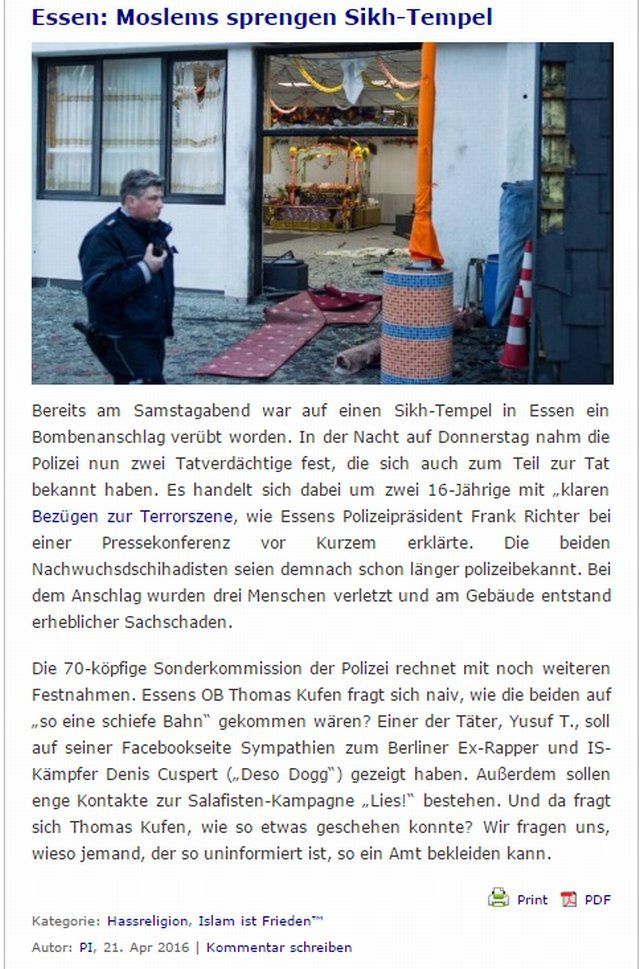 "On Saturday evening a bomb attack on a Sikh temple in Essen took place. The night before Thursday police took into custody two suspects, who partly confessed to the act. They are two 16-year olds with clear sympathies vis-à-vis the terror scene, as Essen's police chief Frank Richter said at a press conference. The two teenage jihadists were no unknowns to police. The attack resulted in three wounded and significant damage to the building the temple was in.

The 70-strong Special Police Committee is counting on more arrests. Essen's burgomaster Thomas Kufen wonders naively, "how those two got on the wrong track?" One of the perpetrators, Yusuf T., would on his Facebook page have shown sympathy for Berlin ex-rapper and IS-fighter Denis Cuspert ("Deso Dogg"). Moreover, he would have had strong ties to the Salafist undertaking "Lies!". And there is Thomas Kufen, asking himself how such a thing could happen? We ask ourselves how someone so badly informed can be a burgomaster."
So Yusuf T. was the mastermind.
The other scumbag's name is Mohammed B.
Yusuf and Mohammed.
Not Hans and Fritz.
A fact that seems to be totally lost on Essen's idiotic mayor Thomas Kufen.
More info
here
.
And our fatherlandish media? HLN reports that
"there are no indications that terrorism is involved and that three men were arrested."
As for
De Standaard
, it is more than happy that a fool could be found who they could quote with the following reassuring message:
"There are no indications that this would be a terrorist or racist attack."
Phew! For a moment there, I feared there might somehow be an 'islam' connection!
MFBB.