Elite antiterror units of Belgian Police, together with some French colleagues, raided a terrorist safehouse in Vorst, a commune in Brussel's southwest.
At the time of writing, 7.15pm, this much is clear: one terrorist suspect has been killed, and three officers wounded. The terrorists returned fire with automatic weapons, probably AK-47s. The operation would
not
have been aimed at grabbing Salah Abdeslam, who is being pursued since the November terrorist attacks in Paris.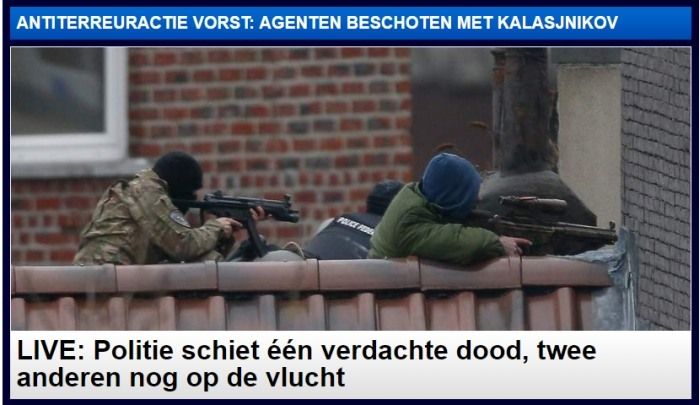 Two suspects would be on the run.
More later.
UPDATE: press conference by PM Charles Michel yesterday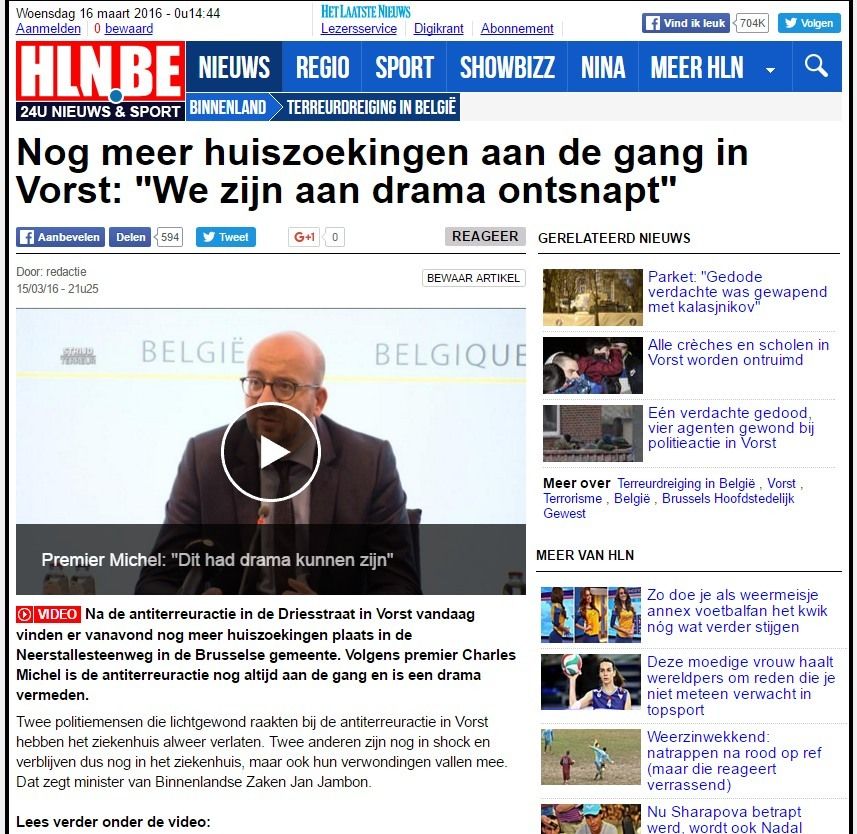 The same evening PM Charles Michel held a press conference during which several details were revealed that shed another light on the events. It turned out that initially there were no elite antiterror units involved. The first two wounded among the police fell among regular officers conducting a routine house search in Vorst. Yet upon ringing at the door of the particular apartment in Vorst, they were met by a volley of fire through the door. It appears that by chance, they had stumbled upon a sleeping cell.
It was only then that an antiterror unit was deployed and streets cordoned off. There were also some French officers involved. On the images released thus far, they are the ones wearing uniforms back-stenciled with "Police" only. Belgian police - at least those from precincts and units in the capital - have uniforms and clothing with "Politie - Police".
In the ensuing shootout the terrorists used automatic weapons. One of them was killed, a 35 year old Algerian,
Mohammed Belkaïd
, staying illegally in Belgium. Two more officers were wounded, but again not critical.
Michel stated "that a drama had been avoided".
It might well be, given the affiliation of the terrorists. Today, Eric Van Der Sypt, a spokesman for the Federal Prosecutor, revealed that in the dead terrorist's apartment salafist literature and an IS flag had been found - apart from a Kalashnikov and eleven spare magazines. The floor was littered with numerous shell casings.
Van Der Sypt said that during numerous house searches nearby another Kalashnikov in a building not far from the safehouse was found. Also, some spare magazines and black clothing.
Two suspects managed somehow to escape - in all likelihood they received help in this "multicultural" quarter.
The nearby Audi plant was closed prematurely, and in two schools the pupils were not allowed to go home at normal closing time. they had to wait for an all clear signal that came later in the evening.
This is what the famous multicultural enrichment boils down to. Hundreds of thousands of euros blown through in a single afternoon and evening for staging an antiterror operation, blocking entire neighborhoods and traffic, halting a factory, and closing schools for good measure. Your Infidel tax euros at work!
Thanks but no thanks to our moral betters the greens and socialists AND basically all their comrades in the traditional parties.
MFBB.