Every day now brings fresh evidence of the sheer and utter insanity of allowing tens of thousands muslim "refugees" in. This is a small selection of last week's heartwarming stories:
1.) Via
HLN Online
, 19 February 2016.
AFGHAN "REFUGEE" RAPES YOUNG WOMAN IN CELLAR ASYLYM CENTER.
"A 16 year old Afghan asylum seeker is suspected of having raped an employee in a refugee shelter in Menen, VTM News reports. This is confirmed by the Ghent branch of Prosecution in the province of East Flanders. The facts occurred wednesday in a Red Cross facility in Menen. The victim is working for a caterer delivering supplies to the asylum center. When the woman was in the cellar handling supplies, she was raped by the teenage boy, reports VTM News. Before, the boy would already have hurled verbal insults to the woman..."
2.)
ELEVEN ASYLUM SEEKERS "REMOVED" AFTER BRAWL OVER HEADSCARF: "THEY HAVE TO ADAPT TO OUR RULES."
"The eleven persons taken into custody Friday afternoon after a fight in which a hundred individuals were involved in the Leopoldsburg asylum center have been "removed". This is confirmed by An Luyten, spokeswoman for the Red Cross. "The four who were a part of the hard core have been transferred to a closed refugee shelter. The seven others have been individually placed elsewhere in other asylum centers in Flanders", says An Luyten."
So first police and staff had to intervene in the asylum center in Leopoldsburg to calm things down. Then four hotheads had to be transported and placed in a closed "refugee" center elsewhere to limit future damage. And then the seven others had to be placed somewhere else also, INDIVIDUALLY, which means that at least seven times police vehicles had to be deployed to transport them to seven separate refugee centers. And who is paying for all this nonsense??? Why, me, us, the stupid Belgian taxpayers!
As for the quote "They have to adapt to our rules", no, it's not coming directly from the eleven culture enrichers, though you can be sure that's on their mind. It's actually from State Secretary for Asylum and Migration
Theo Francken
(N-VA), a full-blooded idiot, strong on words, weak in deeds.
3.)
MINORS FIGHTING EACH OTHER IN ASYLUM CENTER ZWIJNDRECHT.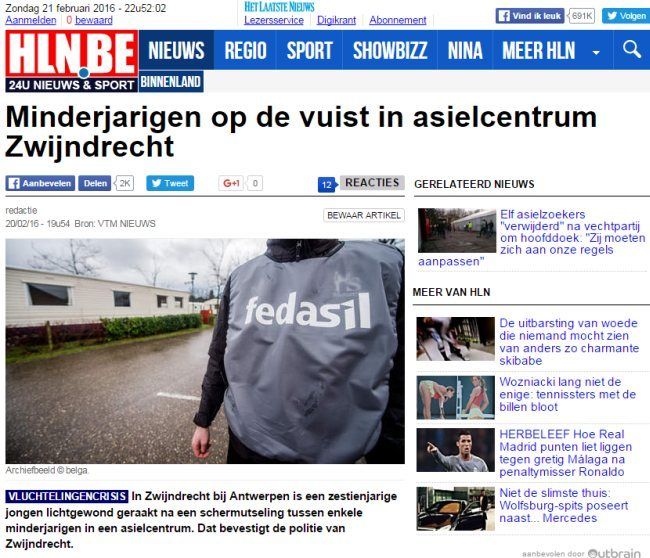 "In Zwijndrecht, near Antwerp, a sixteen year old boy was slightly wounded in a fight between several minors in an asylum center. This is confirmed by the Zwijndrecht Police Department."
So this turd is "slightly wounded". Ergo, he's being treated in some hospital and receiving excellent care...
... paid for by you know who.
It is all so utterly depressing.
MFBB.