Four Belgian F-16s currently operate from
Ämari Air Base
in Estonia, as part of NATO's Enhanced Air Policing Mission (EAPM).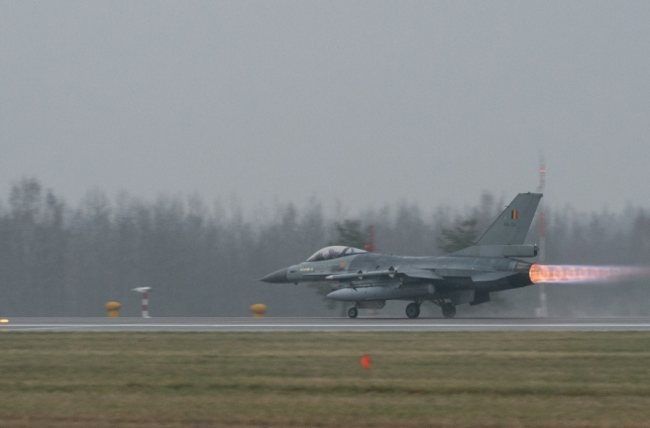 Ämari Air Base is located in
Harjumaa
, a northwestern county in Estonia, at the Gulf of Finland. The base is located 7 kilometers south of Lake Klooga. During the Cold War, the Soviet Air Force operated from Ämari with 170th and 321st Naval Shturmovik Aviation Regiments, which were equipped with Su-24
Fencers
(the same type is currently being used for bombing ISIS). The Estonian Government proposed NATO to use the base to conduct its Baltic Air Policing patrols. Ämari was assessed for that purpose by USAF's 48th Fighter Wing in April 2014. The facility was found suitable for the task, and before long four Danish F-16's started their patrols from there. Since then, there have been regular shifts of NATO four-plane detachments. The base even saw the arrival of F-22 Raptors last autumn.
Here's a rather flashy video made by NATO of our F-16's operating from Ämari:
And while our old F-16's are for the umpteenth time being deployed overseas, the political debate in Belgium still has not given any indication with regards to the Fighting Falcon's successor. If it were up to the military, the F-35 would be it. Despite the F-35's lengthy and costly development period and the difficulties still plaguing the programme, it still remains the obvious candidate for the F-16 replacement. Belgium's defense industry thinks so too - in September 2015 three leading defense companies, Sonaca, SABCA, and Ilias Solutions signed a protocol accord with Lockheed Martin.
MFBB.