Via
HLN Online
,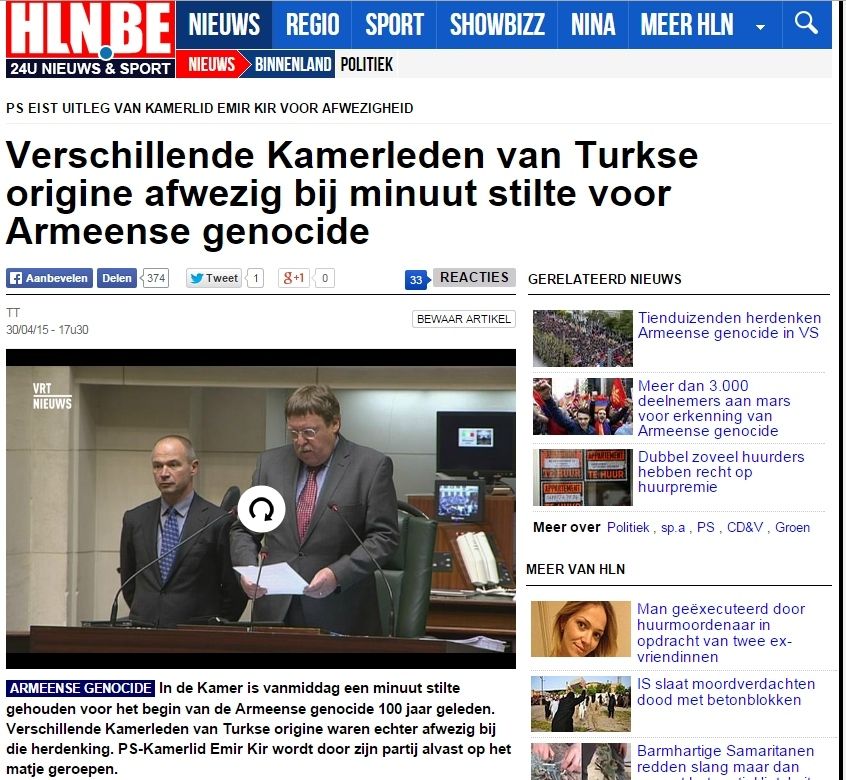 On Thursday April 30, the Chairman of the Belgian Parliament's Lower House [the "Kamer"; MFBB] asked MP's to observe
one minute of silence to commemmorate the Armenian Genocide
, which historians agree started one hundred years ago last week. Several MP's of Turkish origin were conspiciously absent. "One hundred years ago the Armenian genocide took place", said Lower House Chairman Siegfried Bracke (N-VA). "We have the moral duty to keep remembering this, history may not repeat itself and we have to continue to keep working on this by engaging ourselves for peace and justice".
Alas for Mr Bracke, during the one minute of silence
only a few MP's of Turkish origin were present
, like Ozlem Ozen and Nawel Ben Hamou (both of them Parti Socialiste). Neither of them are considered bigshots. Actually only one high-profile MP with Turkish roots participated in the commemmoration, and she is Turkish/Kurdish: Zuhal Demir (N-VA).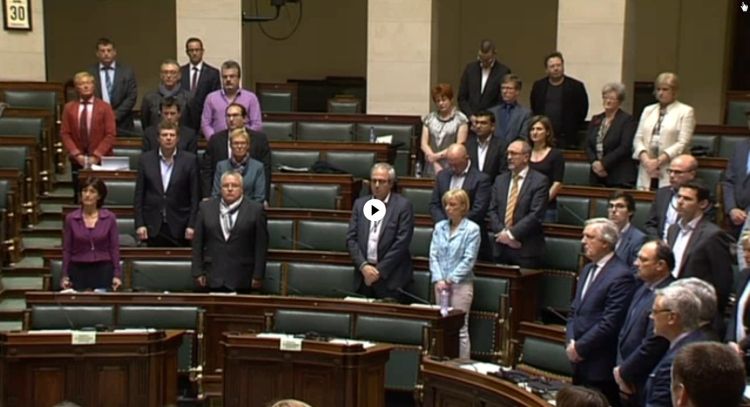 The other MP's of Turkish origin stayed away from the event, and apart from the 'foot soldiers' they include virtually the entire who's who of their group, among them
Veli Yüksel
of CD&V [soi-disant Christian Democrats; MFBB],
Fatma Pehlivan
(SP.a),
Emir Kir
(Parti Socialiste) and
Meryem Almaci
(Groen!).
And of course said gentlemen and ladies had the inevitable excuses: Veli Yüksel had already called off that very morning "because of sickness". Almaci had "several important meetings" which had already been scheduled long beforehand, etc etc etc.
With longtime readers of DowneastBlog the name Veli Yüksel may ring a bell. Indeed, three years ago I ran a post with some info regarding, a.)
the halal certificate for the Port of Zeebrugge
the "Christian" "Democrat" port chief, Joachim Coens, was so proud of, and b.) the top "Christian" "Democrat" candidate for the 2012 municipal elections in Ghent, who
happened to be a muslim (!)
.... Veli Yüksel. Given Ghent's importance in Belgium, that's kind of having a Jew as top candidate for the party of Ali Khamenei in the municipal elections in Qom, Iran, that bastion of democracy according to Bill Clinton, but I digress.
Anyway, Mr Yüksel's slogan at the time was:
"VELI YUKSEL HAS A PLAN FOR GHENT - EVERYONE INCLUDED":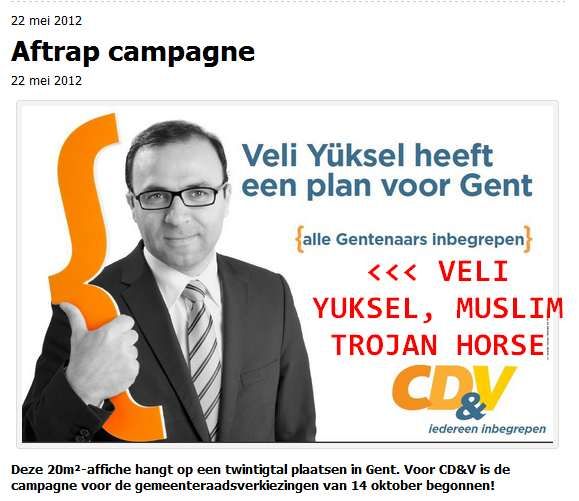 Looks like last Thursday the Turks by and large, Mr Yüksel up front, chose
not to be included
.
Thank you, you well-integrated ladies and gentlemen MP's of Turkish origin,
for showing us so clearly where your loyalties and priorities lay.
MFBB.