Pamela Geller
at
Atlas Shrugs
links to sites with a tally on destroyed or severely damaged Coptic churches and places of worship in Egypt. It's not clear to me whether the following list is just the daily tally or whether a resume of attacks in the past days or even weeks. This is
Coptic World
, and here is
Nile Revolt,
with the former essentially copying the list of the latter.
What
IS
clear however, is that at this very moment Egypt's Coptic Christians are even more under attack than usual - and NATURALLY our MSM is turning a blind eye on it. In Belgium, as so often, De Standaard, Het Laatste Nieuws et al remain completely mute on the subject while on the other hand reporting extensively on the authorization the Israeli government gave last week to build 1,200 new houses in Judea and Samaria.
Why can't they simply have objective articles on the subject like
this one
at Fox News?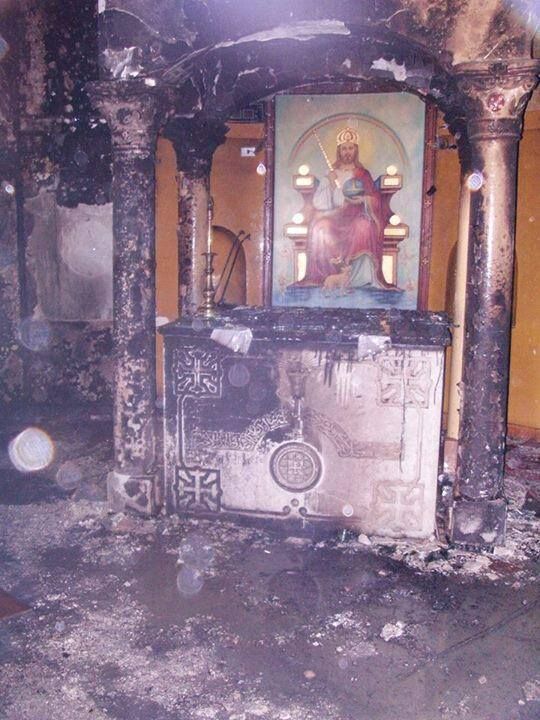 A photo that will NEVER make the pages of De Standaard or Het Laatste Nieuws: the destroyed Saint George Coptic Church in Assuit after a visit by muslim brotherhood thugs.
Anyway, here's the list:
Churches

Alexandria
1.Father Maximus Church

Arish
1.St George Church | Burned

Assiut
1.Good Shepherds Monastery | Nuns attacked
2.Angel Michael Church | Surrounded
3.St George Coptic Orthodox Church
4.Al-Eslah Church| Burned
5.Adventist Church | Pastor and his wife kidnapped
6.St Therese Church
7.Apostles Church | Burning
8.Holy Revival Church | Burning

Beni Suef
1.The Nuns School
2.St George Church | al-Wasta

Cairo
1.St Fatima Basilica | Heliopolis | Attempted Attack

Fayoum (Five churches)
1.St Mary Church | El Nazlah
2.St Damiana Church | Robbed and burned
3.Amir Tawadros (St Theodore) Church
4.Evangelical Church | al-Zorby Village | Looting and destruction
5.Church of Joseph | Burned
6.Franciscan School | Burned

Gharbiya
1.Diocese of St Paul | Burned

Giza
1.Father Antonios
2.Atfeeh Bishopric

Minya
1.Church of the Virgin Mary and Father Abram | Delga, Deir Mawas
2.St Mina Church | Abu Hilal Kebly, Beni Hilal
3.Baptist Church | Beni Mazar
4.Deir Mawas Bishopric
5.Delga Church | Attacked
6.The Jesuit Fathers Church | Abu Hilal district
7.St Mark Church | Abu Hilal district
8.St Joseph Nunnery
9.Amir Tadros Church
10.Evangelical Church
11.Anba Moussa al-Aswad Church
12.Apostles Church

Qena
1.St Mary's Church | Attempted Burning

Sohag
1.St George Church
2.St Damiana | Attacked and burned
3.Virgin Mary | Attacked and burned
4.St Mark Church & Community Center
5.Anba Abram Church | Destroyed and burned

Suez
1.St Saviours Anglican Church
2.Franciscan Church and School | Street 23 | Burned
3.Holy Shepherd Monastery and Hospital
4.Good Shepherd Church (molotov cocktail thrown)- Relationship with Holy Shepherd Monastery unknown.
5.Greek Orthodox Church

Christian Institutions
■House of Father Angelos (Pastor of Church of the Virgin Mary and Father Abram) | Delga, Minya | Burned
■Properties and Markets of Copts | al-Gomhorreya Street, Assiut
■Seventeen Coptic homes | Delga, Minya | Burned
■YMCA | Minya| Burned
■Coptic Homes | Qulta Street, Assiut | Attacked
■Offices of the Evangelical Foundation & Oum al-Nour | Minya
■Coptic-owned shops, pharmacy, and hotels | Karnak and Cleopatra Streets, Luxor | Attacked and Looted
■Dahabeya Nile Boat | Minya| Church-owned
■Bible Society bookshop | Cairo | Burned
■Bible Society | Fayoum
■Bible Society | al-Gomohoreya Street, Assiut

Source: http://nilerevolt.wordpress.com/2013/08/14/1198/

You can donate to the Coptic cause
here
.
Worshippers continue to pray in the burned out hulk of the Coptic Church of Saint Tadros in Alminia.
Having done for free and
AGAIN
the work that 'professional' journalists should do, Outlaw Mike retires for the night.
MFBB.