While ramadan has come and gone, and I actually intended to post the following items
DURING
the so-called muslim fasting season but couldn't get it done in time because of company chores, it's never too late to shed some light on the politically correct insanity being displayed by our moral betters in the Powers That Be:
A.)
THIS RAMADAN, THE CITY OF ANTWERP HAS PAID FOR 38 MORE 'MOSQUE STEWARDS'.
Your tax euros at work!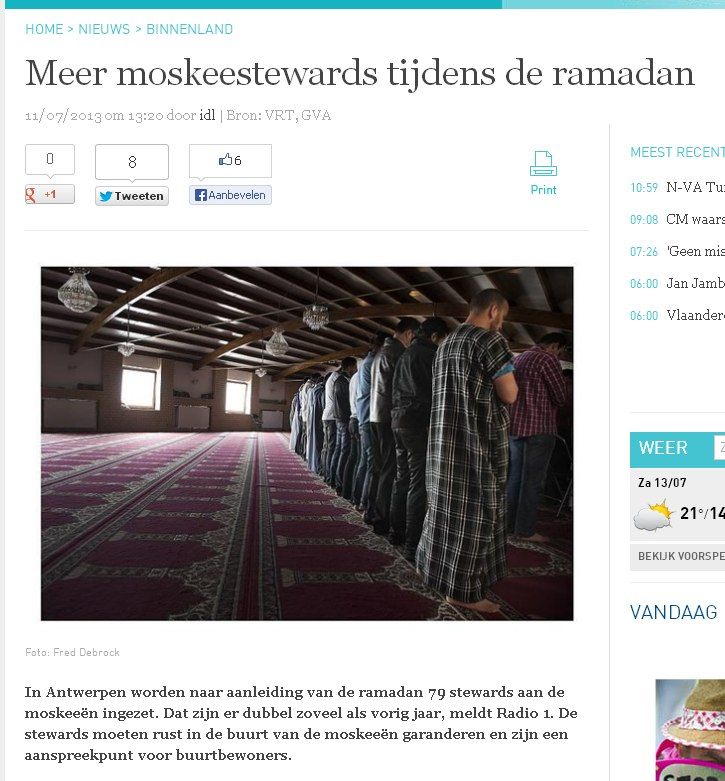 From
De Standaard
, that paradigm of fair and balanced news in the Low Countries. Not.
"The mosque stewards aren't a new concept, but this year the group in Antwerp was reinforced with 38 more of them.

The mosque stewards must make mosquegoers aware of their responsibilities vis-à-vis the neighbors and ask them, amongst others, to not keep talking at the mosque entrance once the imam's sermon is finished. People living around the mosque [autochtons - MFBB] who do experience some kind of trouble will find in the mosque stewards a listening ear.

Gazet van Antwerpen writes that over the past years police received complaints sometimes over excessive noise and parking in unauthorised (private) slots during ramadan. In 2012, 4,300 EUR was spent for equipping the mosque stewards with fluorescent vests and learning them first aid techniques. Police evaluated the project in a positive way."
Now, that is how De Standaard sees it. We will now listen to how Outlaw Mike's interpretation:
"Apparently complaints over hindrance by mosquegoers during ramadan have been steadily increasing over the past years. Local non-muslims have had to live with excessive noise and cars parked in their own private parking slots. The remedy? Instead of curtailing the noise level and fining those who park their cars illegally, no less than 38 MORE 'mosque stewards' are hired and equipped with INFIDEL TAXPAYER MONEY."
Another pic. Hey you stupid indigenous Antwerpian infidel citizen, care to know what your hard earned euros stolen, whoops confiscated by the luvely City of Antwerp are being used for?? Why, to pay the asshat below!!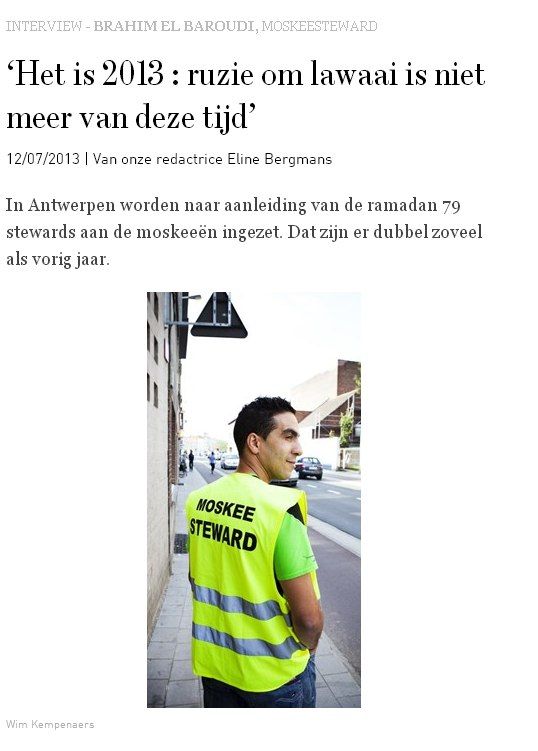 But wait, it gets better. De Standaard shines its light (ecopowered no doubt) on the duties of Belgian enterpreneurs with muslims among their personnel:
B.) SHOULD YOUR BOSS TAKE RAMADAN INTO ACCOUNT?

De Standaard knows the answer.
YES
of course.
Read and shiver: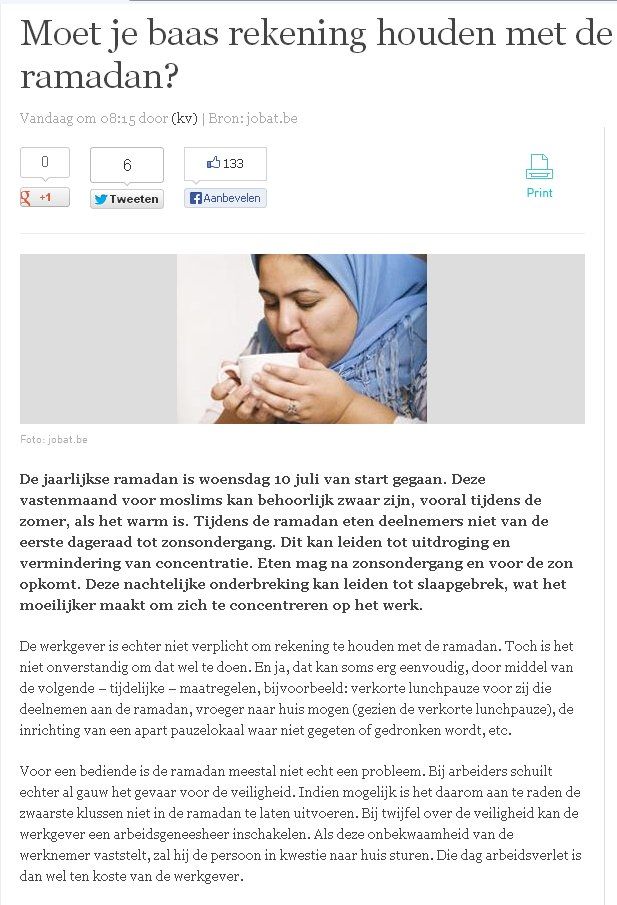 "On 10 July, the yearly ramadan started. The fasting month can be rather difficult for muslims, especially in high summer, when it's hot. During ramadan participants don't eat from dawn till sunset. This can lead to dehydration and loss of concentration. Having a meal is allowed after sunset and before the sun comes up. This nightly disturbance can lead to loss of sleep, which makes it more difficult to concentrate on the job.

The employer however does not have to take ramadan into account per se. However, not doing so would not be smart. And yes, it is possible by adhering to the following - temporary - principles, e.g. a shortened lunch pause for those who participate in the ramadan, allowing them to go home earlier (given the shortened lunch pause), PROVIDING A SEPARATE ROOM FOR NOON BREAK WHERE EATING OR DRINKING IS NOT ALLOWED ETC ETC... [emphasis mine - MFBB]

For a white collar worker ramadan most of the time does not really pose a problem. With hand laborers the danger lurks in safety on the working spot however. IT IS THEREFORE ADVISABLE TO NOT LET THE HEAVIEST JOBS DONE DURING RAMADAN. WHEN IN DOUBT OVER THE SAFETY ISSUE THE EMPLOYER CAN HIRE THE SERVICES OF A DOCTOR. IF THE DOCTOR JUDGES A WORKER IS UNABLE TO PERFORM THE JOB, HE WILL SEND THE WORKER HOME. THIS LOST DAY HOWEVER WILL HAVE TO BE PAID FOR BY THE EMPLOYER [emphasis mine - MFBB]."

It really stands there. You are a boss and in a time of momentary foolishness you hired muslims. De Standaard and jobat.be think that during ramadan, if mohammed screws up his welding or masonry or whatever job because of an empty stomach, mister ramadan should be sent home with a pat on the back and YOU, the employer, should pay for the day's economic losses. It's apparently not enough for the lunatics that the Belgian government is already crushing employers under massive tax and regulatory burdens.
C.) SOME BOSSES WILL GROVEL IN THE DIRT.

However, insanity is spreading, even among those who should know better. In early July, I drove home from the University Clinic at Jette where I had gone to hear about my progress (it transpired that my treatment has gone extraordinarily well for the moment, thank you very much). After having paid a brief visit to my uncle and his wife in D., I decided to take a shortcut via secundary roads and the E40 highway to E., where I had to pick up the books from my accountant, who had been checking them. 'Lo and behold, when passing thru the outskirts of Ternat, I came across the following ads, displayed on a carriage in a meadow.
These are ads from
DIY DeMarie
near the town of Ternat.
Look closely at the woman half of the couple. The caption 'Doe het zelf' means 'Do it yourself' of course.
It's clearly a western woman.
Is the boss of DeMarie such a callous asshat that during ramadan he hopes to lure muslims to his business by depicting a WESTERN woman with a muslim headscarf on his ads??? Is that really possible?
If fear it is. Another one who has succumbed to the Diversinazis and is already groveling in the dirt for his future overlords.
MFBB.