From the You GOT To Be Kidding Me Department:
Syrian refuses to obey female police officer.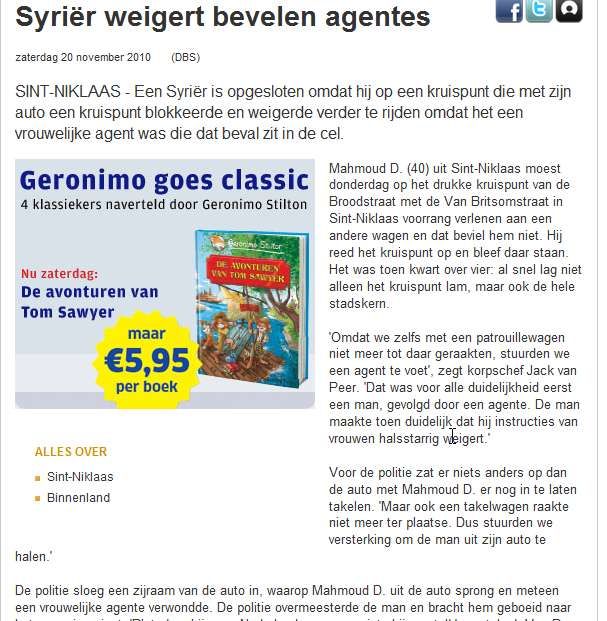 "Syrian ignores female agent's orders
Saturday 20 November 2010

On Thursday Mahmoud D. (40) from Sint-Niklaas had to give way on the busy crossroads of Bread Street and Van Britsomstreet in Sint-Niklaas to another car and this he refused. He drove onto the crossroads and stopped his car there. It was quarter past four: soon not only the crossroads was completely jammed, but also the entire town center.

'Because we did not even manage to get there with a patrol car, we sent an officer on foot' says Corps Chief Jack Van Peer. 'To be clear, that was a male officer, followed by a female one. The man [Mahmoud D. - MFBB] made it then abundantly clear that he did not follow instructions issued by females.'

For the police nothing else remained but to haul away the car, with Mahmoud D. still in it. 'But a truck too did not get to the crossroads' [of course you idiots, if even the smaller patrol car couldn't make it - MFBB]. 'So we sent backup to pull the man out of his car.'

The police busted a sidewindow, whereupon Mahmoud D. jumped out of the car and immediately wounded a female officer. The other officers overpowered the man and brought him, handcuffed, to the police precinct. 'Suddenly he had forgotten how to speak Flemish and he demanded an interpreter', says Jack Van Peer. He got one [! - MFBB] but that turned out to be a woman, 'against whom he refused to talk too.'

Mahmoud D. had a bad luck day. Police briefed the serving prosecutor of the Dendermonde Court. This turned out to be Marianne Bovyn, a woman, whom he refused to talk to just as well. She decided to confront the Syrian right away with an investigator and ordered his arrest. And so Mahmoud D. appeared before investigator Sabine De Leenheer, again a woman he deemed not worthy to look at. Madam De Leenheer applied Lady Justice's Law and had the Syrian locked up in Dendermonde jail."
Prepare for civil war.
MFBB.