It is now official, Outlaw Mike just participated in his very first Thanksgiving Dinner.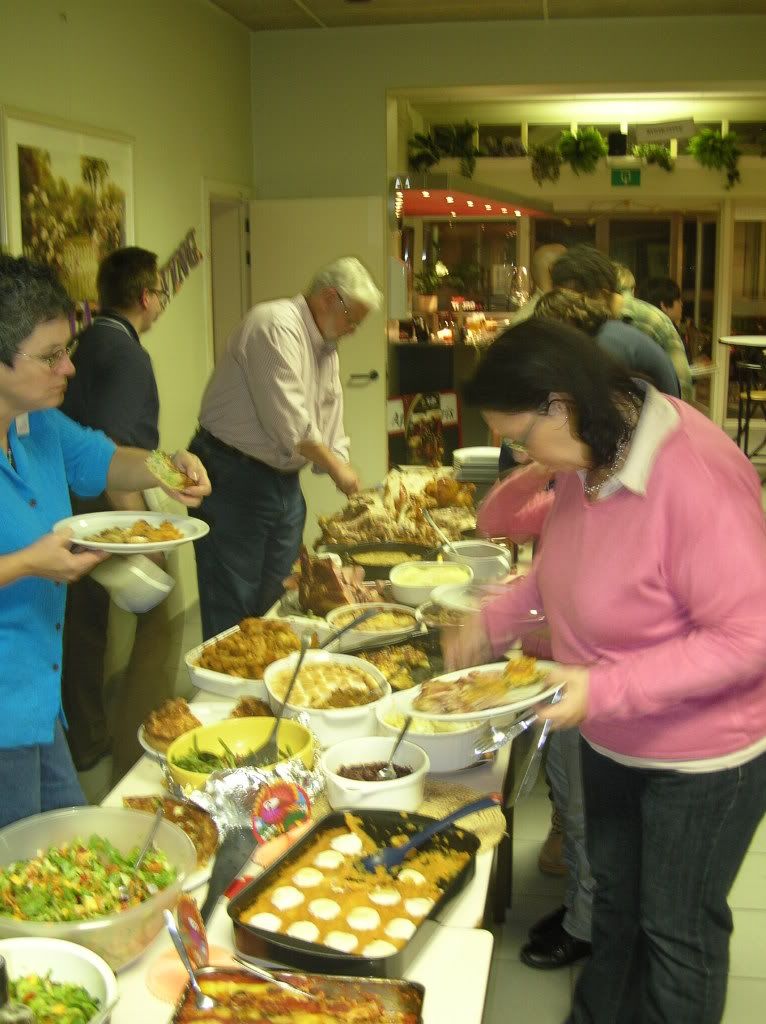 Blurred but atmospheric snapshot of people helping themselves - or getting helped to - abundant decent food. Location: a "parochiaal centrum" in Gentbrugge, a suburb of Ghent. Just like idiots call Xmas "Winterval" nowadays, they would call a "parochiaal centrum" a "community center". Not bibi of course.
The guy with the blue sweater on the left, between the woman and the bearded guy serving food, was the fella who was nuts enough to invite me. Craig B. has been organizing Thanksgiving in Gentbrugge for eleven years. In a grey past, he was a sailor on the USS Mahan (guided missile destroyer DDG 42). Thanks to his efforts, and the efforts of a few acolytes - around 50 people had a very enjoyable evening. The food was ab-so-lu-te-ly delicious and if I say there was plenty of it, it's the understatement of the year.
Shot taken just before the attack. Guaranteed haram. Yum.
Hopping in at such an event often leads to interesting encounters. I happened to sit across an ex-Marine (1st Division, recon), who ended up in the Magical Kingdom of Belgium and now has his own welding enterprise here. Wish we had more immigrants like that.
I was a good boy. I did not once talk about politics. Or religion. Nor did I burp.
Nite all.
MFBB.