Via Dutch online daily
Algemeen Dagblad - Economie
, September 13, 2010: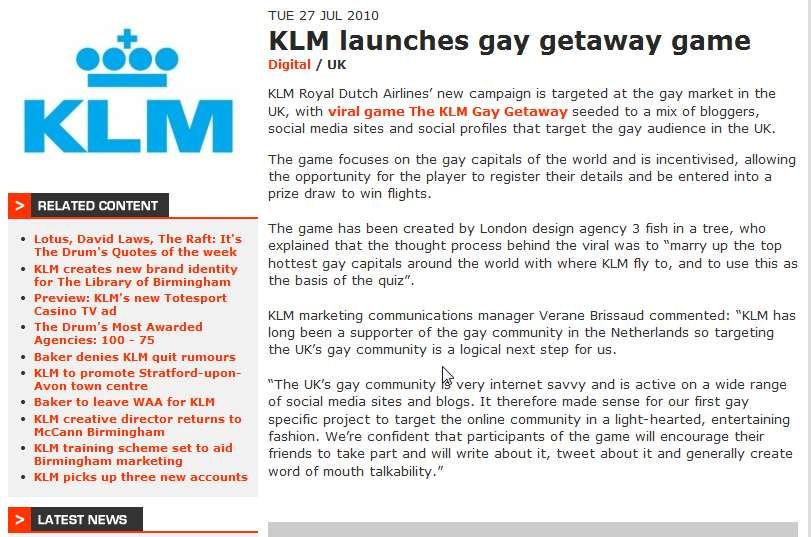 "AMSTERDAM - by means of a quiz about gay capitals, the national Dutch airline company KLM tries to appeal to British gays, writes the Algemeen Dagblad today. The campaign, which runs till the end of the month, aims to convince the target group of the gay-friendliness of the Koninklijke Luchtvaartmaatschappij.

'How hot are you on gay capitals?' begins the quiz on the site klmgaygetaway.co.uk. Visitors only have to guess the destinations on ten photos they see, fill in the multiple choice questions and leave their personal data. Thereafter they stand a chance to win a flight to one of the 'Top Gay Capitals' KLM is serving.

KLM finds it 'dead normal' that it aims at a specific target group. 'That's a bit business as usual for us', says spokeswoman Joyce Veekman. KLM regularly runs targeted campaings at, for instance, businessmen and golfers.

The quiz is part of a broader campaign for gays in general (CN/BVDL)."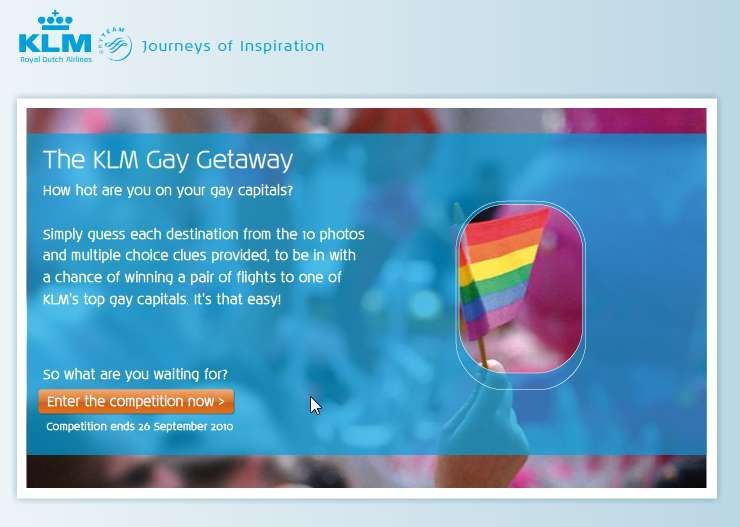 Future historians, standing on the ashes of western civilization, will wonder how entire societies so willingly marched towards self-destruction. The fertility rate among your average autochton Europeans is now at a moribund 1.3 children per couple, although I suspect that number may still be too high. Yet KLM sees no problem presenting a lifestyle that does not result in that most precious of assets - customers - as utterly normal.
Apart from the fact that KLM chooses for short-term financial gains without having a clear strategy for the nearby future, which will be determined not only by the massive disappearance of customers with purchasing power, but also by terrifying problems in finding competent technical personnel (keep in mind that the output in terms of technicians and engineers of the muslim community is pathetically small), you have to wonder whether the company's top brass sits in some ivory control tower.
The autochton Dutchmen and -women take presumably pride in Amsterdam as one of the top gay capitals in the world. However, if you avoid rosy MSM accounts you discover an entirely different reality. Amsterdam, which, like Rotterdam, is undergoing a stealth ethnic cleansing at the hands of mainly muslim immigrants, is actually getting quite dangerous for gays. Via
Big Peace
, September 2010:
GAYS HARASSED DURING DEMONSTRATION

AMSTERDAM — A demonstration of two thousand gay and lesbians against anti-gay violence Sunday was ruined by a series of incidents. In one of them a demonstrator[1] was injured at the hands of two women of 18 and 19 years. Afterwards the demonstrator reported the perpetrators to the police. They were both subsequently detained, but set free on Monday.

The two women wanted to get through a group of demonstrators on the Westermarkt with their bikes, shortly after the march had ended. When the man said something about it, they shouted insulting remarks at him. This resulted in a fight in which the man was hit by the two women. When one of the woman hit him with a bag, he was wounded in the head. The man and bystanders managed to hold the girls until the police arrived.

[Note: Shortly after the demonstration against anti-gay violence a boy was beaten up by two Moroccan girls. This was reported by eyewitnesses who were present. (source) — VH]

But there were more incidents. On Monday, the reports poured in to a gay-rights organization, the foundation "Right to Feel Safe", as spokesman Fya Hopelezz said.

For example, there were boys on scooters [see article below; these may have been Moroccans] who repeatedly drove onto the protesters. A group of lesbians was threatened, verbally abused and pelted with beer cans [see also the article below], and several fights had to be calmed down.

"This makes me very sad. It shows how rock-hard the situation is now in Amsterdam," says Hopelezz. "The anger sits deep in the gay community. Anger over the violence, but also because everyone keeps saying that anti-gay violence is not that bad within the city."
This is no recent phenomenon, of course. Five years ago already,
The Times
ran the following article:
"WHEN the editor of one of America's leading gay magazines visited the world's gay capital a fortnight ago, he assumed that he would be safe.

But as Chris Crain, editor of the Washington Blade, was walking hand in hand with his boyfriend near one of the gay districts in Amsterdam, two men standing on a street corner spat at his face. He stopped to ask why, was called a "fag" and suddenly the two youths turned into seven.

Surrounded, Mr Crain was kicked to the ground by the gang and ended up in hospital with a broken nose and badly bruised face.

His attackers were Moroccan youths, blamed by Dutch gay rights groups for a disturbing rise of gay-bashing, as conservative Islamic culture clashes with Dutch liberalism.

For the first time, the Amsterdam Tourist Board has issued a warning to gay visitors to be careful in the city. In the first country to legalise homosexual marriage, gays are increasingly fearful of holding hands in public. Some have been chased out of their houses and middle-class gays are moving to rural areas for safety.

"I was really surprised. I felt comfortable, because it is San Francisco times ten. But I didn't appreciate the depth of hostility between different groups there, and we walked right into the middle of it," Mr Crain said from his home in Washington.

In the city where six months ago Theo van Gogh, the Dutch film-maker, was killed by an Islamic extremist, the tourist authorities felt compelled to issue a warning.

Herman Terbalkt, of the Amsterdam Tourist Board, said: "Gay visitors should be careful and alert. Some people in Amsterdam are not tolerant of other people. It is a social problem."
A social problem huh. I suppose KLM's Board of Directors and marketing boys are too high on cannabis to be aware of Amsterdam's 'social problems'.
Fucking fools. I am surrounded by fucking fools. They are all over the place.
MFBB.