The colossal drama of the islamization of Europe is unfolding right before our eyes. Or would be, were it not that "incidents" like this are invariably relegated to less obvious media outlets.
About a hundred muslim youths set a school on fire in
Rinkeby
, a suburb of Stockholm, Sweden's capital. We have been talking about Rinkeby before on these pages, e;g. when I linked to
this article
in which investigator Backman found out
that white blonde girls paint their hair in dark hues to avoid attention by muslim rapists.
Our colleage Undhimmi
regularly has updates on Rinkeby too.
Rinkeby is not the only place where muslims are targeting schools as part of their ethnic cleansing campaign. In April they
set a kindergarten school on fire in the notorious Rosengard district in Malmo, southern Sweden: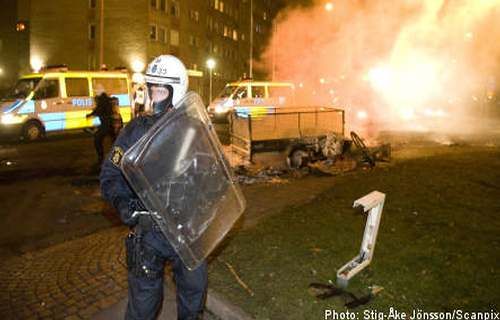 "...The Jihad in Malmö continues apace. The Jews have largely left – and now the 'youths' (EUrabian code for 'young Muslim hoodlums') are looking for other targets:

A pre-school in Malmö's Rosengård district was shut down on Monday morning in the interests of staff safety following an extended period of threats and harassment from a gang of local youths.

Henrik Wolter, a health and safety representative for the Swedish Teachers' Union, took the decision to close the pre-school with immediate effect following consultation with district leaders.

The 34 children who attend the Herrgården pre-school have been moved temporarily to a school in Käglinge in south-east Malmö, but district chief Eva Ahlgren expects the children to move to a new location in Rosengård on Wednesday. In the longer term, places have been set aside for the children at a pre-school affiliated with Rosengård School, which is currently being extended..."
Prepare for war.
MFBB.