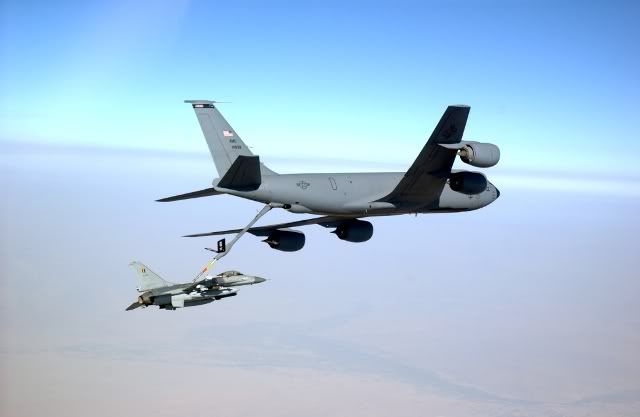 Belgian Air Force F-16 being refueled over Afghanistan by a US KC135 tanker.
As old as the F-16 may be, the KC 135 beats it hands down. The KC 135, successor to the piston-driven KC 97, was the USAF's first jet powered aerial refueling tanker, and was derived from the Boeing 707 airliner. When looking at that pic, which still does not project antiquity, it's hard to imagine these tankers have been in service for 52 years now, a feat only accomplished by a handful of other designs. Although maintenance costs are rising steeply (in 2002 it was calculated that one hour of flying time cost 11,000 US$ - that's
maintenance
cost, not even flying cost), it's still worthwile to keep them in the air - theoretically they could last 80 years (!) - and replace them only gradually. Actually, the whole issue of replacement is a story in itself, with a project of a modified version of the Boeing 767 shot down in 2003 because of charges of corruption in how Boeing was awarded the contract. Yet that company was subsequently able, in 2008, to freeze a possible USAF-Grumman Northrop/EADS deal involving the much-vaunted KC-45A tanker of the latter (in fact a modified Airbus 330). Or, how the feud Boeing/Airbus will never end. Currently, the KC-45A contract seems to be in limbo and USAF may have to rebid it. It all means that the sturdy workhorse above won't disappear soon.
MFBB.