Via FOX News,
"IN DENMARK, TEENAGE GIRL CHARGED WITH BOMB ATTACKS":
"COPENHAGEN, Denmark – A Danish prosecutor says a 16-year-old girl has been formally charged with planning bomb attacks against two schools in Denmark.

Prosecutor Lise-Lotte Nilas says the teenager is accused of "having made preparations to make bombs" using the explosive known as TATP. She said her targets were a school west of Copenhagen and a Jewish school in the capital.

Police thwarted the plans by arresting the girl on Jan. 13, 2016. A trial is set to start April 7, 2017 in Holbaek, northwest of the Danish capital.

Charges against a 25-year-old man, initially believed to an accomplice, have been dropped.

Defense lawyer Michael Juul Eriksen told The Associated Press his client, who twice had been in Syria, would be released later Friday.

Neither the girl nor the man could be identified."
And in Montpellier, France, via
FRENCH COUNTER-TERROR POLICE 'FOIL PLANNED SUICIDE ATTACK AT PARIS TOURIST SPOT':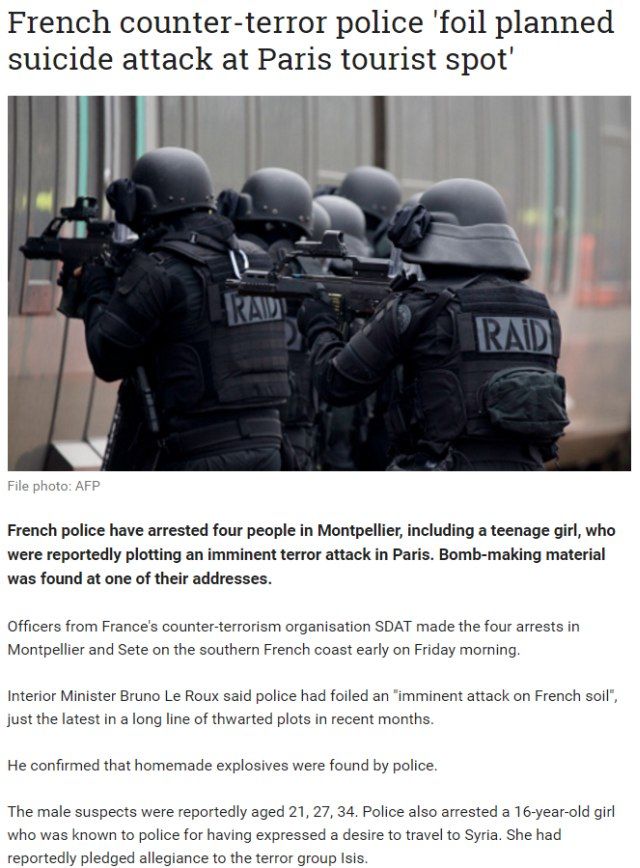 "French police have arrested four people in Montpellier, including a teenage girl, who were reportedly plotting an imminent terror attack in Paris. Bomb-making material was found at one of their addresses.

Officers from France's counter-terrorism organisation SDAT made the four arrests in Montpellier and Sete on the southern French coast early on Friday morning.

Interior Minister Bruno Le Roux said police had foiled an "imminent attack on French soil", just the latest in a long line of thwarted plots in recent months.

He confirmed that homemade explosives were found by police.

The male suspects were reportedly aged 21, 27, 34. Police also arrested a 16-year-old girl who was known to police for having expressed a desire to travel to Syria. She had reportedly pledged allegiance to the terror group Isis.

One of the arrested men was described as her "mentor" and was being closely watched by French intelligence services, a source told AFP.

Police found 71 grammes of the explosive TATP in the apartment as well as acetone and a litre of sulphuric acid.

"The four suspects were arrested after they bought acetone," a police source told AFP, referring to a highly-explosive liquid that can be used to make bombs.

"It seems that they intended to go through with it and to make several explosive devices," the source said.

A separate source told L'Express newspaper: "We think they had a project ready to carry out, but at this stage we do no know where or when."
Great. Absolutely
G-R-E-A-T
. By all means, bring more muslims in! More More More
MORE MOOOOOOOOOOOOOORRREEE!!!!!
We
N-E-E-E-E-E-D
'em!!!
And impeach Trump! Like,
NOW
! He's such a racist! A xenophobe! A sexist! Worst of all, an islamophobe!!!
MFBB.
PS: notice how neither Fox News nor The Local used the words 'muslim' or 'islamic'. I wonder why that is hmmm. Dunno where The Local stands, but with regards to Fox News, maybe it's just me, but I seem to have noticed they are on a slippery slope towards becoming MSM.