Things are spiralling completely out of control in the Swedish city of Malmö, to the extent that the local police are "exhausted" and are now literally begging the rest of Sweden for help. This is from
The Daily Telegraph
, on the killing of a 19-year old culture enricher, the wounding of three others, and an explosion last Sunday: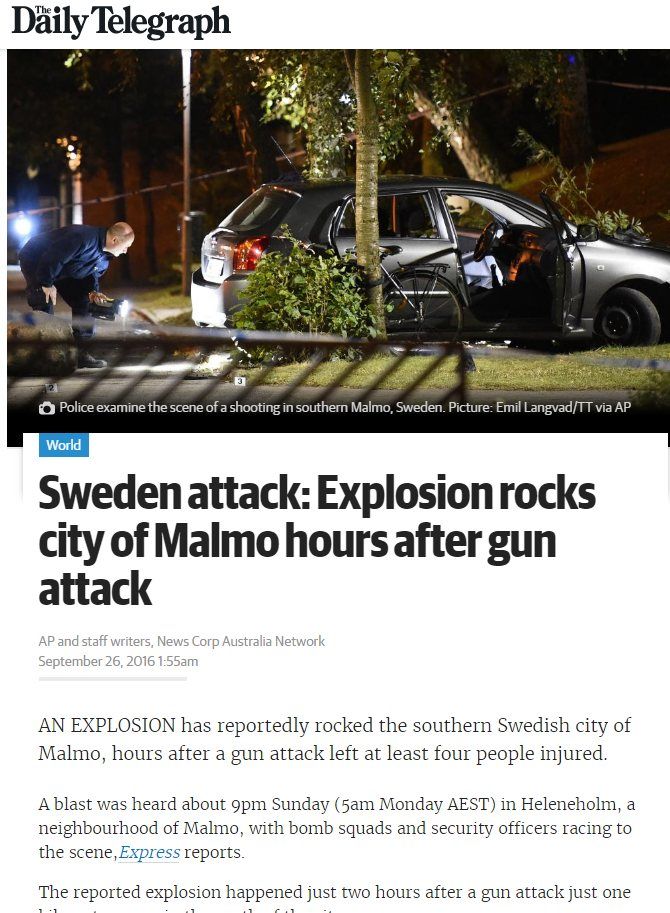 This is a translation of a relevant article from a Swedish newspaper,
Sydsvenskan
, per the
Norwegian Defence League:
"After Sunday's shootings in Malmö, where a 19-year-old man was killed and three others wounded by gunfire, says the local police now with so many great murder investigations that are now seeking help from the police in the rest of Sweden.

Police in Malmo faced with six different murder investigations alone this year, at least 20 shootings since June and a wave of bilafbrændinger over the summer.


'Our forces are not enough. They are simply used up', says Malmo's police chief Stefan Sintéus the newspaper Sydsvenskan.

According to the newspaper, the police in Malmö already between ten and twenty police officers on each of the five previous homicides, and we have therefore asked the police top management that officers from other police take over the investigation of Sunday's shootings.

One killed, three injured in car

The violent shootout Sunday went beyond the four men in a car was shot at by two men with automatic weapons. There were fired about 20 shots, which partly affected the four men, partly hit into the apartments in the area.

Some of murder cases in Malmo linked crisscross in something that can be violent confrontations and reprisals. One of the three wounded from the shooting on Sunday was the day after arrested for his role in one of the other homicides, which in March killed a 22-year-old man's life.

Have used all forces

Police in Malmö has already refocused so that all forces used in murder cases and the 25 cases of attempted murder, which is recorded by the many shootings. Now think police leadership not think there is another option but to seek outside help.

- I expect to get help.Otherwise we are going to make some very strict priorities, says police chief Stefan Sintéus to Sydsvenskan.
Oh really? It should be noted that one year ago, Police Chief
Stefan Sintéus
was still of the impression that
"more police on the streets is not necessarily a solution. There are other methods that we're working with now".
Indeed, check out this 2015 article from
The Local:
"MALMO POLICE ASK FOR HELP TO STOP VIOLENCE.
Published: 25 Jul 2015 16:45 GMT+02:00


Malmö has experienced thirty explosions this year, so worried local police have asked for assistance from the national police for help in staunching the wave of violence.

* Third grenade attack in a week rocks Malmö (24 Jul 15)
* Malmö attacks part of 'spiral of retaliation' (23 Jul 15)
* Hand grenade parts found after Malmö blast (13 Jul 15)
* Just this week, there have been three hand grenade incidents.

"I am not surprised anymore," Erica Eliasson, a mother out with her toddler in central Malmö, told the Swedish news agency, TT.

"Something seems to happen every day. It is worrying because this is obviously escalating. I'm wondering whether the police are doing enough because I do not notice more police now than before."

Since the New Year, Malmö has suffered, on average, a detonation a week. On Friday night there was another explosion in a residential area, but nobody was injured.

"It is the thirtieth explosive attack since the New Year. We have a situation that is serious," says the Malmö police chief Stefan Sintéus.

In several cases the hand grenades have come from the former Yugoslavia, according to police. Upon detonation anyone within five metres will probably be killed. And a person who falls within a radius of twenty meters is at risk of serious shrapnel injuries.

"It seems that most of the attacks are focused on buildings and vehicles," says Sintéus. "But it is wrong to say of me that there is no risk to members of the public."

"More police on the streets is not necessarily a solution. There are other methods that we're working with now," says Sintéus.

Malmö police have now requested expert help from the police national operational department to help halt the violence in the city.

According to Lars Förstell, a spokesperson for police in Malmö, "we have asked for shared expertise on various issues."

Over the past two months there have been a number of shootings, explosions and cars and buildings set on fire as well as other incidents involving hand grenades being thrown. Malmö also has a reputation for race-related violence between different immigrant groups.

Regional police have put the rising violence down to an increased import of illegal weapons and last week called for tougher border controls on the Öresund bridge between Sweden and Denmark in a bid to tackle the problem."
But that was sooooooooo 2015. Well, apparently the "other methods" failed to deliver.
LUCKILY
, the good citizens of Sweden still have other options! Why indeed, they still can adapt to the situation and assimilate
themselves
to the, ahem, changed circumstances! Says
Individuell Manniskohjalp
, a shining beacon of sound advice for the Grand New Multicultural Society. You will recall their ad which I posted about a week ago:
Because Youtube videos tend to disappear so fast, here's some relevant stills: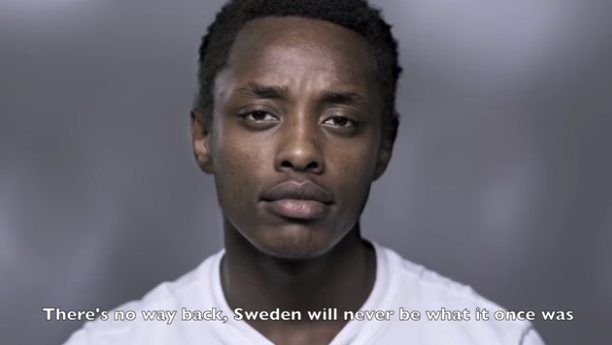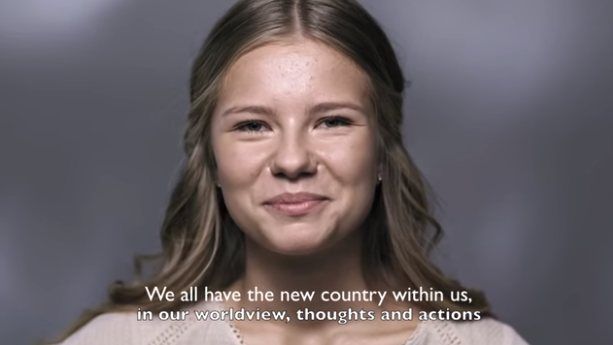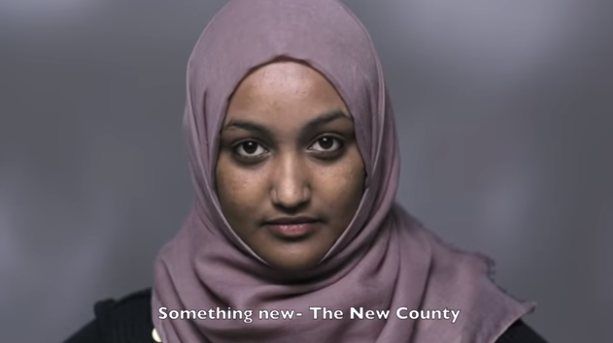 Well my dear Swedes, good luck with your New Country!!! Judging by what happens in Malmö, the future looks bright!
MFBB.ow