Last Monday, a six-plane detachment of F-16 figher bombers left Belgium for an air base in Jordan, whence they are to conduct combat missions against ISIS.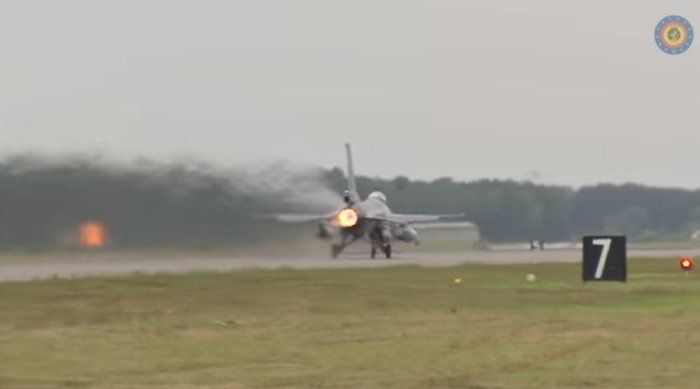 Via the
BAF site:
"On Monday, June 27 2016, six F-16 fighter planes left from Kleine Brogel AFB for Jordan. For one year they will contribute to the coalition against IS.

Defense Minister Steven Vandeput and Major General Frederik Vansina, BAF Commander, were present. The Belgian detachment will take over from their Dutch colleagues. This had been agreed among the coalition partners last year already. The Belgian effort in Operation Inherent Resolve, the coalition war against IS, accounts for around five per cent of the total. Apart from the six jets and their pilots there's ground crews underway, as well as staff personnel, to be stationed in HQ's in Qatar and Germany (Ramstein).

Minister Vandeput expects the Belgian F-16's to once again play a role in pushing back IS, especially in Iraq, and when necessary in Syria: "We have ourselves found out, on March 22, what IS means for our own security. It is clear that we must guarantee the safety in our own country, but if we want to beat IS in the long term, we will have to do it in their turf, in the Middle East."

The Belgian F-16's received a software update just prior to departure, a new step in the continuous modernization of their capacities. Major General Vansina emphasizes the importance of decent material and training: "Our F-16's aren't the youngest, but they are continually being modernised. They are still equal to F-16's in other air forces, so we are equipped [for battle against IS] just as well. Our pilots' training is also world class. We have a lot of young, motivated personnel doing just fine."
A video taken at Kleine Brogel last Monday:
During their previous stint in Jordan, from September 2014 to June 2015, our F-16's flew over 600 missions and destroyed 107 IS targets, but only in Iraq. This time round, they will also conduct missions over Syria.
MFBB.