Via our
Waffenbruder
Stefan Herre
at
PI-News
, a video from a truly lunatic madwoman for the German Greens in Hamburg, "Dr"
Stefanie Von Berg:
Because videos are so prone to disappearing after some time, I'll post here a couple of stills: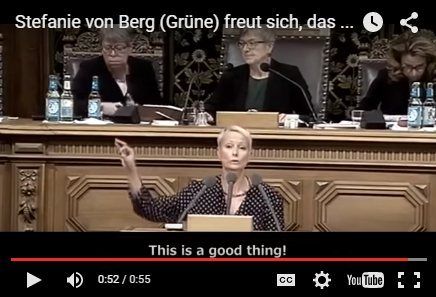 Has Madam Von Berg made herself abundantly clear enough
fuer Sie
, Herr Pieparsch? Ja? War doch ganz deutlich, nicht wahr?
Madam Von Berg is prompting me to once again borrow that line from that war flick Platoon by Oliver Stoned: "The enemy is in us" - although ole Stoned did not mean it that way.
The enemy is indeed in us, among us, everywhere, the enemy is ubiquitous. Indeed, the enemy is a far worse enemy than ISIS, AQ, Hizb-ut-Tharir, islam itself. The enemy goes by the names of David Cameron, Stefanie Von Berg, Hillary Clinton, Angela Merkel, Diederik Samson, Karel Verhoeven, Kris Hoflack, Al Gore, François Hollande, Guy Verhofstadt, Charles Michel, Freya Vandenbossche, Bernie Sanders, George Soros, Steven De Foer, George Galloway, Kristof Calvo and myriads of others. On a daily basis these traitors are sapping the strength of our societies, undermining our resolve to protect what is rightfully ours, collaborating with the enemy under our noses and in our faces, and preparing a dreadful future for generations to come.
We can deal with IS. We can deal with Al Qaeda. And we can deal with islam. If only we wish, we can utterly destroy them, pulverize them, and chase the pitiful remnants back to their barren deserts where they can eat camel shit.
But we must beat the enemy within first.
This is one of those enemies: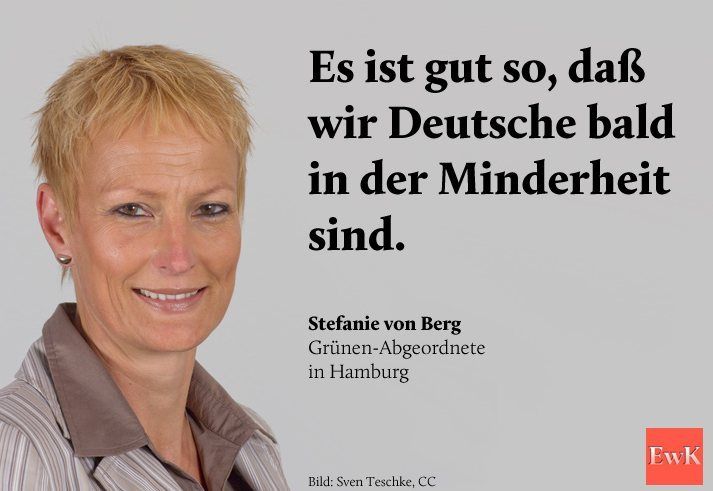 Gee, looking at those eyes, she
does
look evil, don't you think?
Prepare for Battle.
MFBB.