Call me grumpy. I probably am. But I don't care.
Ad today on HLN's site (
Het Laatste Nieuws
).
An ad from the well-known Dutch bank ING (
Internationale Nederlanden Groep
).
You see the ad's wings on either side of the central news column, plus a smaller window with the same message.
THAT YOU ARE GOING TO LIVE TOGETHER WITH SOMEONE TWENTY YEARS YOUR SENIOR IS YOUR CHOICE.

WE WILL DO EVERYTHING TO MAKE IT POSSIBLE.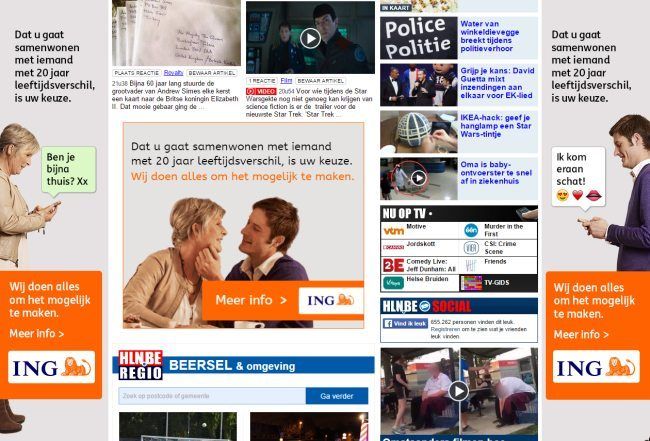 Don't get me wrong, I'm convinced lasting and true relationships of this kind
are
possible. I'm sure they
do
happen.
What I take issue with is that this is an umpteenth example of a Europe that has completely lost its impetus for procreation, forever promoting or championing alternative lifestyles.
Preferably lifestyles that do not produce offspring.
The woman looks like she's in her late fifties.
The guy looks like he's in his mid-thirties.
For those ladies out there happening to be around that age, for God's sake, don't you ever think I am one of those mysoginists who discard women mentally once they're past 45. I'm not that kind of guy. Heck, a lady in a loving relationship with a guy twenty years her junior may even be reading this - I don't deny or begrudge you the pleasure and the sense of fulfillment you possibly draw from it.
It's just that it's getting more and more difficult for me to endure the bombardment of messages promoting each and every possible way of relationship
EXCEPT
the one that got us all on the world in the first place: a relationship of a male and a female, both in fertile ages, both devoted to each other, both in a timeframe that allows bringing up a gaggle of kids while they're in their prime.
In the meantime, there's a certain demographic in Europe that's exhibiting
an extraordinary tendency to reproduce.
When I drive my kids to school, or when I happen to race through town from one client to another, I CAN'T miss the scores of veiled women pushing baby carts, more often than not swarmed by three or four more very young kids.
Europe's men are sterile and have forgotten what their instrument is for in the first place.
Europe's females are barren and are in all kinds of media almost encouraged to give lesbian relationships a try.
We are doomed.
There are times that I'm so fed up with it all that I'd like to call it quits over here in moribund Europe. That I do no longer
want
to be surrounded by people celebrating death. Whether they be the ever more ubiquitous muslims, or my own post-christian compatriots who are no longer interested - even opposed to - in passing on their genes.
But even if this is turning out to be my kind of fight - tapping away at a keyboard close to midnight decrying our civilizational decline - then I can't walk away from it no more than a trooper from 10th Mountain Division can walk away from a firefight in the Hindu Kush.
MFBB.