A funny headline in
the UC Merced Star: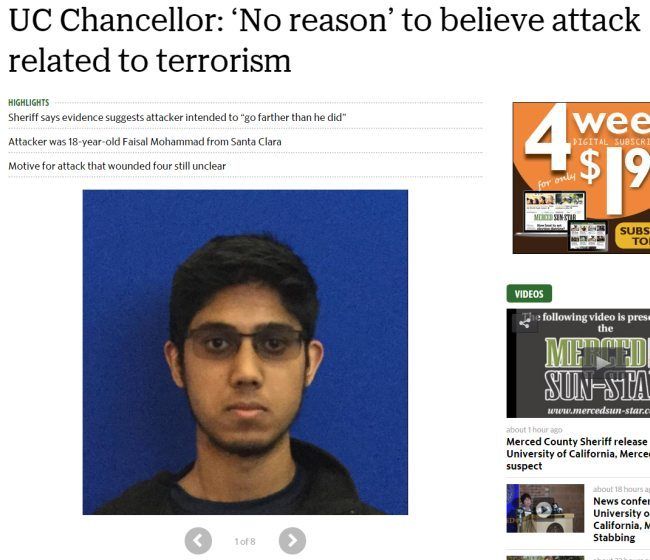 Good riddance.
Read and then laugh hysterically:
"UC Merced Chancellor Dorthy Leland said there was no evidence to believe Wednesday's attack by a freshman computer science student from Santa Clara was "in any way related to terrorism."

Preliminary evidence, she said, suggests 18-year-old Faisal Mohammad "appears to have been motivated by personal animosities, not a political agenda." She said, "it would be irresponsible" to draw any link to terrorism "based solely on the ethnicity of the suspect."

Speaking to reporters Thursday, Sheriff Vern Warnke echoed Leland's statements, saying evidence gathered suggests the attack was an "act of an individual for a vendetta … nothing to indicate there was any political or religious motivation."

Investigators seized numerous items from the backpack Mohammad carried into the classroom, including several zip-tie handcuffs, petroleum jelly, a night-vision scope, a safety hammer, and rolls of duct tape, among other things.

Warnke said it remains unclear precisely what Mohammad had planned. Local and federal authorities, including the FBI and U.S. Department of Homeland Security, have yet to find anything to explain his motivation.

"We have nothing to indicate this person was on anybody's radar," Warnke said, "absolutely nothing they could find to indicate he was doing anything other than being a college student at UC Merced."

Mohammad was shot and killed by UC police Wednesday after he stabbed and wounded four people in the ramapage that began in a second-floor classroom..."
Islam's got nothing to do with it folks! Just a guy who wanted to save the planet by reducing carbon emissions!
Hmmm. Dorthy huh? Some time back the town hall
fonctionnaire
writing down our dear future Chancellor's first name in the birth register must have had a bad case of hangover.
Let's correct that: D
0
r
0
thy.
Now that's better!
MFBB.