Turkey's would be dictator visited Brussels to attend
Europalia
, a major annual arts and cultural event highlighting a different country and/or culture each year. This year the focus is on Turkey, and the Belgian state invited Erdogan to the festival. Given the civil war on Turkey's southern border, this was to be more than a cultural visit and talks with the Belgian government, with European Council President Donald Tusk, European Commission President Jean-Claude Juncker, and European Parliament President Martin Schulz were also scheduled. To top it off, a visit to the Belgian King, Philippe I, was also planned.
The Turkish delegation behaved
in an appalling way
.
Not only was Erdogan his usual arrogant self, holding an impromptu electoral meeting before between 2,000 and 3,000 AKP supporters on top of a tourist hop on/hop off bus adorned with the Turkish flag. How they were able to commandeer that vehicle is beyond me. Anyway, on November 1 there's general elections in Europe and Erdogan used the opportunity to cater to supporters abroad (the Turks here as elsewhere are allowed to vote in Turkish elections, see how wonderfully integrated they are). But to every self-respecting Head of State, it should be crystal clear that, at least outside his or her country, he or she has to maintain a strict neutrality and act as the president of
all
his subjects. What Erdogan did is simply
not done
, he should have upheld at the very least a semblance of impartiality. But then his was simply a replay, be it on a smaller scale, of
a visit earlier this year
in the province of Limburg.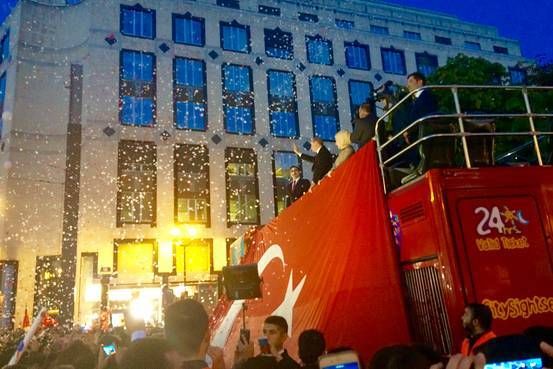 Photo courtesy The Wall Street Journal.
Then his wife found it necessary to go shopping in Brussels' prestigious Louizalaan/Avenue Louise.... with an escort of around 7 black vans with bodyguards, completely blocking all traffic. Thousands of
Bruxellois
, expats, tourists... suddenly got stuck in their cars, buses, trams because Madam Erdogan needed a handbag or something. It could have been worse for them: those people present in the shops she visited were unceremoniously rushed out:
Visite de Recep Erdogan à Bruxelles, infos en direct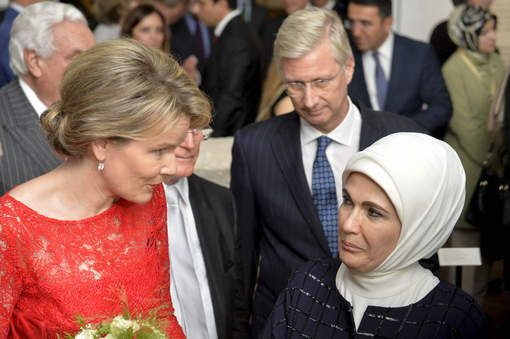 Omen of things to come? Erdogan's sour, ugly bitch of a wife tries to kill Belgian Queen Mathilde with her eyes on the Europalia event. The grey-haired man with the blue tie behind her is the Belgian King, Philippe I.
And then finally, as Sultan Erdogan had his own private army of security officers with him, there were a couple of brushes with Belgian security services and State Security officers. The Turks behaved in an immensely arrogant manner, litterally challenging the Belgian officers. At one point, a Turkish bodyguard crudely shoved a Belgian policeman aside...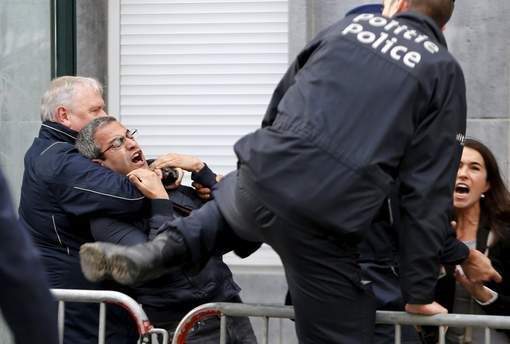 ... and that was apparently a bridge across the Bosphorus too far. The man was quickly taken in a vise grip and wrestled to the ground. Thereafter things calmed down a little, although tensions between both services remained high during the entire visit, which lasted from 4 to 6 October.
To sum it up, the Turks behaved in a miserable way, absolutely
scandalizing
their host. I hope that this visit opens many eyes... especially those of still far too many fools who would like Turkey to become part of the EU.
MFBB.