1.) MALMO VIOLENCE ESCALATING, PROMPTING DEPLOYMENT OF HUNDREDS OF NEW POLICE OFFICERS, via The Local: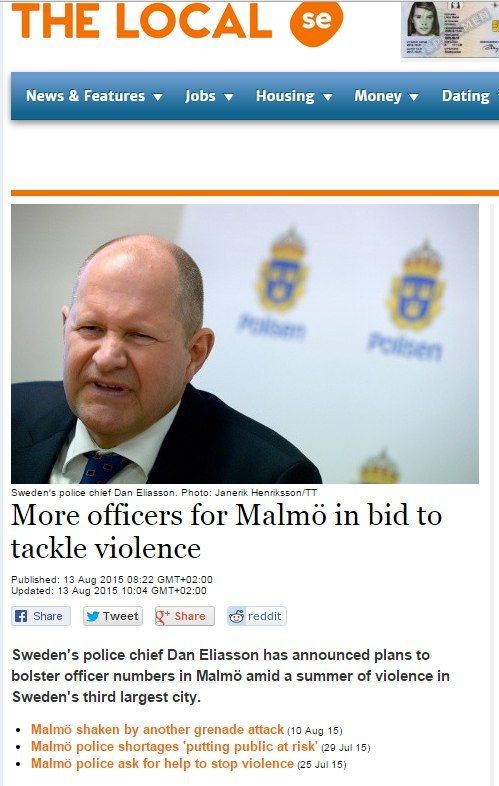 "Hundreds of new officers are set to be appointed in a move to boost Malmö's police force, following a series of numerous shootings and explosions in the southern Swedish city in recent months, the national police chief revealed on a visit to the city.

"The police in the south is the prioritized area and will receive most of the new police officers in 2015 and 2016. At the moment, slightly more than 90 officers [are being appointed], in January just above 100, and in summer 2016 there will be further additional staff, but the figure has not been determined yet," Dan Eliasson told regional newspaper Sydsvenskan.

His announcement comes just weeks after a regional police union raised concerns that police staff shortages in the city were putting the public at risk, as around a third of the 705-strong Malmö force were on holiday.

But after a meeting with regional heads of Malmö 's police force on Wednesday, Eliasson pledged to step up presence in the area.

"All of the Swedish police force's resources are available to them. We have already reinforced Malmö with staff for the acute situation, but if more is needed I am prepared to make those decisions. It could be reconnaissance resources, investigators, bomb technicians, helicopters, anything," he told Sydsvenskan.

Just hours after his announcement officers were called to a series of car blazes across the city. A group of men were seen breaking into and setting a car on fire on Annebergsgatan south of the central Pildammarna park in the early hours of Thursday. The incident was followed by another two vehicles going up in flames in the Oxie area of the city shortly thereafter..."
2.) SWEDISH ARMED FORCES NOW DOWN TO... 15,000.
A chilling article, via
The Gatestone Institute
: the Swedish military has all but vanished:
"... In the fall of 1998, General Wictorin had his plan for the historical transformation all worked out. But his big mistake was that he had not grasped that the politicians had now identified defense as an area ripe for major budget cuts. When the state budget was presented, two days after General Wictorin proposed his plan, the defense budget was 15 billion kronor short (about $1.9 billion USD in 1998 dollars). In the documentary, General Wictorin says: "It demanded magic tricks we could not perform. Our plan went straight in the trash; with these cuts, it was not possible to implement it."

Then everything just unraveled. In 2000, the Swedish Parliament made a new decision on defense -- to cut the budget by half. Compared to 1985, there was now only:

*Fifteen percent as many Army combat units
*One tenth as many local defense units
*Half as many Home Guardsmen
*Half of the Air Force
*One quarter of the Navy






The modern Swedish military, built up over a hundred years, was scrapped in ten or eleven years. According to the military historian Wilhelm Agrell, the dismantling process was inconceivably vast. Every last item stored in the mobilization repositories was hauled away to central storage bases. The process quickly got out of control, and before long, no one knew where anything was. The whole maneuver also turned out to be quite a bit more costly than expected. Nothing went according to plan, and then it was time for the next big decision on how the military should be handled.

In 2004, more units were scrapped and 5,000 military personnel (25% of the total) were let go.

"The new defense," said Agrell, "was supposed to be in place in 2004, but at this time, everything was a screaming mess. There was no new defense and not enough money. What to do? Well, the politicians once again ordered more cutbacks."

This was what was left:

*Six percent of the combat units
*No local defense
*The Home Guard was once again cut in half
*100 airplanes instead of 200

A navy cut in half, with only seven surface vessels and four submarines..."
The castration of the Swedish military is such a hilarious joke for the Russians that Russian TV broadcast this (badly made) video about it:
C.) SWEDISH FASHION LABEL ACNE LAUNCHES NEW GENDER EQUALITY COLLECTION FOR MALES EMBLAZONED WITH ADVICE: "PLEASE CALL ME GIRL".
Leftist rag
De Standaard
is happy to let you know that Swedish fashion label Acne has
launched a new collection of males: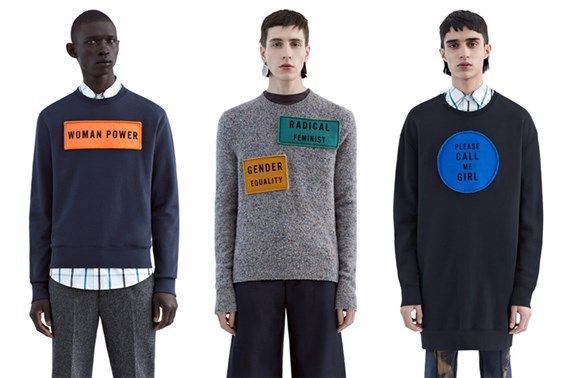 "Men sympathizing with the concept of gender equality, can now root for their cause even more with the new collecion of Swedish fashion label Acne Studios. At least if they are not afraid to walk around with the statement 'Please call me girl' on their chest.

Acne designer Jonny Johansson perhaps let himself inspire by Chanel's protest or else he thought it was about time to do his bit in the war on women: several sweaters and shawls in his winter collection have their own slogan, e.g. 'Woman Power', 'Gender Equality' and 'Radical Feminist'..."
Memo to 'Jonny' Johansson: if you really, really want to do your part in the 'War on Women', you could perhaps better change them slogans to something like 'Stop Clitoridectomy in Malmo', you bloody balless earthworm.
I'm too goddam tired, rest of the stories follows, I just post this to force myself to continue. Too many blogposts stay in the scaffolds although edited for three quarters, and then I never get around to finish 'em and get them posted.
Stay tuned, Sweden's far worse than you think.
MFBB.