A fascinating case of Cultural Enrichment in Ghent Saturday afternoon.
Het Nieuwsblad Online
succinctly reports: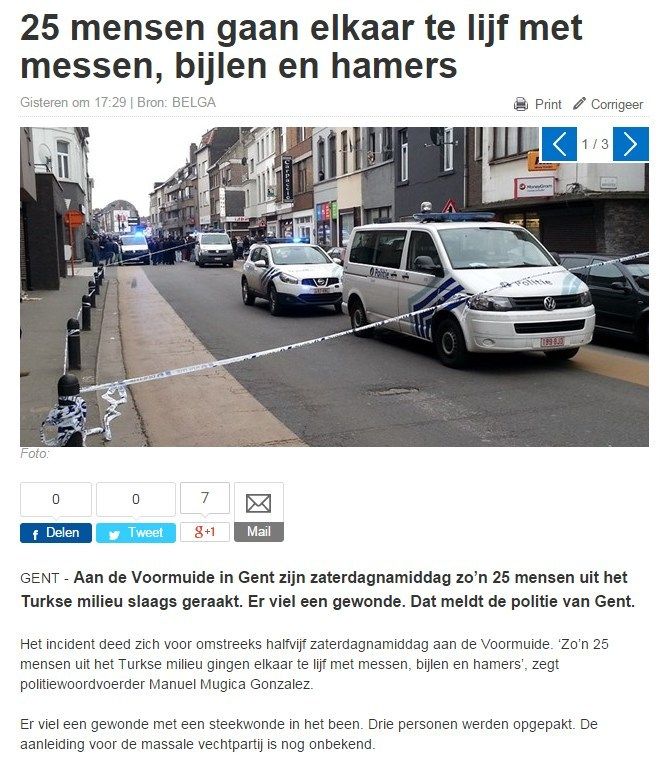 "25 PEOPLE FIGHT EACH OTHER WITH KNIVES, AXES AND HAMMERS.

GHENT - at the Voormuide [a neighborhood in Ghent's north, not far from the harbor - MFBB] saturday afternoon some 25 Turks started fighting each other, reports the Ghent Police Department. The incident occurred around half past four saturday afternoon at the Voormuide. 'Around 25 people from the Turkish community started fighting each other with knives, axes and hammers', says police spokesman Manuel Mugica Gonzalez.

One person was wounded in the leg. Three persons were arrested. The cause for the massive brawl is unknown."
News today was that some Turkish bloke entered a cafe yesterday and got into an argument with patrons. They went outside to continue the argument and that's when it got out of hand, the conflict quickly attracting more participants.
The Spanish community in Belgium is much smaller than the Turkish one, but has apparently succeeded in spawning a police spokesman for the Police Department of a major city.
I suppose islam has nothing to do with it.
MFBB.