The appalling story of the muslim plot to take over UK schools in Birminghamd, Bradford, Leeds and East London continues to widen. Here is a story of a Birmingham school where Pakistani parents exhorted
Sarah Hewitt-Clarkson
, the Head Teacher of
Anderton Park Primary School
, do 'get rid of the white kids'. Via
Breitbart
: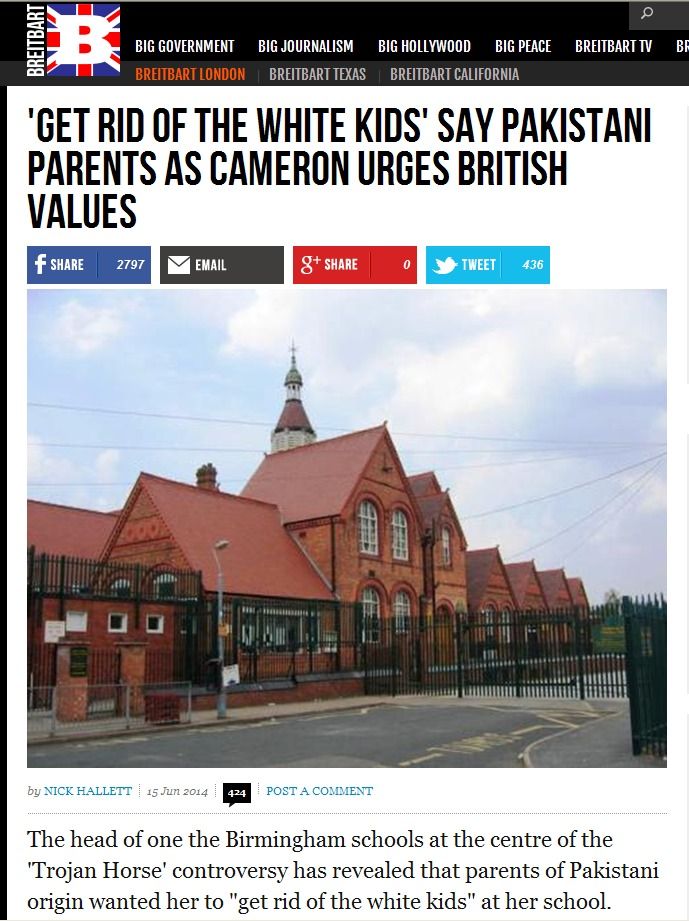 "The head of one the Birmingham schools at the centre of the 'Trojan Horse' controversy has revealed that parents of Pakistani origin wanted her to "get rid of the white kids" at her school.

Sarah Hewitt-Clarkson, head teacher at Anderton Park Primary School, told the Sunday Times that when a small number of white children arrived at her school, which was predominantly Muslim, parents started making a series of racist demands:

"We had kids saying 'What are you playing with the white kid for? What are you playing with the Christians for?' The dad of one of the Pakistani heritage pupils at the school even told me I should 'get rid of the white kids'.

"He said, 'If I was head I would get the white kids and shove them in the corner with white desks and a white teacher and keep them away from the rest of the kids. I told him that what he had said was racist and I was going to write it down.

Then he said, 'You should get rid of the white kids, that is what the community would want you to do.'"
She later reported the parent to the police.

The 'Trojan Horse' scandal erupted earlier this year following a series of revelations over hard line Islamist governors trying to force secular schools to adopt strict Islamic practices."
More info amongst others at
The Sunday Times.
And NATURALLY, although the unraveling of this vile scheme has been going on for several months now, NOT ONE of the Belgian newspapers 'seems' to have noticed. Which is a load of CRAP. I'm sure they know it, but they deliberately decide not to cover it, for it directly flies in the face of their multiculti walhalla nonsense.
Instead, Belgium's 'prime' newspaper De Standaard helpfully gives a forum to a notorious firebrand 'ex' Hizballah terrorist Dyab Abu Jahjah to lecture us Flemings about our, you guess it,
racism
.
This is a mad, mad world.
MFBB.