Maybe the world is more interested in Justin Bieber, Kim Kardashian or the Edwards Trial, but over here we know what was
REALLY
important today: May 25, 2012 will go down in history as the day
Private Enterprise saved the day for the US's space endeavours
. As sad as the demise of the Shuttle was, in a very fitting riposte to the official abandonment of Space Exploration by the Obama government, free entrepreneurship beat moribund and uninspired statist incompetence -
and in a glorious way.
From
FOX News:
"The privately bankrolled Dragon capsule arrived at the International Space Station for a historic docking Friday, captured by astronauts wielding a giant robot arm. It succeeded in making the first commercial delivery into the cosmos.
U.S. astronaut Donald Pettit used the space station's 58-foot robot arm to snare the gleaming white Dragon after a few hours of extra checks and maneuvers. The two vessels came together while sailing above Australia.
"Looks like we've got us a dragon by the tail," Pettit announced from 250 miles up once he locked onto Dragon's docking mechanism. "You've made a lot of folks happy down here over in Hawthorne and right here in Houston," radioed NASA's Mission Control. "Great job guys."
NASA controllers clapped as their counterparts at SpaceX's control center in Hawthorne, Calif. -- including SpaceX's billionaire maestro, Elon Musk, of PayPal fame -- lifted their arms in triumph and jumped out of their seats to exchange high fives.
This is the first time a private company has attempted to send a vessel to the space station, an achievement previously reserved for a small, elite group of government agencies. And it's the first U.S. craft to visit the station since the final shuttle flight last July."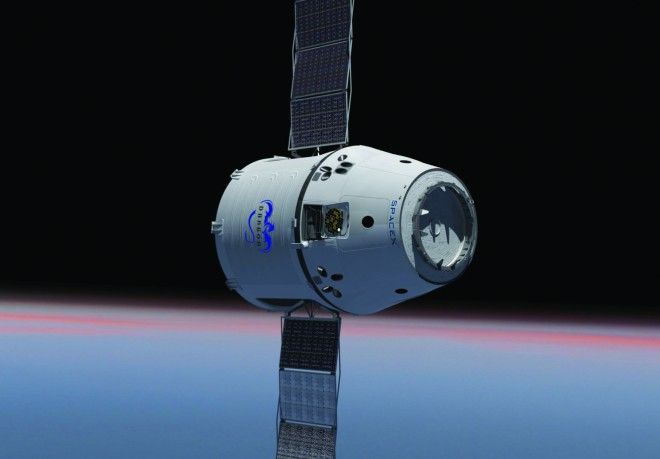 The Dragon is the brainchild of SpaceX, a Hawthorne, CA based private space transportation. It's a reusable spacecraft that in December 2010 became the first commercially-built and operated spacecraft to be recovered successfully from orbit. And on this day, 25 May 2012, it also became the first commercial spacecraft to successfully rendezvous with the International Space Station (ISS). Under NASA's Commercial Resupply Services program, Dragon is contracted to deliver cargo to the ISS, a task it's scheduled to begin on a regular basis this very year. Additionally, NASA awarded SpaceX a Commercial Crew Development (CCDev) contract in April 2011, and the Dragon is meant to carry up to seven astronauts, or a mixture of personnel and cargo, to and from low Earth orbit. The little craft is even more ambitious: it's PICA heat shield is designed to withstand Earth re-entry velocities from potential Lunar and Martian spaceflights.
The Dragon consists of a nose-cone cap that jettisons after launch, and a conventional blunt-cone ballistic capsule on top of a trunk equipped with two solar arrays. The capsule can be re-usedand flown on multiple missions. The trunk however is not recoverable: it separates from the capsule before re-entry and burns up in the Earth's atmosphere. Dragon is launched atop a Falcon 9 booster. The capsule is equipped with 18 Draco thrusters, dual-redun­dant in all axes, which means that any two can fail without compromising the vehicle's control over its pitch, yaw, roll and translation.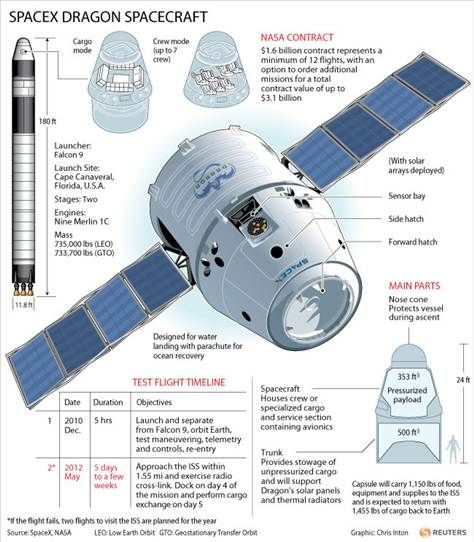 BIG KUDOS for Mr Musk and SpaceX!!!
MFBB.