Via
Observatoire de l'islamisation
, April 25, 2011: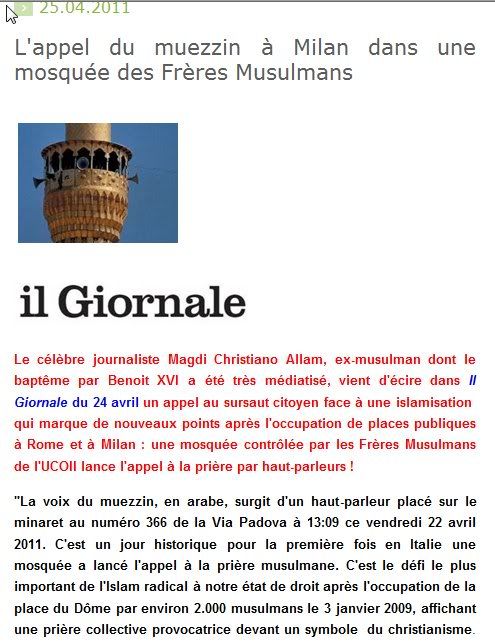 MILAN, ITALY: MUEZZIN CALLS MUSLIMS TO PRAYER FROM MINARET OF MUSLIM BROTHERHOOD MOSQUE.

"The muezzin's voice, in arab, is exhorting muslims via a loudspeaker placed on the minaret [of the mosque at] Via Padova 366 at 13:09 this Friday, April 2011. It's an historical day because for the first time in Italy a mosque has launched a call to prayer. This is the most serious challenge posed by muslim radicals to the Italian state since the illegal occupation of the Dom Square on January 3rd, 2009 by about 2,000 muslims, which amounted to a collective provocation right in front of a symbol of Christianity.

....

In the two cases, we are treated as if our land is conquered territory like an arid desert. Milan is still the Italian capital of allah's fanatics. Situated in Jenner Street, the mosque is currently under investigation for its links to international muslim terrorism. Its imam, Abu Imad, nom de guerre Arman Ahmed El Helmy Hissini, is in prison right now doing a sentence of three years and eight months for a "complot with terrorist ends".
So this happened on April 22nd, Good Friday. You think that's a coincidence?
On the same day, in Rome, instead of praying in their immense mosque, muslims took to the streets en masse, and illegally occupied the square in front of the
Monumento Nazionale a Vittorio Emanuele II
, the
National Monument to Vittorio Emmanuel II
.
I copied the following photo from Bivouac-ID, an indispensable French site in the battle against islam: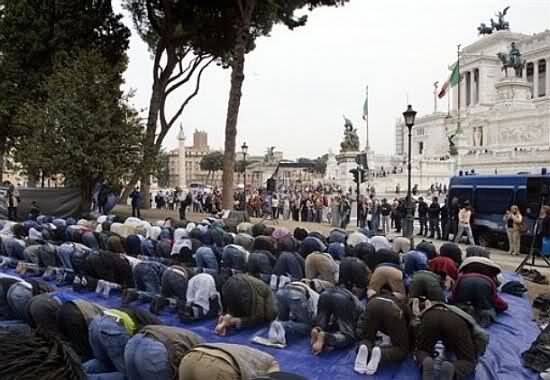 The importance of this act of defiance cannot be underestimated. The National Monument is
the symbol par excellence
for the Italian State, dedicated as it is to the first king of a unified Italy.
I know that this sounds insane, but the purpose of the public prayer, for which, I repeat, no authorization had been given, was to
DEMAND
that
the City of Rome pay for the mosque congregation's bills for gas, water and electricity.
Also that the City Council recognizes muslim marriage and the right to separate cemeteries.
This illegal occupation of a square in front of an Italian national symbol of paramount importance, happened too on Good Friday. You still think that is a coincidence?
This was two weeks ago, an illegal demo on the
Place de la Nation
in Paris. April 13. I assume this demo was meant against the burka ban.
Muslims will turn Europe in a dirt poor third world hellhole. They will take away our freedom, and much more. Be prepared to
USE DEADLY FORCE AGAINST MUSLIMS
when the time is there.
MFBB.