Armistice Day
, November 11, is of course, as you should teach your children, meant to commemmorate the end of hostilities in the First World War, for at 11am on November 11th, the 11th month of the year, what came to be known as the
Great War
came to an end.
Personally, on this day I commemmorate all those who gave their lives for the Allied causes in
both
World Wars. That is not to say that I do not pity, nor pray for, the dead on "the other side". I do, for doubtlesly countless of the Kaiser's, the Duce's or Hitler's soldiers were sucked in bloody conflicts against their will, and would far more have preferred to live normal, decent, productive lives, caring for their loved ones and contributing for a good cause of their own.
But, living in a country that has seen the agressor's yoke removed not only once, but
twice
, by allied forces, most of them Anglosaxon, I have a natural inclination to reserve my thoughts and prayers on this day for the fallen on
their
side.
I took the pic below on a Commonwealth War Grave somewhere in Belgium. It stood in a row of perhaps fifteen humble, serene graves. In an impulse I photographed the last resting place of Flying Officer
T.W. Taylor
, an RCAF navigator killed on May 13, 1944.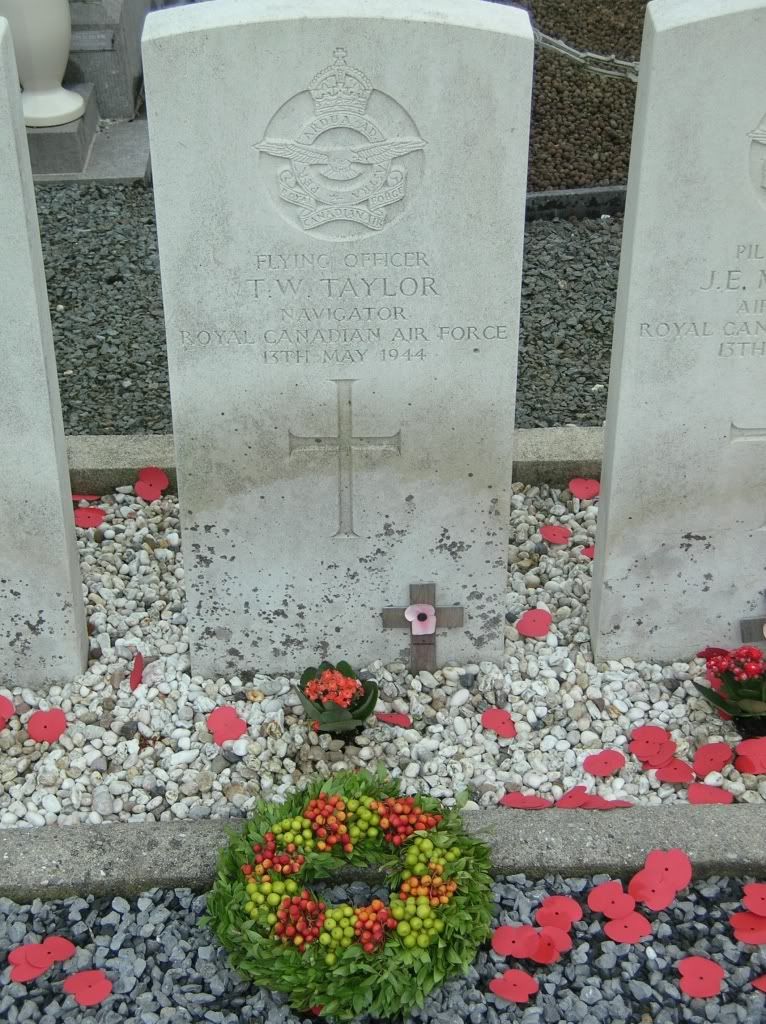 The wonders of the Internet have permitted me to find out something more about the circumstances of this man's death. Below is a screenshot of the Lost Bombers website that has something more about the flight Mr. Taylor was part of: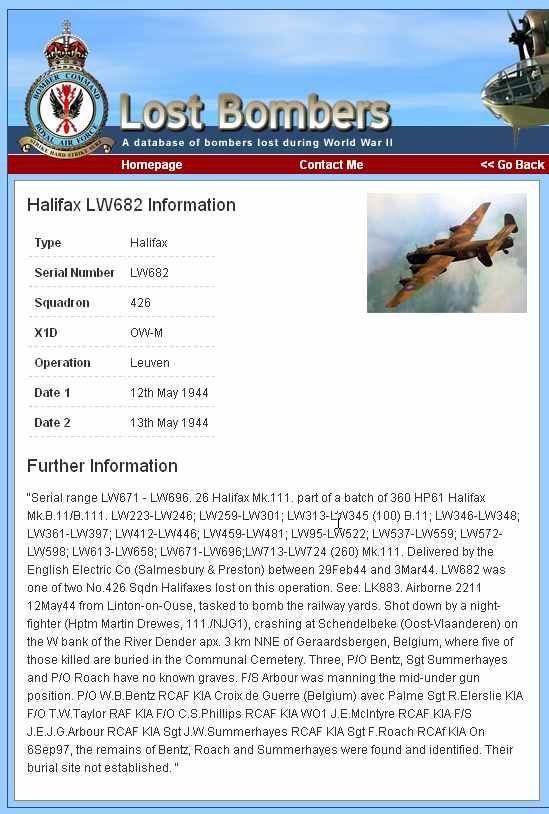 The text erroneously identifies Mr. Taylor as an RAF airman, but otherwise the info seems correct, for I could check it out with a small volume written by a Flemish air enthusiast,
Cynrik De Decker
, who actually wrote a book about the allied bomber operations in the
Leuven
area. What is clear is that Mr. Taylor was a navigator on a Halifax heavy bomber (the sidekick, so to say, of the famous Lancaster), and that his plane took part in a bombing raid on the crucial railway yards at Leuven. Two planes got shot down - one of them being Halifax LW682, Taylor's bomber. A nightfigher piloted by
Hauptmann
Martin Drewes
of NJG1 was responsible for the 'kill'. The Halifax crashed near the small village of Schendelbeke, in the provice of East Flanders. There were no survivors.
Of the crew of eight, only five men finally found a resting place on the cemetery of the nearby town of Geraardsbergen. Three men still remain unaccounted for.
Because of the sacrifice of men like T.W. Taylor, whose life was tragically cut short at a far too young age - his age is not indicated on the stone, but on several nearby stones it is, and they were all in their twenties - we, citizens of Belgium, were liberated from a horrendous tiranny that sought to reduce free humans to slaves of the mind and of the body. Terrible would our fate have been if Nazi Germany had won.
Our Father who art in heaven,
hallowed be thy name.
Thy kingdom come.
Thy will be done
on earth as it is in heaven.
Give us this day our daily bread,
and forgive us our trespasses,
as we forgive those who trespass against us,
and lead us not into temptation,
but deliver us from evil.
For thine is the kingdom,
and the power, and the glory,
for ever and ever.
Amen.
May he and his comrades rest in peace. Thank... you.
MFBB.