Hereafter a collection of pics I took during summer. Tank nutter that I am, I start with a not too good photo of a British WWI tank in the, cough,
Royal Museum of the Armed Forces and of Military History
, Brussels. I have forever had problems with distinguishing between the Marks I and IX, them looking basically all the same: designed to cross trenches. As I swept past it - my mother-in-law might have been waiting for yours truly in the nearby Museum for Egyptology - I failed to have a good look at the identification plaque. I suspect however this is a
Mark V
because of the unditching beam and the rails on top of the vehicle. In any case, it's a "male" one, since it's main armament consists of two 6-pounder guns. Female landships had four Vickers .303 machineguns for main armament and also weighed about a ton less (typically 28 vs 29 tonnes). If it's a Mark V, power must have been provided by a 19 litres
Ricardo
petrol engine developing 150HP. You can imagine that with such a weight, speed cannot have been more than a crawl, and indeed, on good, hard, level going top speed was about 5mph.
In the same museum there's an aeronautics hall, and this is an imho reasonably good pic of a good old
Auntie Ju
, a
Junkers Ju-52
, the mainstay of the German Air Transport Arm during World War II.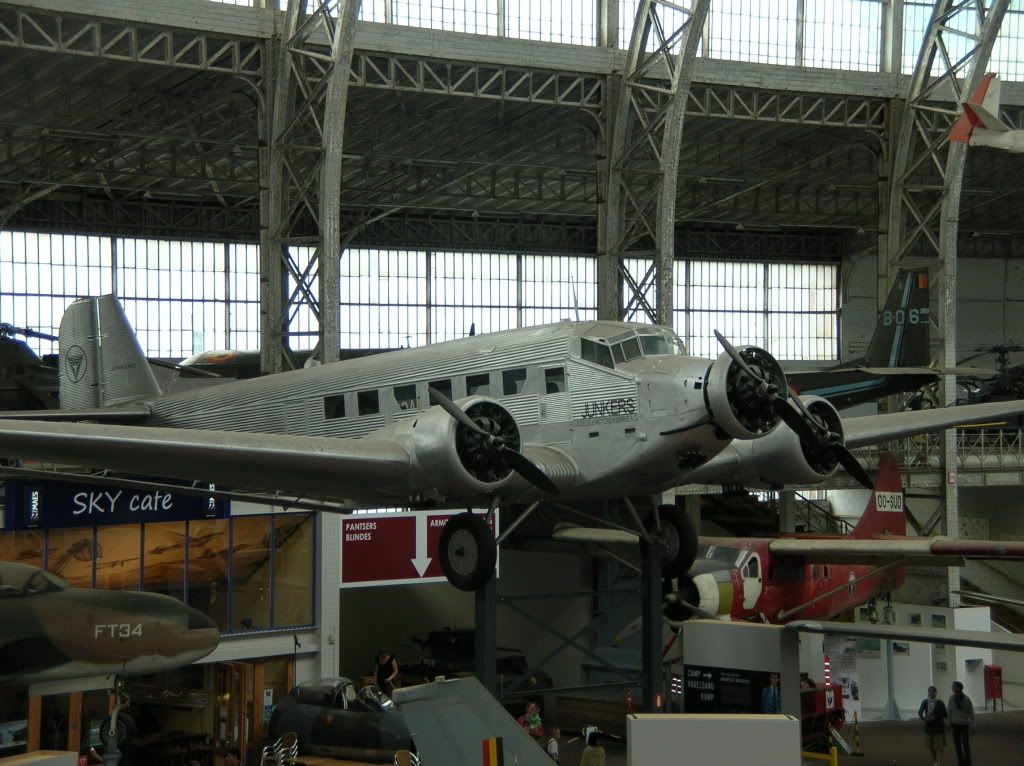 Very sturdy planes. IIRC, three still served with the Swiss Air Force in the early eighties. Of course, they come nowhere near the record of the Dakota/C47/DC3, of which there's still even piston versions in use. I write "even piston versions" because the
Basler company
(Basler Turbo Conversions of Oshkosh, Wisconsin) has developed a successful turboprop variant, the
Basler BT-67
. It's two Pratt and Whitney turboprops develop 1,624 HP each giving the plane a top speed of 403km/h.
View of the Flemish town of
Ronse
, from the hills surrounding it in the south, more precisely in a hamlet called
Hauts Sarts
. This is the border region between Flanders and Wallonia.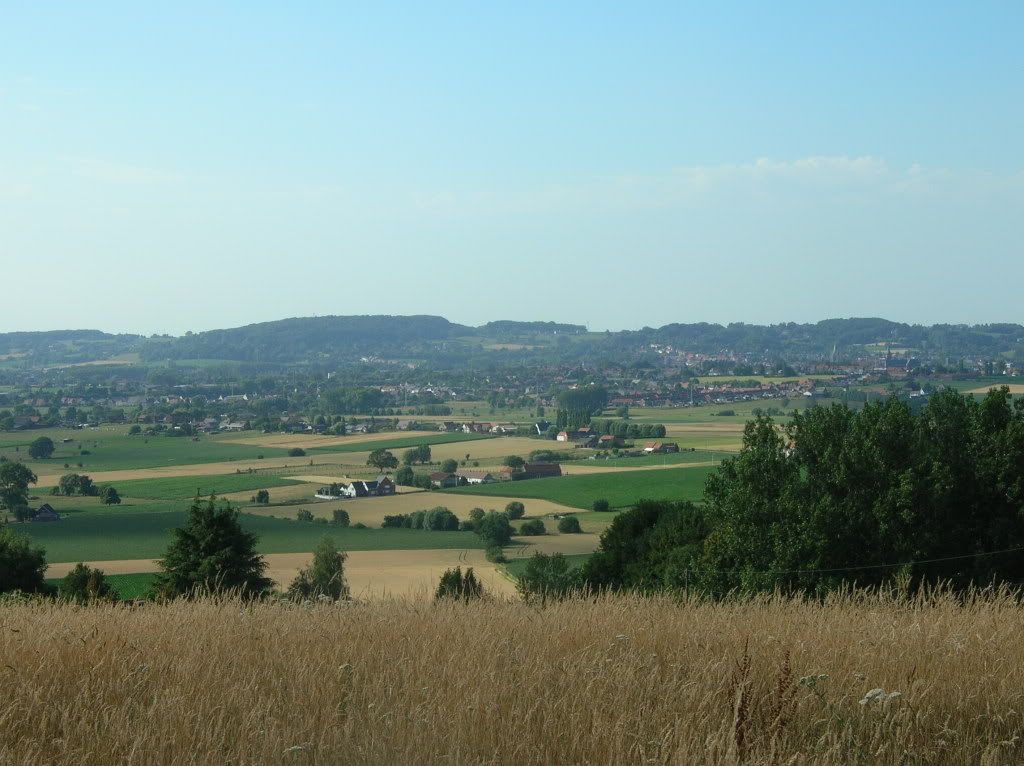 It had been some time since my wife and I visited the famous classical music festival
La Nuit Musicale de Beloeil
. It is held every year some weekend in August, in the huge park of the
Chateau de Beloeil
, in southwest Wallonia. Beloeil Castle has been the residence of the Princes of
Ligne
since the fourteenth century. Here's an aerial view (not my photo - stole it from GlobalView or something):
But this is a pic of mine. Throughout the evening, they put all kinds of spotlights on the chateau's façade, which makes for spectacular effects.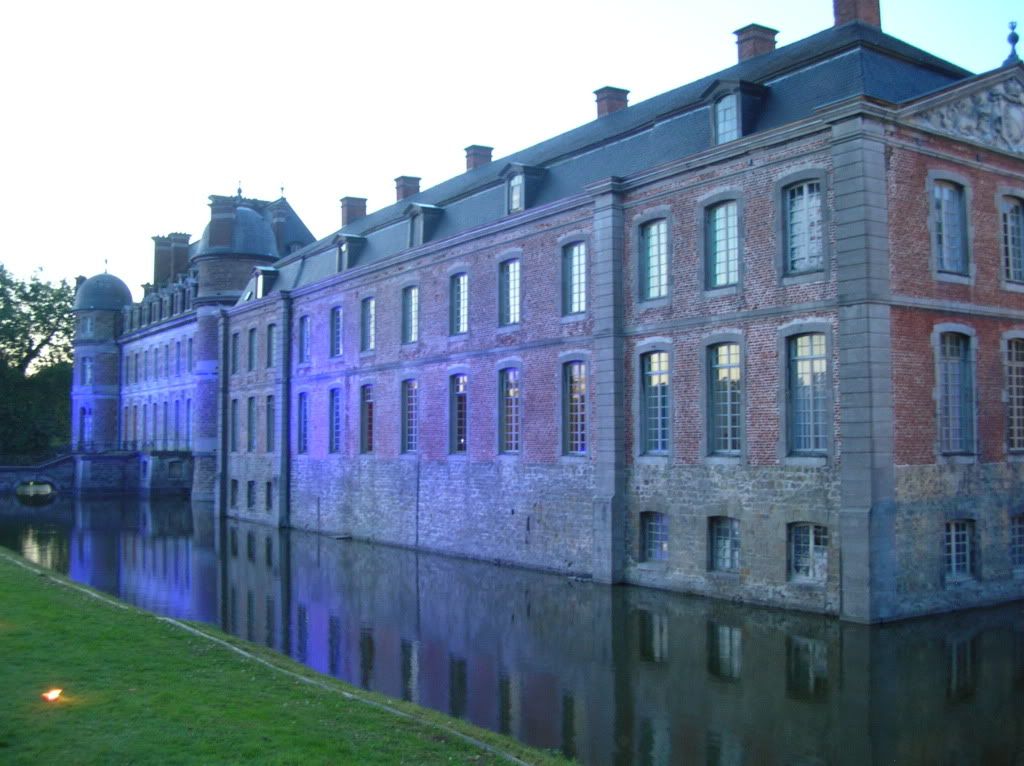 Actually, this time round, I wasn't that much impressed by the
répertoire
. The motto this year was "Nature and composers" and the logo a piano with its wing represented by a tree lead. Jesus H. Christ, wherever you look these days econutters seem to be trying to slap you half dead with green themes. I like it more when
La Nuit Musicale
focused on the oeuvre of one composer in particular. There were however a few good acts around, most notably the top act which as usual took place on the opposite side (to the chateau) of the large water basin, which is called the
Bassin de Neptune
. There, the Chamber Orchestra
"Ars Viva - Camerata del Monte"
and the
Clerlande Choir
performed fragments from
Franz Joseph Haydn
's famous
Die Schoepfung
(
The Creation
). Indeed, the oratorio The Creation, considered by many to be Haydn's masterpiece, is written to be performed by a large classical orchestra, a four part chorus, and three vocal soloists. The soloists were
Jasmine Daoud
for soprano,
Patrick Kabongo
for the tenor, and
Charles Dekeyser
for bass. I am sorry for the absolutely lousy quality of the following video. Next time I'll try to do more my best, even when Sean Connery in The Rock said that losers always do their best and that winners go home and f*ck the Beauty Queen.
Luckily, the booklet guiding us through the park's performances was accompanied by a CD, which contained amongst others the beautiful Vltava part of
Bedrich Smetana
's
Ma Vlast
('My Fatherland').
Vltava (German:
Die Moldau
, which is the river running through Prague) is the best known composition of Ma Vlast, with which Smetana made his fame. Smetana was an early advocate of Czech(oslovakian) independence. He has gotten somewhat forgotten now - most foreign commentators now judging
Antonin Dvorak
the most famous Czech composer.
Nice view of the town of
Lobbes
in the Walloon province of Hainaut. Lobbes grew around its abbey, which was for some time, around 1000 AD, of great importance for the
Prince-Bishopric of Liège
, like medieval Flanders one of the proto-elements of what became Belgium in 1830.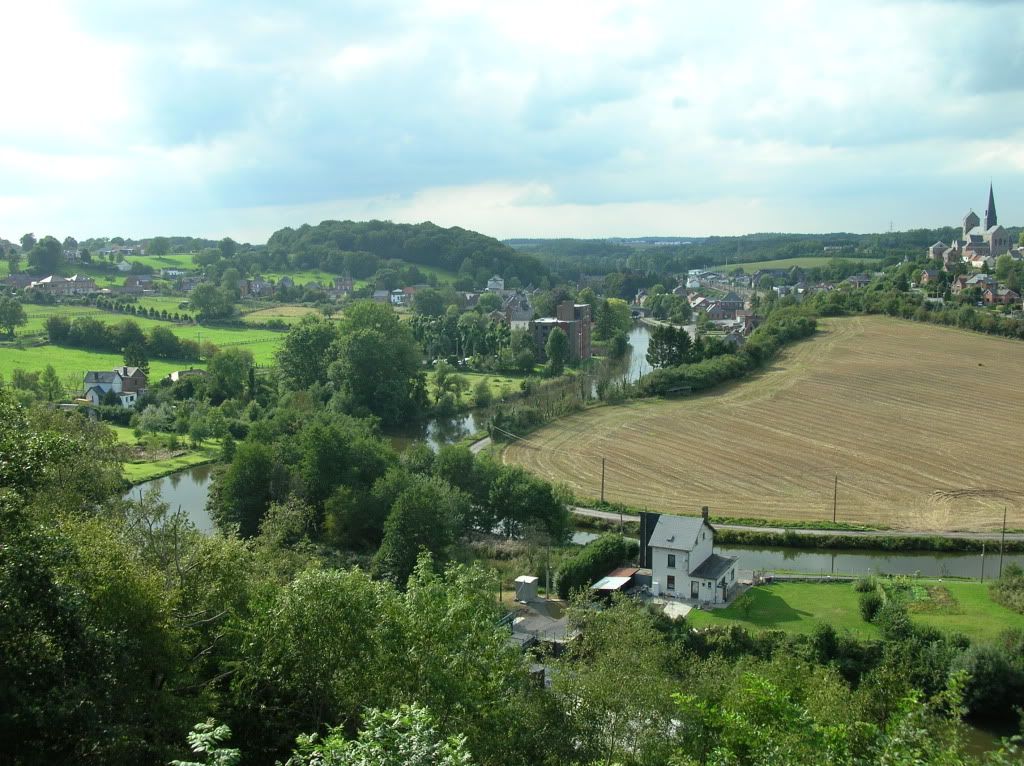 These are the so-called "
Jardins suspendus the Thuin
" (the hanging gardens of Thuin), a nice town built on a crest overlooking the Sambre river in central Wallonia.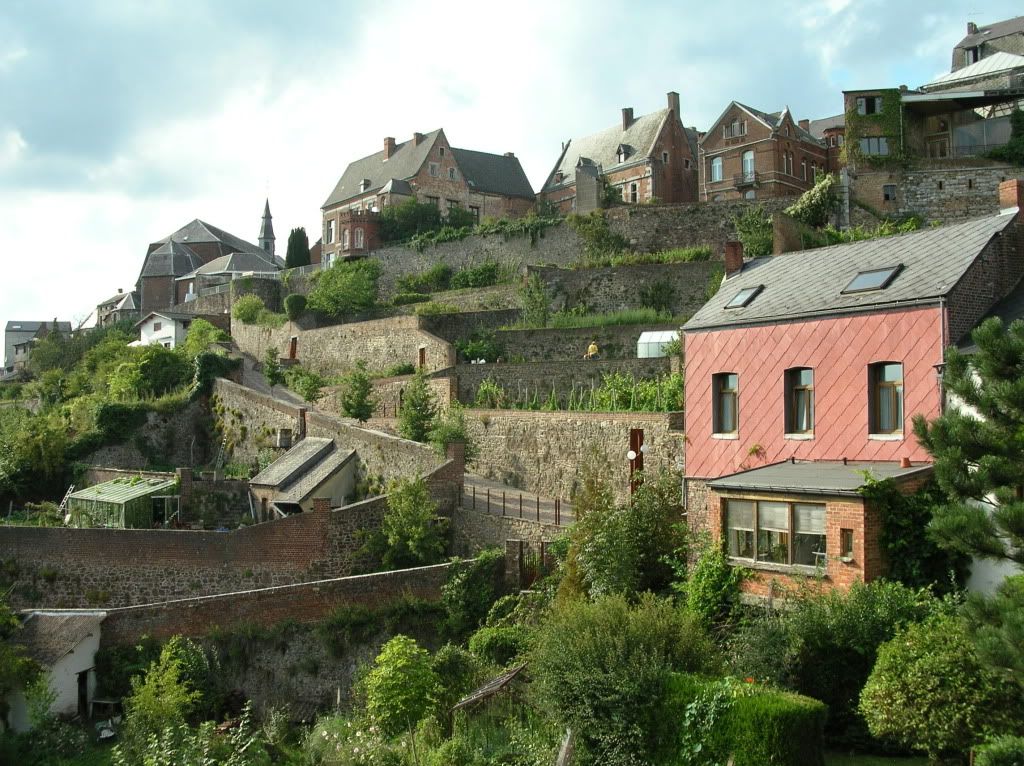 At the end of August, we spent an afternoon in the historical village of
Aubechies
. There's well built replicas of Stone Age, Bronze Age and Iron Age houses there as well as several Roman buildings - a villa, a temple, a hospital. I'm a bit puzzled here. As we went there, there was a demo going on of guys re-enacting Roman legionnaires, more precisely chaps from the 10th Legion "Gemina". On one of the pics their shields sport the inscription "Leg X Gemina Belgae". But to the best of my knowledge, 10th Legion was not permanently garrisoned in Old Belgium. Check out the 10th's history
here
.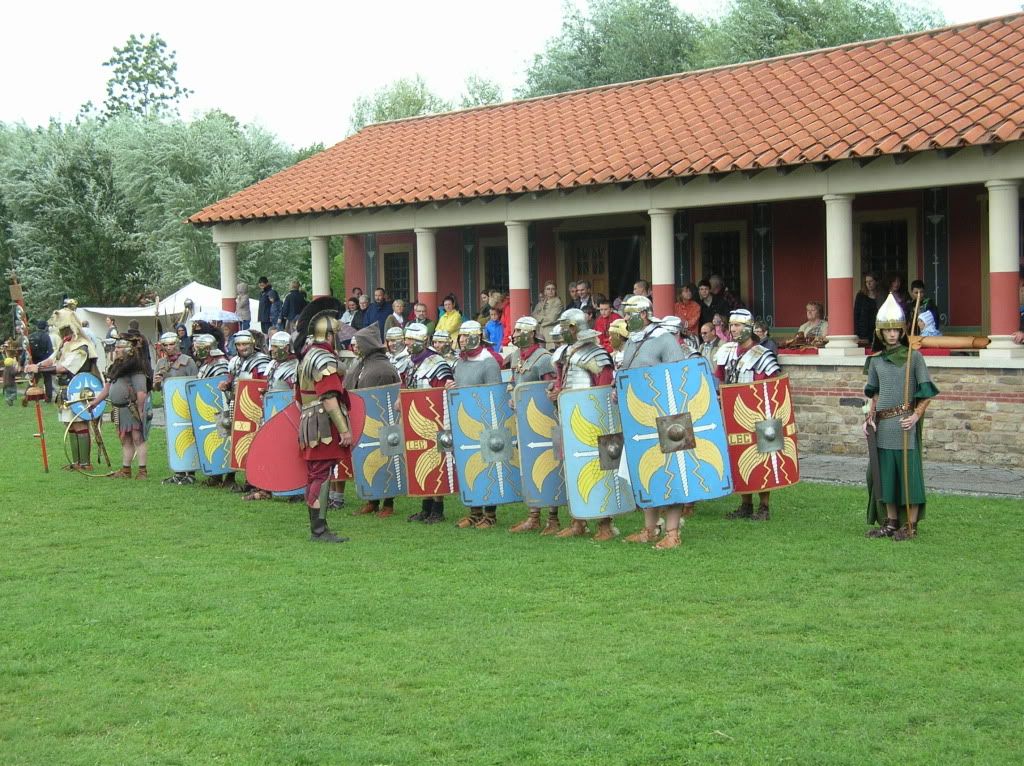 Anyways, here's a video, again a rather lousy one, of Gemina Belgae's re-enactors. Hold out till the end, you'll see the quite impressive reconstruction of a Gallo-Roman temple or
fanum
.
Tryout pic which turned out to be relatively good. A shot over a field of the tiny village of
Bassilly
, western Wallonia. Bassilly is part of a larger municipality named - I kid you not -
Silly
.
Well, it's not so bad as the Austrian village of Fucking, isn't it?
And a photo of the ruins of the old
Abbey of Aulne
, a Cistercian monastery burned by French revolutionary troops at the end of the 18th century. It is beautifully situated in a lush green valley of the Sambre river, central Wallonia.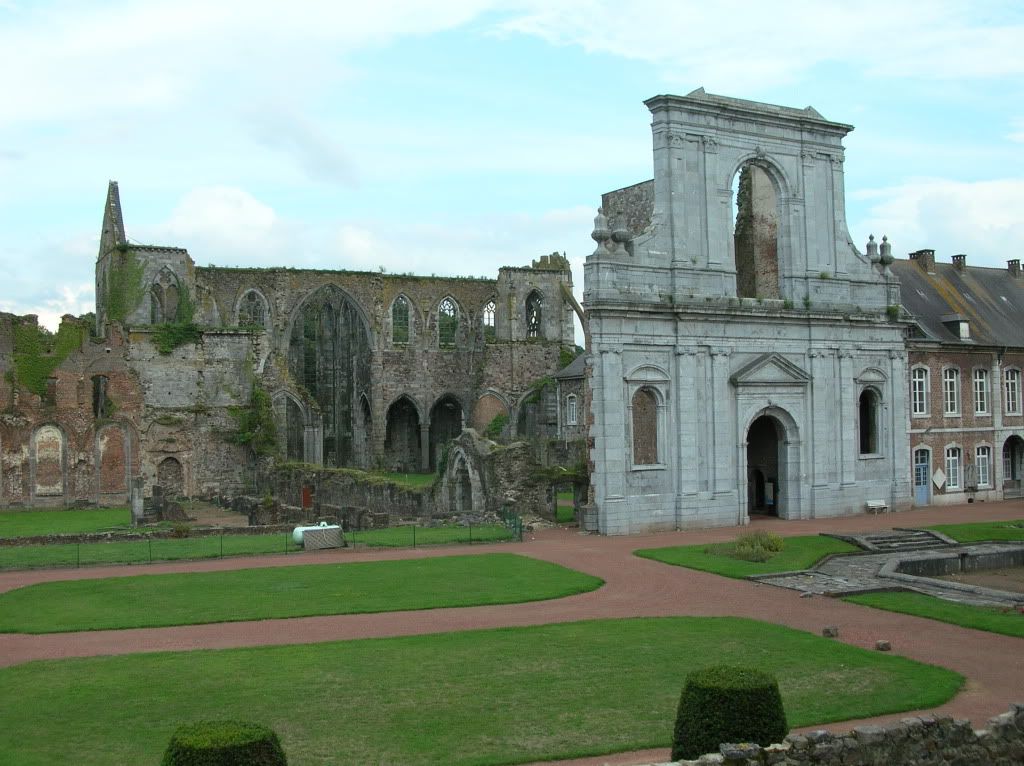 Nite.
MFBB.