I don't like to do it this way, but I feel I have to post something. If it's just photos plus some scant info, so be it. Ideally, I'd like to flesh this post out thoroughly, since there's a lot to tell - especially with regards to the little monument somewhere down below. But... time. Back in business for only four weeks, and again completely worn out by the time I get home. Anyway, here's:
.... this lovely beach along the N70 between
Glanbeg
and
Brackaharagh
, Iveragh Peninsula, County Kerry. Yes, this too is Ireland. The kids had a great time. In the distance, you can see
Beara Peninsula
, which is partly County Kerry and partly County Cork.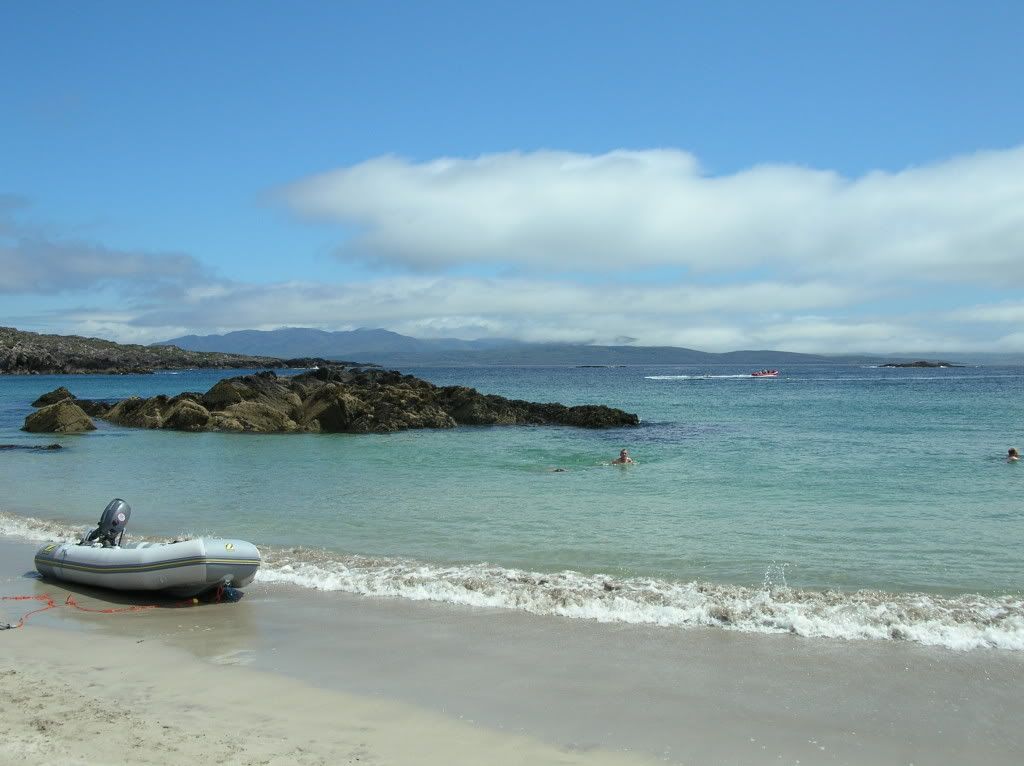 ... in
Portmagee
, only twenty-five or so kloms further north, the weather had turned slightly - it was overcast but still dry - and we crossed the bridge linking
Iveragh Peninsula
with the small island of
Valentia
. And there, not far beyond the bridge, stood this humble monument. It commemmorates the departure from exactly this spot, in 1866, of the then greatest ship of its time, the
Great Eastern
, as it started out on its epic voyage across the Atlantic to lay the first truly successful transatlantic telegraph cable. If you enlarge the picture, you may see what the cross sections of the different cables looked like.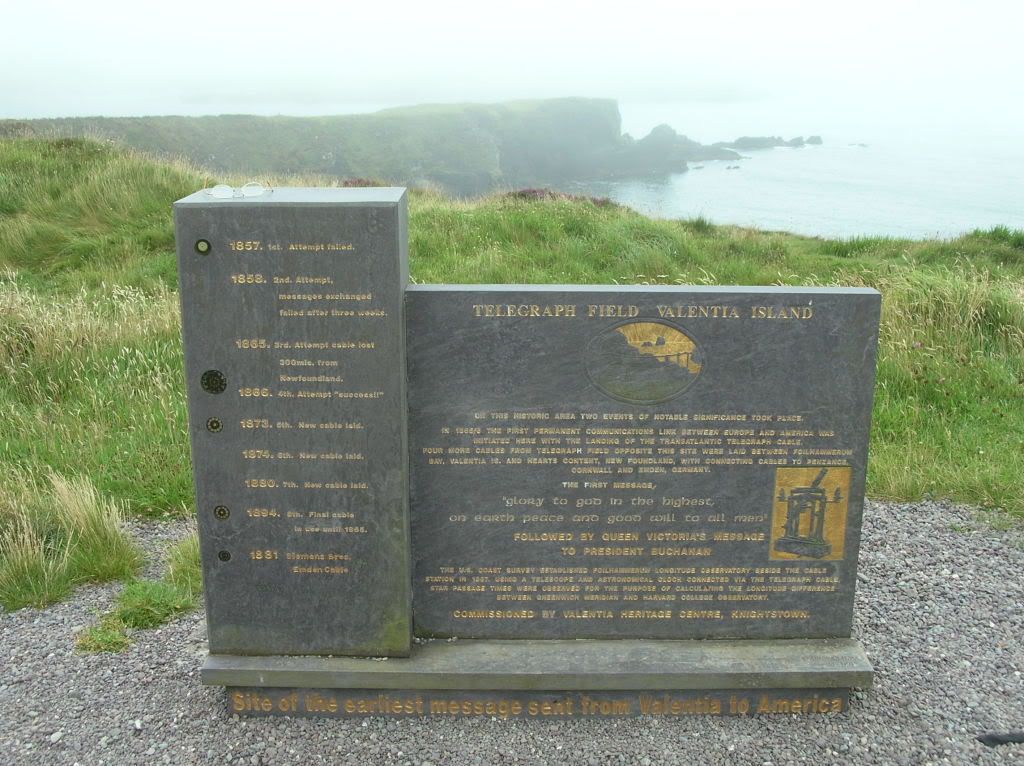 Now, the amazing story of the first transatlantic telegraph connection is also the story of two exceptional men, namely an American,
Cyrus W. Field
, and a Brit,
Isambard Kingdom Brunel
.
Cyrus Field became active in a New York paper factory at the very young age of fifteen. Barely five years later he's shareholder. At thirty-three he's rich enough to pull out of management of the company and focus on a thrilling project: laying the first Transatlantic telegraph cable. Since neither Washington nor London come forward with money - despite the fact that they full well acknowledge the tremendous benefits of a telegraphic connection between the Old and New World - Field founds a risk capital fund himself.
Samuel Morse
and
Werner Siemens
provide technical assistance for the concept and the fabrication of the cable, which is is ready in 1857. One problem though: at 2,500 tons it's too heavy even for the biggest freighters. By then however, both the UK and US governments are willing enough to provide warships, and since neither navy possesses a big enough vessel either, a solution iss found whereby the cable is spooled over several drums stored on two vessels,
HMS Agamemnon
and
USS Niagara
. Don't ask me how this worked out in practice, I suppose the cable was partitioned over two drums, interconnected, one for each warship, and it first began to roll of one of the ships. I reckon further that when the drum on that ship was spooled off, the drum on the other one started to feed.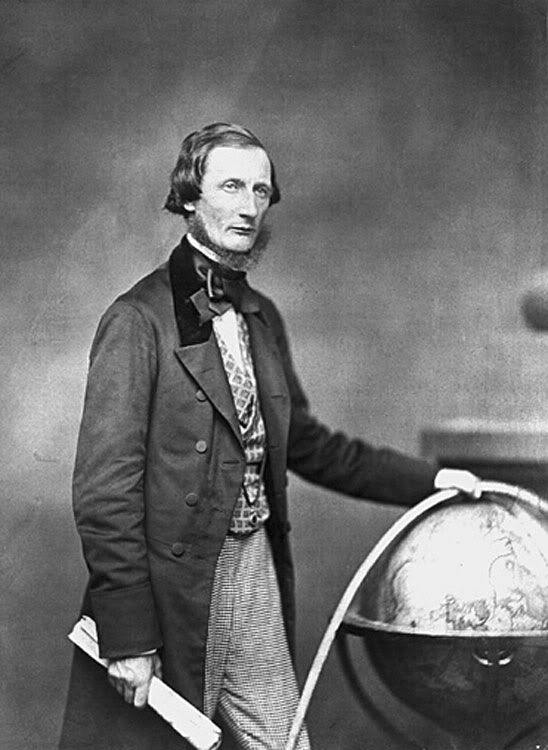 Anyway, it was all to no avail. Starting out from Ireland over the so-called "Telegraphic Plateau" (it got its name, rather optimistically, from US Navy Lt.
Matthew F. Maury
who first charted the elevated seaback running from southwest Ireland to Newfoundland), the ships come in bad weather after a short time, and a human error causes the cable to break.
In summer 1858 Field launches another attempt, but this time the Agamemnon and Niagara, each with a drum with half of the cable, meet in the middle of the Atlantic. The crews' plan is to connect two ends, and start from there in opposite directions. Bad weather postpones the start till June 26, then both vessels set off. Technicians regularly exchange messages to test the connection. No superfluous luxury, for no less than three times there is a rupture and they have to get back and reconnect. Finally, on August 7, the task seems to have been accomplished. However, signals get through so weak that it takes decoders 16 hours to decipher the Morse of Queen Victoria's 103 words long message to the US President. The chief electrician thinks stepping up the voltage from 600 Volts to 2,000 is a swell idea: the copper wires immediately burn through and this first unsatisfying connection is history, after three months and 732 messages.
I don't know how Cyrus Field did not become a mental wreck, but that did indeed not happen. To the contrary, barely had his bankrupt
Atlantic Telegraph Company
been buried or he had already another one in the scaffolds. His paper factory, the foundation of his private fortune, burns off. It does not stop him. In 1864 the British company
Glass Elliott
has a new cable ready, 4,760 kloms long and 4,000 tonnes heavy on three gigantic drums. And finally too, there's the ship that can take that cable: the
Great Eastern
.
The Great Eastern being built on the launch ramp in
Millwall
, near London:
The man behind the Great Eastern: Father of All Engineers Isambard Kingdom Brunel.
Fleshing out tomorrow, God willing. Ireland's highest mountain, the Carrauntoohil (1,038 meters). Mind you, NOT my photo, plucked it from the net somewhere. I have photos of course but on them the top was always in clouds.
AFAIK most approaches start from a place called Cronin's Yard, about fifteen kloms from Killarney. There's a memorial plaque there commemmorating the victims of a 1943 plane crash. A USAAF C-47 flew into the flank of, I think, a mountain right near Carrauntoohil, killing all on board. These are their names. God bless. May these men rest in peace.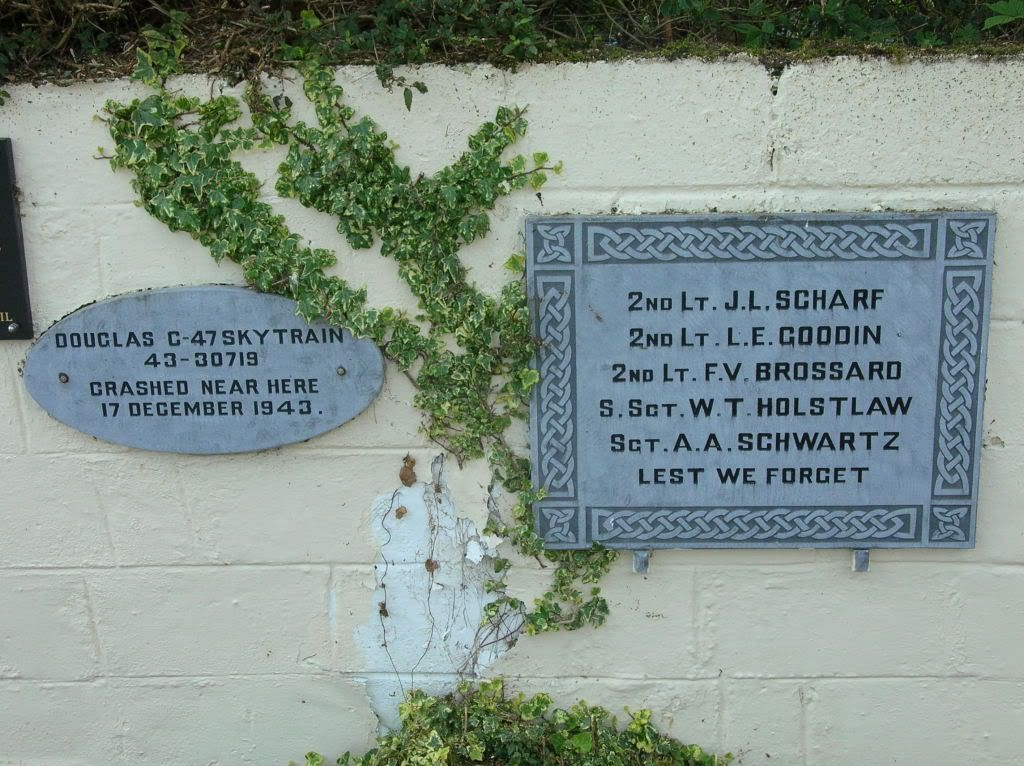 When gathering info at Killarney's Tourist Office, the guy dealing with me recommended another route to get to the top, since the most common approach climbing up the so-called Devil's Ladder, was considered unsafe due to erosion and a landslide. I should take "Brother O'Shea's Gully" instead. Now I thought, if they recommend this to dumb tourists it can't be bad. Duh. Well, can certainly not say it was very difficult, but it was at times a little tricky. This photo shows you a view staring up the Brother's Gully, about two hours after leaving Cronin's Yard, and having passed
Lake Cummeenoughter
, which at 707 meters is Ireland's highest lake, although it is rather a pool, actually. If you look closely in the upper right corner, you will see some specks: these were fellow climbers most of whom belonged to the Irish Kidney Association.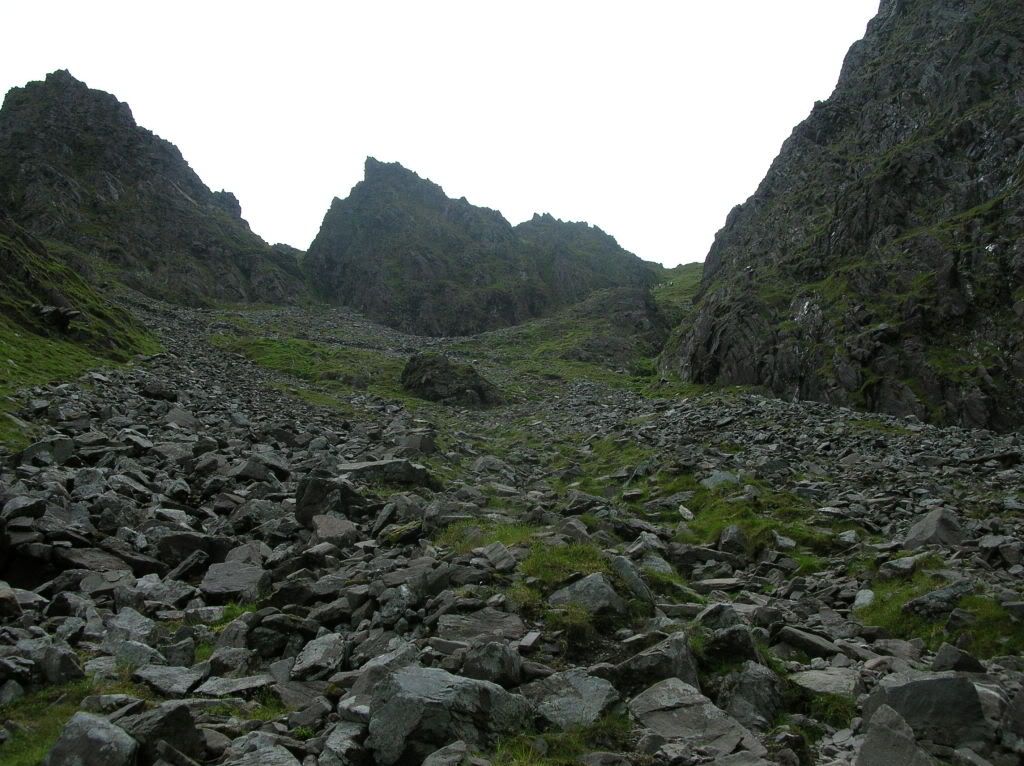 Nearing the top. In mist, dammit.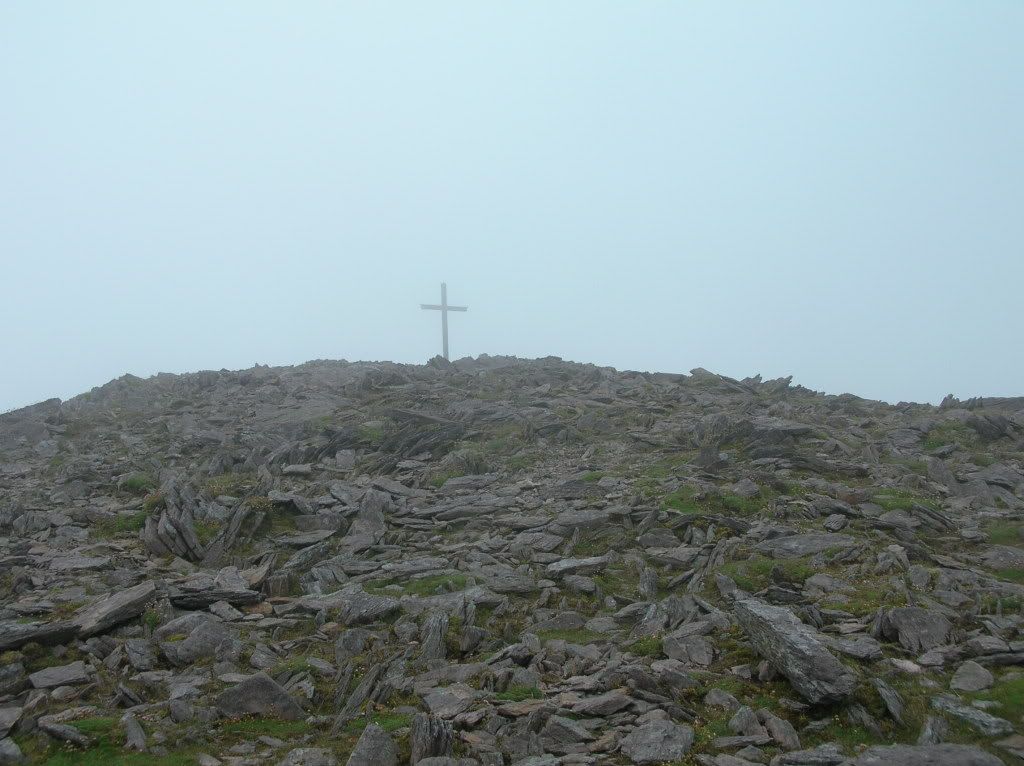 After a short break, back down but now on the other side. Halfway the saddle between Carrauntoohil and the adjacent mountain,
Cnoc na Toinne
(845 meters) I came across the top of the Devil's Ladder: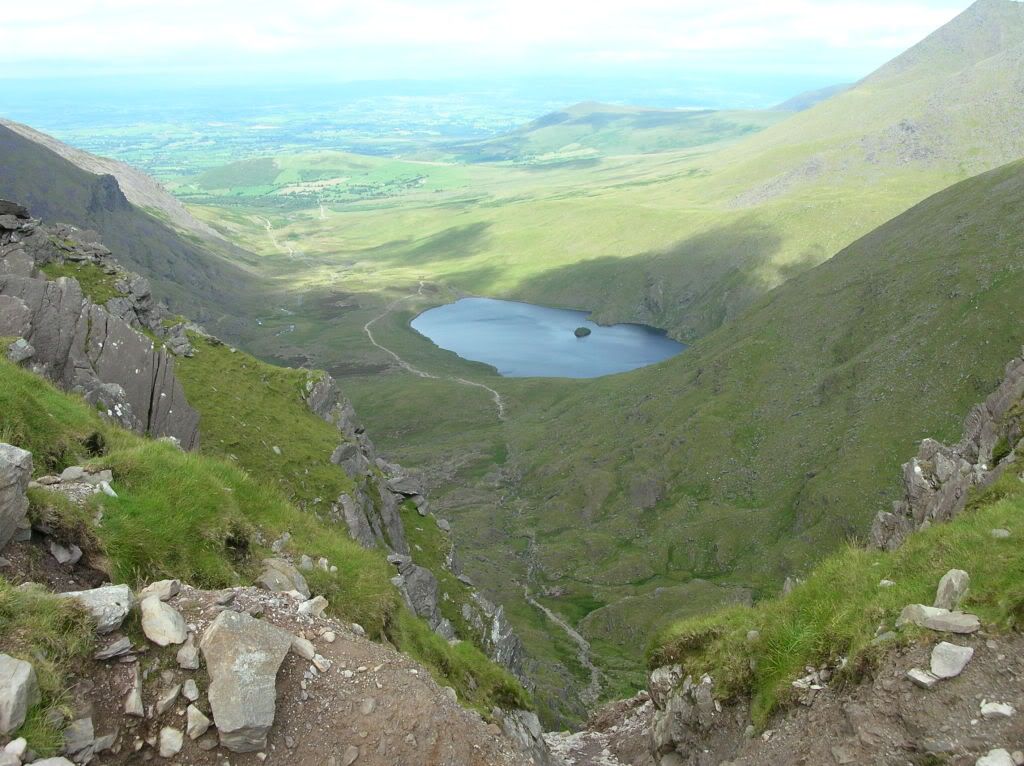 ... and decided not to descend it. It did look f*cking steep, and with damn loose stones. Better to continue up the Cnoc, since from there there was a narrow but otherwise easy path zigzagging down. The lake you see down below is
Lough Callee
.
... And this is a photo taken from that path. You now also see Lough Callee's neighbor,
Lough Gouragh
.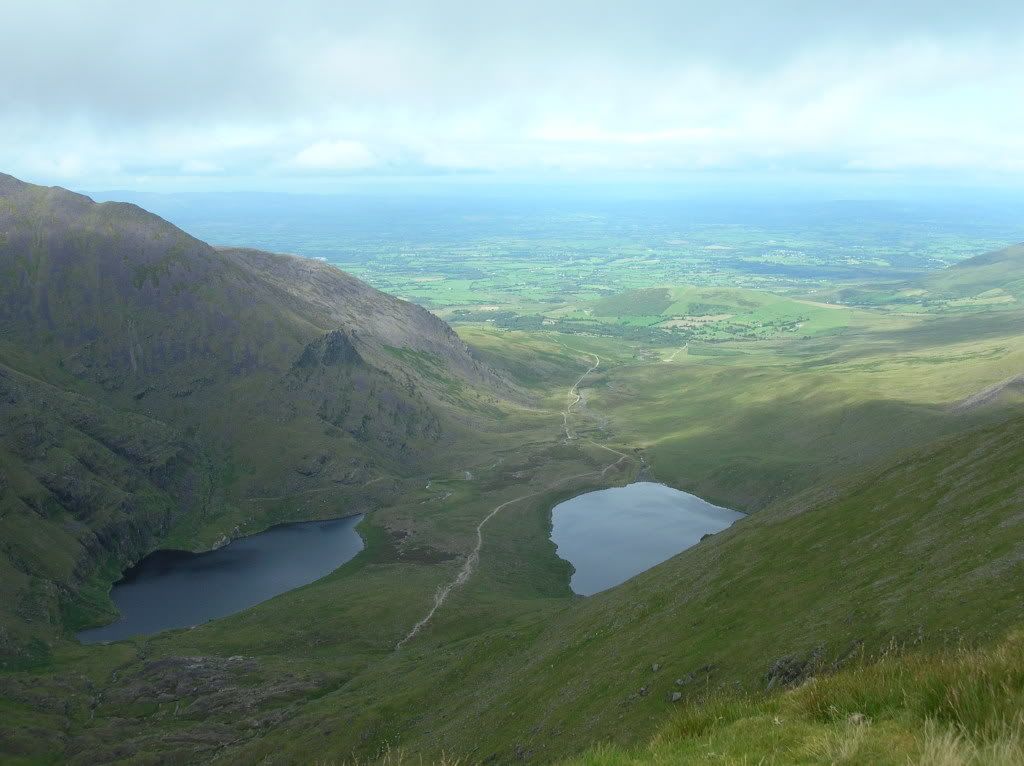 Enjoy the pics and my meagre story. Like I said, will try to flesh it out. I hate posting things half-ready like this, but I felt that this was one way to pushing it - in previous years, I ended up leaving good photographic material unposted because I did not get the accompanying text up to my standards.
If you know this region and climbed here too, feel free to share your thoughts.
MFBB.