Not much time. I will probably piss off a lot of Irishmen by starting this series with the following pic but I thought this view of rear walls with rain piping and airco equipment, seen from the Powerscourt Center garage in central Dublin, was so positively ugly that I just had to photograph it.
So yes, after only two days in Snowdonia, Wales, we crossed the island of
Anglesey
off the Welsh coast and boarded a Stena ferry in
Holyhead
which brought us to Dublin across a smooth Irish sea in a little over three hours.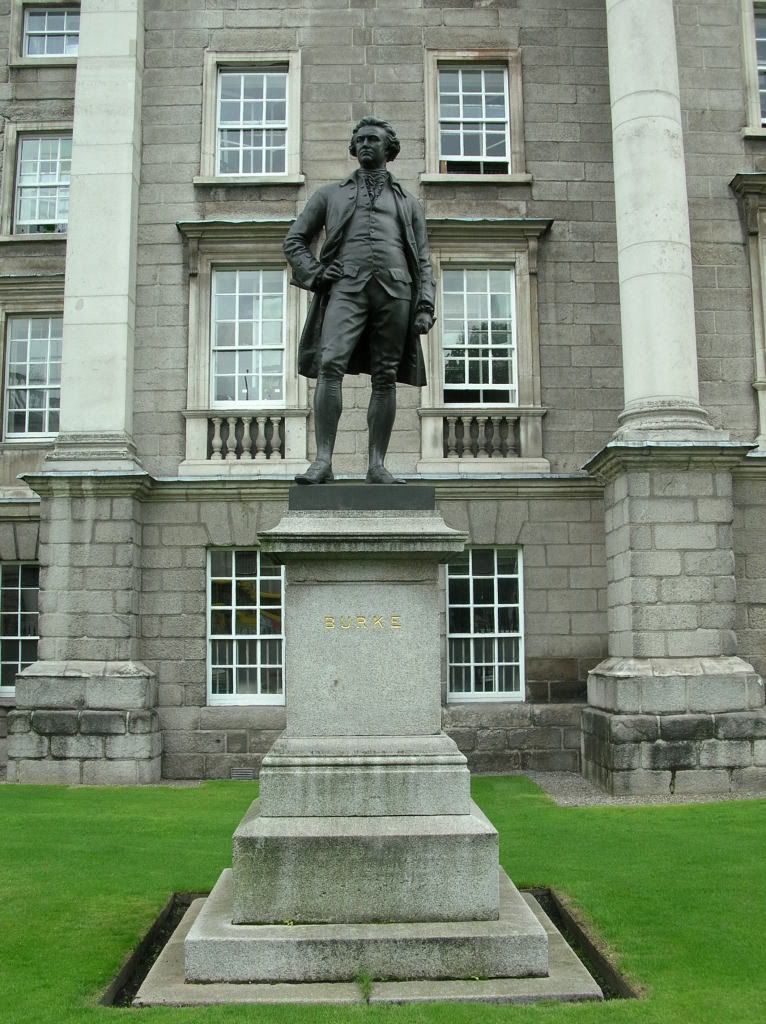 Having a rather tight schedule we were only able to spend half a day in Dublin. Since we were in Dublin Southeast, we decided to visit the famous
Trinity College
, founded in 1592 after an order by Queen Elizabeth I, to have a peek at the
Book of Kells
and the
Long Room
in the University Library. Highly recommended of course. The statue, just near Trinity College's entrance, is of
Edmund Burke
, the Irish philosopher who is considered the founder of Modern Conservatism.
Since this is a conservative blog, a few words are in order. Edmund Burke (1729-1797) was, apart from a philosopher, also an author, Irish statesman, orator and political theorist. After he relocated to England, he was for many years a member of the House of Commons for the Whig party. In time, he profiled himself more and more as the leader of the conservative faction within that party, a faction which he himself dubbed the "Old Whigs". It is interesting to note that he was probably the first one to discern the quintessential differences between the American Revolution, which he supported, and the French Revolution, which he spoke out against after he had discovered its inherent flaws. Take e.g. the following exerpt from a speech he gave on 22 March 1775 counseling reconciliation with the 13 colonies:
"...the people of the colonies are descendants of Englishmen.... They are therefore not only devoted to liberty, but to liberty according to English ideas and on English principles. The people are Protestants... a persuasion not only favourable to liberty, but built upon it.... My hold of the colonies is in the close affection which grows from common names, from kindred blood, from similar privileges, and equal protection. These are ties which, though light as air, are as strong as links of iron. Let the colonies always keep the idea of their civil rights associated with your government,—they will cling and grapple to you, and no force under heaven will be of power to tear them from their allegiance. But let it be once understood that your government may be one thing and their privileges another, that these two things may exist without any mutual relation,—the cement is gone, the cohesion is loosened, and everything hastens to decay and dissolution. As long as you have the wisdom to keep the sovereign authority of this country as the sanctuary of liberty, the sacred temple consecrated to our common faith, wherever the chosen race and sons of England worship freedom, they will turn their faces towards you. The more they multiply, the more friends you will have; the more ardently they love liberty, the more perfect will be their obedience. Slavery they can have anywhere. It is a weed that grows in every soil. They may have it from Spain, they may have it from Prussia. But, until you become lost to all feeling of your true interest and your natural dignity, freedom they can have from none but you."
It must have taken guts to give this speech at the time. At the same time the fact that he was able to give it without being thrown out gives instant credibility to what he claims here about England.
When you read the following you understand why Burke must have despised the French Revolutionaries, who tore everything down, demolishing ancient foundations, while he states that "everything we possess is an inheritance from our forefathers". If you are a conservative and that sounds familiar to you, it's simply because you are reading conservative gospel.
Edmund Burke was the first one of us.
"...The Revolution was made to preserve our antient indisputable laws and liberties, and that antient constitution of government which is our only security for law and liberty.... The very idea of the fabrication of a new government, is enough to fill us with disgust and horror. We wished at the period of the Revolution, and do now wish, to derive all we possess as an inheritance from our forefathers. Upon that body and stock of inheritance we have taken care not to inoculate any cyon alien to the nature of the original plant.... Our oldest reformation is that of Magna Charta. You will see that Sir Edward Coke, that great oracle of our law, and indeed all the great men who follow him, to Blackstone, are industrious to prove the pedigree of our liberties. They endeavour to prove that the ancient charter... were nothing more than a re-affirmance of the still more ancient standing law of the kingdom.... In the famous law... called the Petition of Right, the parliament says to the king, "Your subjects have inherited this freedom," claiming their franchises not on abstract principles "as the rights of men," but as the rights of Englishmen, and as a patrimony derived from their forefathers....
Then it was off to County Kerry in Ireland's southwest, more precisely to Killarney where we had booked a cottage for a week. Killarney is famous for its lakes and National Park.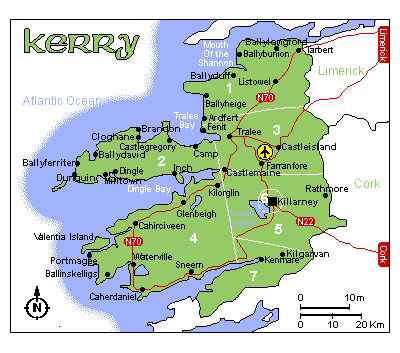 Having foolishly assumed most of my life that Ireland was basically just flat and green, it came as no small surprise to find some ancient mountain ranges in Kerry, more precisely in the form of grates on the peninsula's sticking out in the Atlantic:
Dingle
,
Iveragh
and
Beara
, although County Kerry has to share the latter with County Cork. These mountain ranges are not high, the highest peaks barely breezing above 1,000 meters; but as they suddenly pop up after the chauffeur has gotten used to the mostly flat Irish interior, they stand out like, say, 4,000'ers in the Alps.
The following pic is called
Ladies View
, so called because of Queen Victoria's ladies-in-waiting were so enamored by the view upon a visit in 1861. Ladies View is on the N71, perhaps some 15 kloms from Killarney in the direction of
Kenmare
. You basically see only one lake of Killarney's lakes - the Upper One, plus a portion of the Long Range which lies between Upper and Muckross Lake.
The constraints of timer permit me only to post a handful of pics. This one was taken at the far end of the Dingle Peninsula. The land tongue sticking out into the Atlantic is a mini peninsula of itself, but what you not see are its companions a little bit farther out: the Blasket Islands.
The Blasket Islands are tantalizingly close to the Dingle "mainland" itself, at least the biggest island, but since Dingle in itself is already such a remote corner of Ireland, the little notching up of the isolation on these specks in the Atlanticth proved too much for 20th century people to hold on. Great Blasket's last inhabitants, all 22 of them, left in 1953. Several islanders wrote touching books of what life was there.
A little bit further I came across this ancient church,
Gallarus Oratory
. It is assumed it was built between the 6th and 9th century.
Seamus Heaney
, Irish Nobel Prize winner for Literature, wrote a poem about it.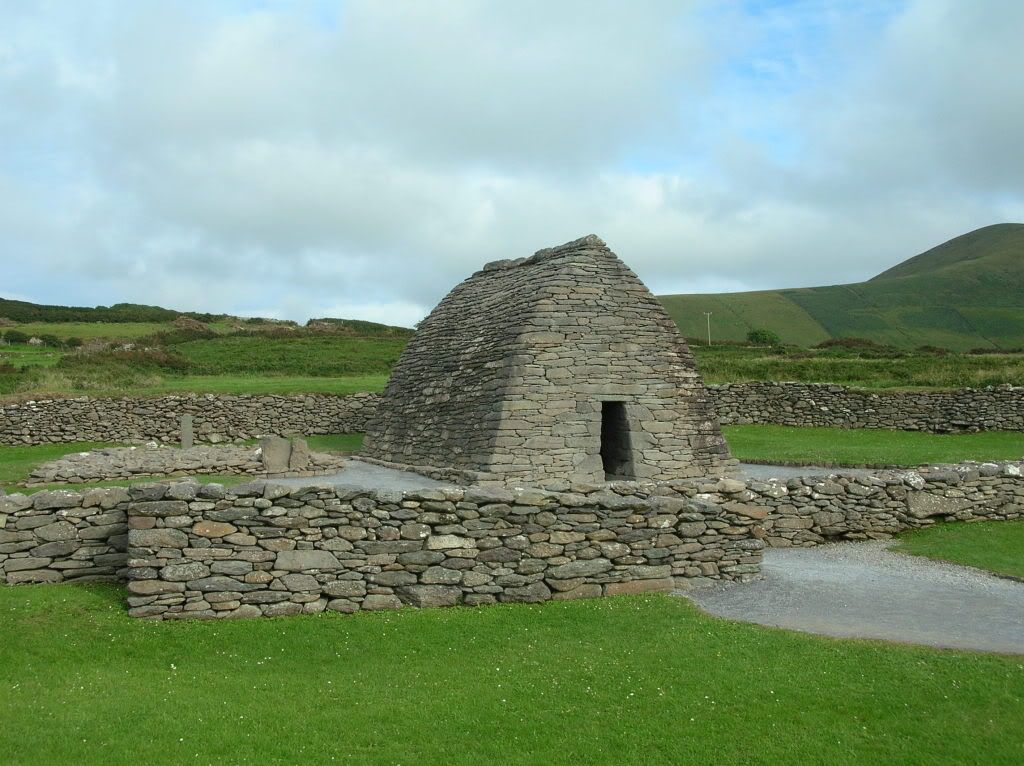 And this is
Bantry House
as seen from the stairs leading up the terraces behind it. Bantry House is in, well, Bantry, on the north side of the root of
Sheep's Head Peninsula
(aka Muntervary). Over the House, you are looking out across Bantry Bay towards Beara Peninsula and the
Caha Mountains
. By the way, when there, be sure to take the
Healey Pass
across them.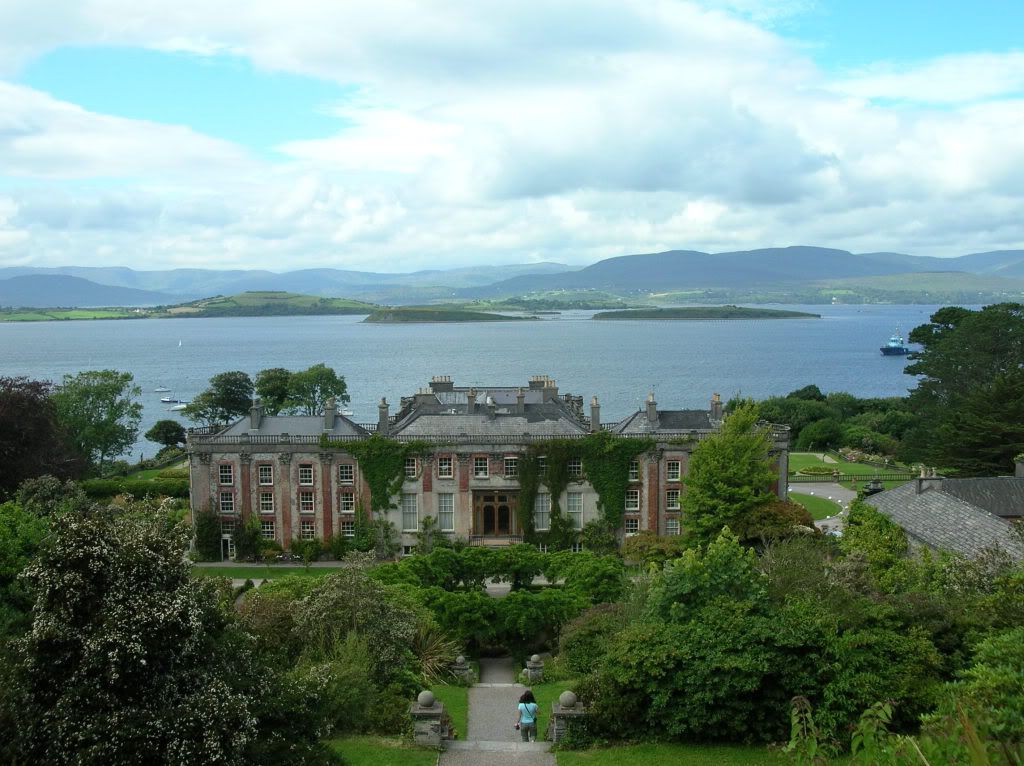 If only I had more time. In Europe, you can drink history from the streets.
MFBB.