Melanie Phillips
has written a new book,
The World Turned Upside Down: The Global Battle over God, Truth, and Power.
An interview you shouldn't miss, in which she discusses it with NRO's
Kathryn Jean Lopez
, can be found
here
. Some exerpts:
"... KATHRYN JEAN LOPEZ: What's notable about the current "apparent mass departure from rationality"?

MELANIE PHILLIPS: What I have found so striking is that, in this supposed age of reason, there is such an implacable refusal, over a wide and disparate range of issues, to acknowledge the authority of factual evidence over opinion, or distinguish truth from propaganda and lies, or differentiate between justice and injustice, victim and victimizer. More than that, this phenomenon is confined to the supposed custodians of reason, the intelligentsia; and some of the most prominent of these often-militant "rationalists" propound assertions that are demonstrably irrational.

Even more striking is that this repudiation of reason is associated with the most fashionable and progressive causes — anti-imperialism, anti-Americanism, anti-Zionism, environmentalism, moral and cultural relativism, multiculturalism, scientism. Yet they promote not just irrationality but a return to primitivism, pre-modern levels of social disorder, and the persecution of dissenters.


LOPEZ: What does a self-described "agnostic" care about God?

PHILLIPS: You don't have to be a religious believer to understand that if religion — more specifically, the Hebrew Bible and the Christianity that built upon it — underpins Western civilization and the codes of right and wrong — putting others above yourself, freedom and equality, and belief in reason — that form the bedrock of that civilization, then eroding or destroying that religion will erode or destroy those virtues and the civilization they distinguish..."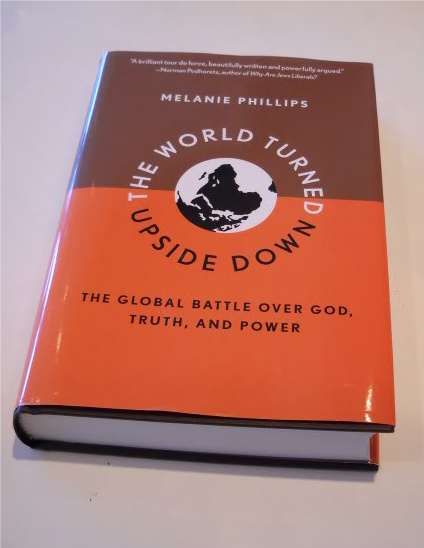 "... One of the mysteries of the age is the way "progressives" who fetishize sexual freedom, gay rights, female equality, and the like march shoulder to shoulder with Islamists who stone adulterers, kill gays, and subjugate women. They share a common desire to destroy the cultural traditions and normative values of the West — all in the cause of creating the perfect society, which creates in turn a totalitarian mindset, which links religious fanatics and the political tyrannies of both Communism and fascism.

LOPEZ: Why do you put the word "progressives" in quotation marks?

PHILLIPS: Glad you asked that! Because there's nothing progressive about the totalitarian fanatics of the Left, even though they claim that label for themselves. One of our biggest problems is the hijacking of language by the Left, which has turned words such as "liberal," "tolerant," and "progressive" into their very opposites. I do believe in being progressive in the true sense — the authentic, classical-liberal goal of creating a better society by encouraging the good and discouraging the bad. But to achieve that, we have to reclaim the language of social progress for its true meaning, which is based on a proper differentiation between right and wrong, truth and lies, justice and injustice. Until we do that, we allow ourselves to be co-opted into the discourse of moral and intellectual inversion, and we allow the lunatics to run the asylum.

I do hope that this language is not politically incorrect.


LOPEZ: Are there really a hundred thousand practicing pagans in Britain today? There's a Pagan Police Association?

PHILLIPS: Yup! It's testimony, is it not, to the rich diversity of diversity in Britain? We all have to keep straight faces while our police officers take official leave to dance naked 'round a pile of stones..."
"... LOPEZ: What is the "Middle East Witch-Hunt"?

PHILLIPS: Medieval witch-hunts involved singling out certain women as scapegoats and then killing them for crimes of which they were innocent but of which they found themselves incapable of proving their innocence because the case against them was rigged. In Britain in particular, but also in parts of Europe and on American campuses (see the Mearsheimer/Walt calumny), there is an obsessive malice toward Israel which goes far beyond reasoned debate and has become a pathological scapegoating of a nation.

The treatment of Israel by the left-wing Western intelligentsia is unique in its irrationality and moral and historical inversion. It takes a nation that is the historic victim of aggression and blames it for jeopardizing peace in the region and causing Islamic extremism worldwide — despite demonstrable evidence that this is simply untrue. It accuses Israel, wholly falsely, of "apartheid" and ethnic cleansing when Israeli Arabs have full civil rights and the Palestinian population has increased many times over — and when Jews are excluded from parts of the Arab world (including the putative state of Palestine).

It takes a nation that has been under exterminatory attack for six decades (nine, if you include the Palestine Mandate) and insists that it make compromises with its attackers, even as they continue to attack it. And if any Jew dares protest at the manifest injustice, lies, and bigotry in this unique delegitimization, they find themselves accused of "dual loyalty" or being part of a covert global conspiracy to put the world at risk..."
Hat tip
American Power
. Stole their pic too. Being an outlaw's easy.
MFBB.