ISLAM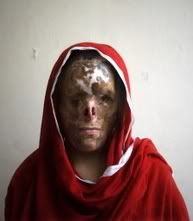 ISLAM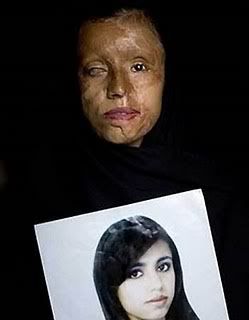 ISLAM
Only women? Oh no, muslims DO implement equal opportunities policies. From
The Daily Mail
, April 14, 2010:
"A Facebook user was disfigured in a revenge-fuelled acid attack over his intimate relationship with a married woman he met online, a court heard today. Awais Akram, 25, looked like a 'cross between a zombie from a horror movie and the Incredible Hulk' after the assault in July last year, jurors were told. Mr Akram was left burned and bleeding from his nose and eyes and with flesh hanging off his body, prosecutor David Markham said.

A 'high pitched scream rang out' as he was set upon by a group of men in the early hours of the morning in Leytonstone, east London, the Old Bailey heard. Danish-born Mr Akram was allegedly targeted after his liaison with Sadia Khatoon was discovered by her husband and family. It was she who helped to lay a 'deadly trap', said Mr Markham, luring him to the scene of the attack 'whether willingly or under some pressure from those who discovered the relationship'. Mr Akram was stabbed and beaten as well as having sulphuric acid poured on him during the 'pre-meditated and murderous assault', the court heard. The victim was left with 47 per cent burns and jurors were shown graphics of the extent of his injuries. 'Those are injuries which transformed his appearance,' Mr Markham said.

It is alleged that Khatoon's brother Mohammed Vakas, 26, and her cousin Mohammed Adeel, 20, planned to kill him 'as an act of revenge' for his relationship with her, and a 17-year-old youth was also recruited to the plot. Adeel and Vakas, both of Walthamstow, north east London, and the teenager, who cannot be named, deny conspiring with Khatoon and her husband Shakeel Abassi to murder Mr Akram. Vakas has pleaded guilty to conspiracy to cause grievous bodily harm with intent, a charge his two co-defendants deny, jurors were told. Khatoon and Abassi were last known to be in Pakistan, Mr Markham said..."
'Acid attack': A court artist's impression of, from left, Mohammed Vakas, Mohammed Adeel and a 17-year-old defendant who cannot be identified, appearing at the Old Bailey (drawing via The Daily Mail)
Mohammed Vakas huh? And Mohammed Akeel huh? I get it. Named after the Perfect Example, no doubt. I wonder what the 17 year old's name is. You can guess three times: Mohammed, Muhammad or Mohamed.
I have a dream...
I have a dream, that one day, the spineless coward socialist apeshits who allowed these
CREEPS
into
OUR COUNTRIES
, will be brought to justice.
And
sentenced severely.
MFBB.