Very good
Walter Williams
column over at
Townhall
, 16 December: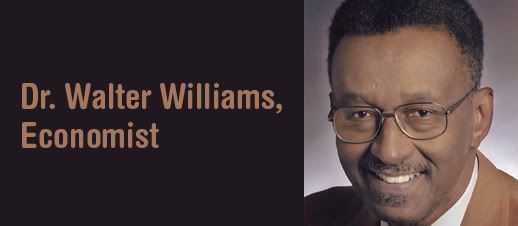 COLLUSION AGAINST OUR YOUTH.

"I've grown somewhat weary writing about the devastating effects of minimum wage laws but The Wall Street Journal's "Black Youths Miss Out on Good Job News," (Dec. 4, 2009) warrants another try. Today's overall teenage (16-19) unemployment rate, at 25 percent, is the highest since World War II. Black teenage unemployment, at 50 percent, is also the highest since World War II.

How do you think the Reverends Jackson and Sharpton would explain the unemployment difference between black and white teens? You can bet the rent money they would say: It's racial discrimination. Let's investigate. Was racial discrimination in 1948 greater or less than racial discrimination today? In 1948, the unemployment rate for white 16-17 year olds was 10.2 percent while that for blacks was 9.4 percent. Among white 18-19 year-olds, unemployment was 9.4 percent and for blacks it was 10.5 percent. During that period, not only were the unemployment rates similar, black teenagers were either equally as active as whites in the labor force or more so.

According to the widely shared Jackson/Sharpton vision of the world, racial discrimination must have been less during the late 1940s than it is today. In fact, as early as 1900, blacks as a group were more active in the labor market, a statistic known in economics as labor force participation rate, than whites. This was true up until the late 1950s. Anyone with one ounce of brains would reject the argument that less racial discrimination accounts for the lower black teen unemployment rate and greater labor force participation during earlier periods..."
MFBB.