It's good to know the US at least is being led by a character like
PRESIDENT
Trump, otherwise a news item like this would cause me a hell of a depression.
Further evidence of the spreading madness taking hold over the entire Western world (not only the Western world anymore, Taiwan has decided to join the slippery slope too) was offered today by...
Check it out yourself, there's
plenty of coverage elsewhere
. I got to know it "thanks" to Belgian daily
Het Laatste Nieuws
, a prog news outlet (which is naturally elated):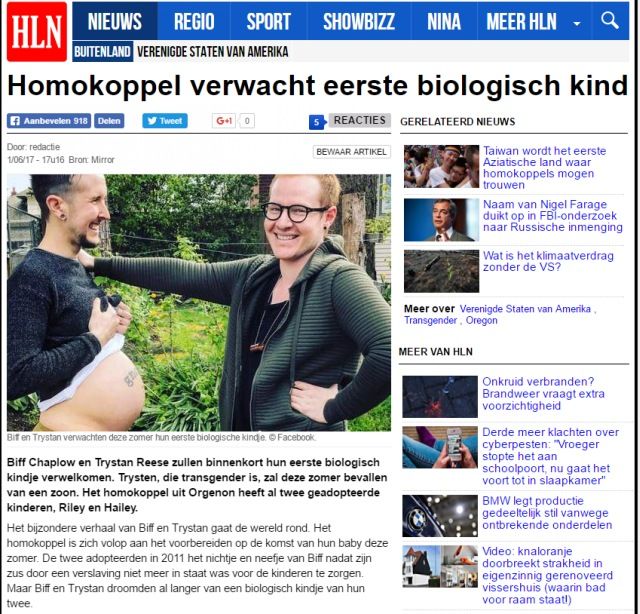 "GAY COUPLE EXPECTING FIRST BIOLOGICAL CHILD.

Biff Chaplow en Trystan Reese will soon welcome their first biological child. Trystan, who is transgender, will give birth this sommer to a son. The gay couple from Oregon has already two adopted children, Riley and Hailey.

Biff and Trystan's particular story travels around the world. The gay couple is preparing for the arrival of their baby this summer. In 2011 the two adopted Biff's niece and nephew after his addicted sister was no longer capable to take care of the children. But Biff and Trystan were already then dreaming of a biological child of their own..."
Sick sick sick sick sick.
Poor, poor, poor Riley and Hailey. Poor, poor, poor unborn child in the womb of that... anomaly.
Oh yeah... so Biff's sister was an addict? Why, really, why
does-that-not-surprise-me?
Excuse me while I puke.
MFBB.