On March 6 1945, the US 3rd Armoured Division entered the ruins of Cologne. The German Army having been bled white in the costly battles in the Rhineland, not much resistance was encountered. However, when an M4 Sherman tank of F Coy., 32nd Armoured Regiment, tried to negotiate a pile of rubble in the Komoedienstrasse, near Cologne Cathedral, it was hit by a 75mm round from a Panther tank belonging to Pz. Abt. 2106 of Panzer Brigade 106 "Feldherrnhalle". Of the crew of 5, three men were killed. An M26 Pershing of E Coy. of the same regiment, advancing slowly in a parallel street, was alerted to the Panther's presence, sneaked up behind it, and destroyed it with a couple of rounds from its 90mm gun.
Coincidentally, some cameramen were on hand to film the entire episode.
At the 0:28 mark you can see the Sherman commander,
2nd Lt. Karl E. Kellner
, climb out of his burning vehicle. His left leg is blown off behind the knee. Barely visible behind him you can make out another crew member tumbling off the stricken tank.
The Sherman crew consisted of:
Tank Commander Karl E. Kellner
Gunner John J. Gialluca
Asst. Gunner Curtis Speer
Driver Julian Patrick
Asst. Driver Oliver Griffin
Here's some info I found on this well-known tank duel
at a German site run by a Cologne inhabitant:
"The second soldier seems to be 19 years old Corporal 'Gunner' John J Gialluca of the 3rd Armored Division 'Spearhead'. His son Doug found my site on the web and sent me the following mail where he describes the situation as he heard it from his father:

*The last tank battle in Cologne Germany on March 6 1945 happened as Corporal Gunner John J Gialluca approached the square of town between two buildings where suddenly by surprise a Panther Mark V hit their Sherman tank. John remembers the tank burning and they were trapped. The shrapnel went through his legs and he said he was pinned to his seat when a second blast under the turret forced him free from his position. There were no other survivors except Corporal John J Gialluca. There was another tank disabled next to his tank that tried to help the injured. They found John lying on the ground with his 45 caliber hand gun in his hand. Then John said as they were helping him he could hear the blast and gunfire from what is known now the battle of the last tank. The Sherman tank that Corporal John J Gialluca was in was facing the cannon of the 75mm high velocity Panther Mark V. The 76 mm is questionable as for penetrating the heavy armored Panther head to head. This was John's second tank hit in his journey from Normandy Beach and very fortunate to survive. Corporal Gunner John J Gialluca was sent to a hospital in England where he had a lengthy recovery and was able to walk again. After a long fight with kidney cancer John went to be with the Lord on July 5th 1998."
Two men survived: gunner
John J. Gialluca
and Assistant Driver
Oliver Griffin
. Of the other three, Driver
Julian Patrick
and assistant gunner
Curtis Speer
were killed instantly. Cdr. Kellner, who managed to clamber out of the cupola despite his mortal leg wound, died shortly thereafter.
The photo below is a still from the movie. Kellner has made it onto the engine deck. Clearly visible is the bloody stump that's left of his leg.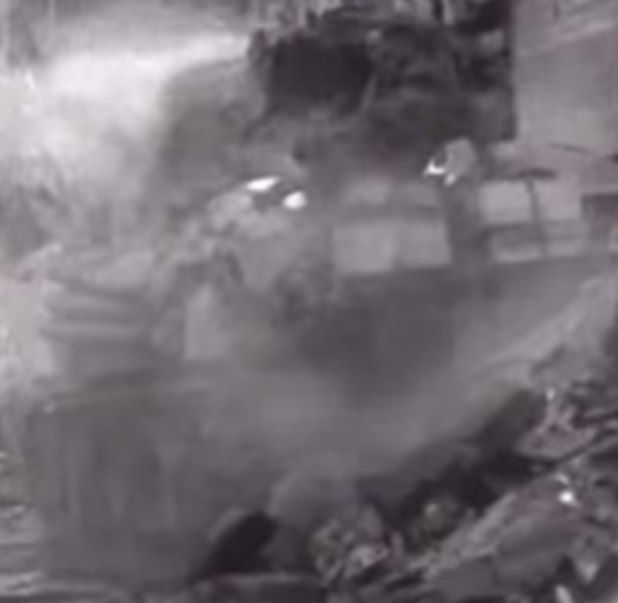 Medics were instantly at the spot, dragged him in a bomb crater and started treating him. Soon therafter however he died from his injuries.
These days, it takes only a couple of minutes to extract accurate info from the web on 2nd Lt Kellner. This is what showed up:
He was buried in Section 6 West, Lot 136, of Sheboygan's Calvary Cemetery, Sheboygan County, Wisconsin.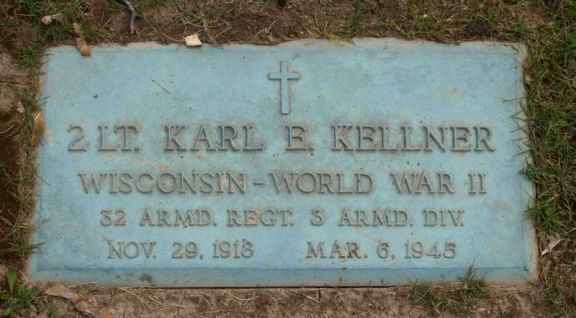 Freedom isn't free.
Rest in peace, Lieutenant Kellner. Your sacrifice was not in vain. God bless.
MFBB.