From the
nou breekt mijn klomp
(well I will be damned) Department: Gaia fruitcake
James Lovelock
, he of
'it may be necessary to put democracy on hold for some time'
fame, thinks that he may have been
WRONG
. He may have been ALARMIST about global warm, uh, climate chang, uh, well, he may have been wrong on just about everything. From
Mail Online
, April 23, 2012: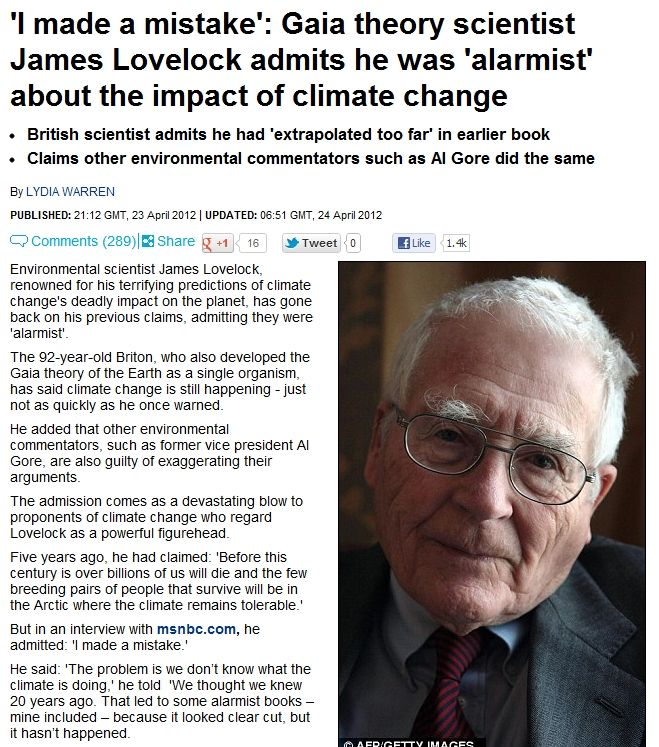 You shouldn't miss out
this interesting article
on Mr Lovelock, a Deep Ecologist for whom humanity's survival is (far) less important than the well-being of Planet Earth. Paramount in this reasoning is the desire to keep the human population down to numbers that can be 'managed' by 'Gaia', his idea of Earth as a living organism. What does Mr Lovelock (what's in a name?) have in mind with regards to a manageable population?
"If we are to continue as a civilization that successfully avoids natural catastrophes, we have to make our own constraints on growth and make them strong and make them now." As it is, we are unintentionally at war with Gaia and must agree to "wartime" rationing and temporary "loss of freedom." Strong constraints? Loss of freedom? What's the difference between this and ecofascism? And how far down will our population have to plummet to satisfy Gaia? Actually, Lovelock states that something like nine-tenths of our population must vanish: "Personally I think we would be wise to aim at a stabilized population of about half to one billion." To accomplish this goal, both the birth rate and death rate would have to be "regulated" as "part of population control."
Just remember. This econazi would actually cheer having us cut down from 7 to (at best) 1 billion earthlings. Funny, just this week I also stumbled across a great video by
Bill Whittle
who does a splendid job of chopping up the hopes and dreams of splendid theorists like Mr Lovelock:
MIND
the econutters. They are
DANGEROUS
.
MFBB.