Another
Great Champion
of the Conservative Cause has died.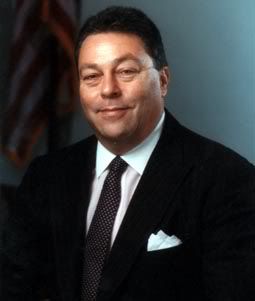 Anthony David "Tony" Blankley
(January 21, 1948 – January 7, 2012) was born in London but emigrated with his parents to California. He had a brief stint as a child actor (!), and graduated from UCLA and Loyola Law School with a
Juris Doctor
. He spent 10 years as a prosecutor with the California Attorney General's office, until his conservative views brought him to the attention of Ronald Reagan. When the latter became President, Blankley served him as a political analyst and speechwriter. The high point of Blankley's career was as House Speaker Newt Gingrich's press secretary.
Apart from his lectures at a host of universities and his work for Edelman public relations in Washinton D.C. and The Heritage Foundation, Blankley was known as the author of two well-received books,
The West's Last Chance: Will We Win the Clash of Civilizations?
and
American Grit: What It Will Take to Survive and Win in the 21st Century
.
By far the best editorial I found on Mr Blankley is
this one
in The Washington Times, even though it focuses rather on the human being that he was and not on the Conservative:
Mr. Blankley's dedication to journalism and the craft of writing was unmatched. His wife Lynda Davis told us he was working on his half-finished weekly column shortly before he died. This zeal was fueled by his love of country and deep concern for America's direction. His two books, "The West's Last Chance" and "American Grit," both focused on our contemporary crisis but were tempered by hope and faith in the greatness of the United States and our people to turn it around. Mr. Blankley's intelligence, experience and humanity made him a truly irreplaceable individual. While his family grieves for a missed husband and father, his extended family at The Washington Times is shedding tears of love and support for their fallen friend. Godspeed Tony Blankley. Requiescat in pace.
But I suspect that's only as it ought to be, right now.
Tony Blankley died in Washington, D.C. of stomach cancer on January 7, 2012 at Sibley Memorial Hospital, aged 63. A conservative intellectual of his stature will be sorely missed.
Rest in peace, Mr Blankley. God Bless.
MFBB.